Lady Gaga and Bradley Cooper sing 'Shallow' live together for the first time - video
28 January 2019, 11:28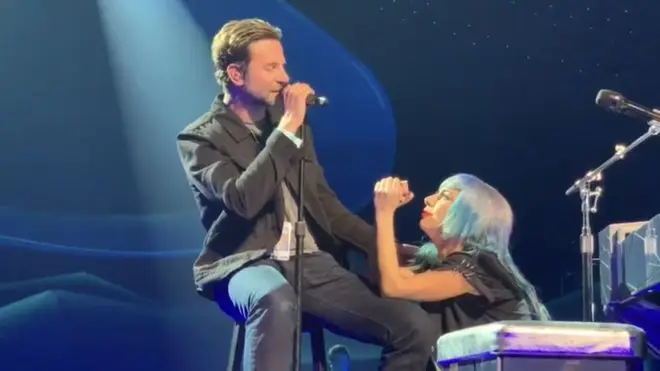 'Shallow' from A Star Is Born was one of 2018's most popular songs, but it hasn't been performed live until now.
Lady Gaga and Bradley Cooper teamed up for the first time on stage to sing the powerful track in Las Vegas at the weekend.
The duo - who are both nominated at this year's Oscars - are expected to perform 'Shallow' together at the Academy Awards next month, and they had a rehearsal of sorts during Gaga's concert on Saturday night (January 26).
Cooper watched her ENIGMA show from the audience, and then he appeared as a special surprise guest.
Watch fan-shot footage of the show below:
Lady Gaga, Bradley Cooper - Shallow (Live in Las Vegas)
'Shallow' is nominated for 'Best Original Song' at the Oscars, while Cooper and Gaga are both nominated in the acting categories.
The song reached number one in the UK in 2018, and was one of the year's bestsellers.