Mariah Carey and Wham! come agonisingly close to finally reaching number one
27 December 2019, 18:08 | Updated: 27 December 2019, 18:12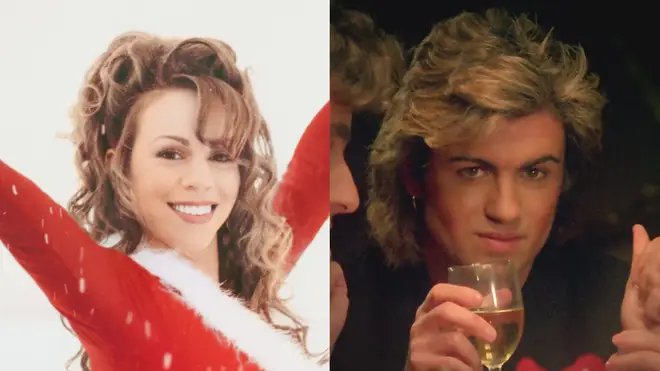 Mariah Carey and Wham! fans will have to wait at least another year to try and get their festive favourites to number one.
George Michael fans have been campaigning to get the Wham! classic 'Last Christmas' to number one this year, but it had to settle for third position in the UK singles chart this week. The song has never reached number one, having come second to Band Aid in 1984, and again in 2017.
This week's chart - the week after the Christmas number one battle - is full of Christmas hits after millions of people streamed festive favourites over the Christmas period.
25 years after Mariah Carey's 'All I Want for Christmas is You' peaked at two in 1994, and again in 2017 and 2018, the American singer's anthem stalled in the runner-up spot for a fourth year this week.
They were both beaten by Ellie Goulding's cover of Joni Mitchell's festive ballad 'River', which rose to number one this week. The cover was an Amazon Music exclusive.
Mariah and Wham! fans will feel particularly hard done by, as official chart rules state that songs of a certain age require double the amount of streams than newer songs, meaning that Mariah would almost certainly have finally scored that number one without the rules in place.
Meanwhile, Wizzard's classic 1973 hit 'I Wish It Could Be Christmas Everyday' has risen into the UK top 10 for the first time since its original release.
Despite re-enterting the chart every year since downloads were included in 2007, this is the first time in 46 years that Roy Wood's band have scored a top 10 hit.
There were first ever top 40 entries for Dean Martin's 'Let It Snow' at 39 - in fact, the first time ever that the Christmas standard has reached the top 40 by any artist - The Ronettes' 'Sleigh Ride' at 34, and 'Jingle Bell Rock' by Bobby Helms at 30.
Slade rose to 19 with 'Merry Xmas Everybody', and Elton John's 'Step Into Christmas' achieved a new chart peak of number 8.
Shakin' Stevens also reaches his highest chart position with 'Merry Christmas Everyone' since it was Christmas number one back in 1985, rising to number six. The Pogues and Kirsty MacColl land at four with 'Fairytale of New York'.