The UK's most streamed songs of each year from 1960 onwards will surprise you
11 April 2019, 12:12 | Updated: 12 April 2019, 09:33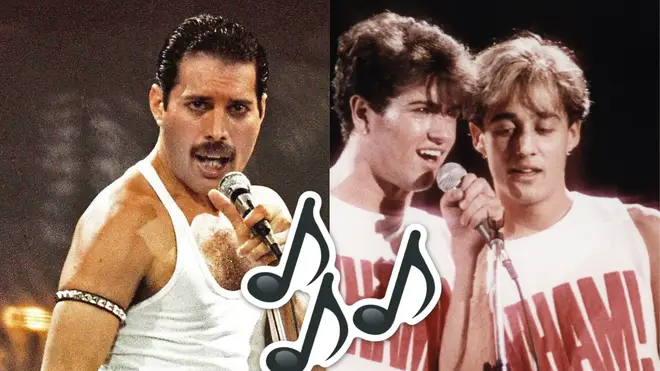 The BPI has revealed the UK's most-streamed songs based on the year they were first released, with the likes of Queen, Toto, Wham! and plenty of Christmas songs coming out on top.
The recording industry body revealed that 90 billion songs were streamed in the UK in 2018, which is an increase of 33.5% from 2017.
Queen were boosted after the release of the Freddie Mercury biopic Bohemian Rhapsody. 'Don't Stop Me Now' is the most-streamed song from 1978, while 'Bohemian Rhapsody' was the most-played track from the entire 1970s, leapfrogging Earth Wind & Fire's 'September'.
Surprisingly, some of pop and rock's biggest artists are missing from the BPI's list - with no entries for the Beatles, Michael Jackson, ABBA, Madonna or David Bowie.
Other Smooth favourites including Toto's 'Africa', Elton John's 'Your Song' and Fleetwood Mac's 'Go Your Own Way' also feature.
Meanwhile, Christmas songs continued to be hugely popular, with Wham's 'Last Christmas' and Mariah Carey's 'All I Want For Christmas Is You' among those which still score massive streaming numbers.
The most streamed songs by year are (figures are 2018 streams by millions):
2018: Drake - 'God's Plan' - 147.4
2017: Keala Settle/Greatest Showman cast - 'This Is Me' - 114.7
2016: Bruno Mars - 'Finesse' - 54.7
2015: Sia - 'Cheap Thrills' - 26.5
2014: Ed Sheeran - 'Thinking Out Loud' - 30.6
2013: George Ezra - 'Budapest' - 31.3
2012: Passenger - 'Let Her Go' - 22.5
2011: Macklemore & Ryan Lewis - 'Can't Hold Us' - 26.3
2010: Foster the People - 'Pumped Up Kicks' - 21.0
2009: Miley Cyrus - 'Party In The USA' - 18.0
2008: Jason Mraz - 'I'm Yours' - 26.9
2007: Arctic Monkeys- 'Fluorescent Adolescent' - 22.7
2006: The Kooks - 'Naive' - 26.9
2005: Kanye West ft Jamie Foxx - 'Gold Digger' - 21.2
2004: Mario - 'Let Me Love You' - 19.0
2003: The Killers - 'Mr Brightside' - 46.9
2002: Eminem - 'Lose Yourself' - 23.6
2001: Nickelback - 'How You Remind Me' - 11.4
2000: Linkin Park - 'In The End' - 16.8
1999: TLC - 'No Scrubs' - 22.6
1998: Goo Goo Dolls - 'Iris' - 20.1
1997: The Verve - 'Bittersweet Symphony' - 17.5
1996: Blackstreet ft Dr Dre - 'No Diggity' - 17.9
1995: Oasis - 'Wonderwall' - 34.1
1994: Mariah Carey - 'All I Want For Christmas Is You' - 39.0
1993: The Cranberries - 'Linger' - 9.7
1992: Radiohead - 'Creep' - 10.1
1991: Nirvana - 'Smells Like Teen Spirit' - 18.6
1990: AC/DC - 'Thunderstruck' - 12.7
1989: The Stone Roses - 'Waterfall' - 8.2
1988: Tracy Chapman - 'Fast Car' - 14.3
1987: The Pogues ft Kirsty MacColl - 'Fairytale of New York' - 29.4
1986: Chris Rea - 'Driving Home for Christmas' - 19.8
1985: Shakin' Stevens - 'Merry Christmas Everyone' - 21.0
1984: Wham! - 'Last Christmas' - 34.4
1983: Eurythmics - 'Sweets Dream (Are Made of This)' - 21.5
1982: Toto - 'Africa' - 32.1
1981: Journey - 'Don't Stop Believin'' - 24.3
1980: Daryl Hall & John Oates - 'You Make My Dreams' - 24.8
1979: Paul McCartney - 'Wonderful Christmas Time' - 15.9
1978: Queen - 'Don't Stop Me Now' - 25.4
1977: ELO - 'Mr Blue Sky' - 26.7
1976: Fleetwood Mac - 'Go Your Own Way' - 20.1
1975: Queen - 'Bohemian Rhapsody' - 29.8
1974: Lynyrd Skynyrd - 'Sweet Home Alabama' - 14.9
1973: Elton John - 'Step Into Christmas' - 21.6
1972: Stevie Wonder - 'Superstition' - 19.5
1971: John Denver - 'Take Me Home Country Roads' - 16.5
1970: Elton John - 'Your Song' - 12.5
1969: The Jackson 5 - 'I Want You Back' - 20.4
1968: Otis Redding - '(Sittin' on) The Dock of the Bay' - 11.2
1967: Marvin Gaye & Tammi Terrell - 'Ain't No Mountain High Enough' - 18.3
1966: The Rolling Stones - 'Paint It Black' - 9.9
1965: The Four Tops - 'I Can't Help Myself' - 8.7
1964: The Temptations - 'My Girl' - 12.5
1963: Andy Williams - 'It's The Most Wonderful Time of the Year' - 12.3
1962: Sam Cooke - 'Bring It On Home to Me' - 5.1
1961: Ben E King - 'Stand By Me' - 16.2
1960: Etta James - 'At Last' - 6.8