The Story of... 'Don't Stop Me Now' by Queen
24 October 2018, 16:36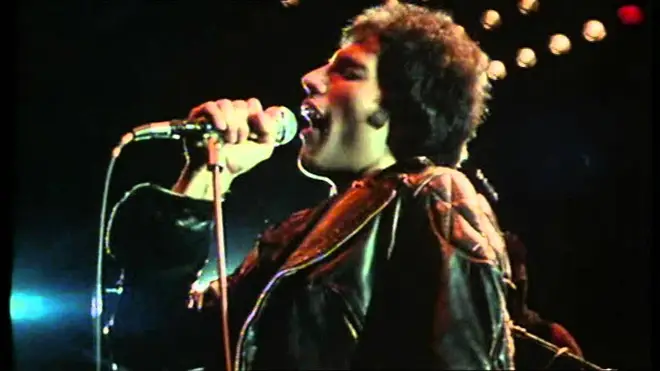 It's one of the most up and at 'em songs of all time, and is guaranteed to put a smile on your face.
'Don't Stop Me Now' is one of Queen's most popular songs, but who wrote it and what inspired its feel-good quality?
Here are all the important facts you need to know...
Who wrote 'Don't Stop Me Now'?

Freddie Mercury wrote the song for Queen's 1978 album Jazz while staying in Montreux, Switzerland.

The 12th song on the album, it was released as a single in early 1979.

The song begins with Mercury's piano playing, with John Deacon and Roger Taylor adding a bass guitar and drums backing track. It also showcases an example of Queen's trademark multitrack harmony vocals for the chorus.

What is the song about?

Queen - Don't Stop Me Now (Official Video)

The empowering song shows Freddie feeling unstoppable: "floating around in ecstasy," "like a tiger defying the laws of gravity," and "traveling at the speed of light."

It shows how Freddie threw caution to the wind, putting himself in danger: "I am a satellite, I'm out of control" and "I am a sex machine ready to reload".

After Freddie died of AIDS-related causes in 1991, Brian May told Mojo that he struggled with the lyrics, as it was about a difficult time in Freddie's life, when he was "taking lots of drugs and having sex with lots of men."

Brian May later said: "I thought it was a lot of fun, but I did have an undercurrent feeling of, 'aren't we talking about danger here,' because we were worried about Freddie at this point.

"That feeling lingers, but it's become almost the most successful Queen track as regards to what people play in their car or at their weddings. It's become a massive, massive track and an anthem to people who want to be hedonistic. It was kind of a stroke of genius from Freddie."

How did it perform in the charts?

It surprisingly only reached number 9 in the UK and number 86 in the US.

Despite this, the song has grown in popularity over the years, thanks to consistent airplay, and by its use in adverts, TV shows and films, and through cover versions.

In 2007, UK chart rules changed allowing all digital downloads. This song benefitted from the new rules, maintaining a Top 200 presence all the way through 2007. Despite never reaching the Top 75 in all that time, it still sold 53,000 copies and was the 160th best-selling single of 2007. Amazingly, this was 3,000 copies more than McFly's number one hit 'Baby's Coming Back'.

When has it been used in TV shows and films?

Shaun of the Dead: Don't Stop Me Now

The song is a major plot point in the 2004 movie Shaun of the Dead. During a zombie attack, it plays on the jukebox, and the characters fight off a zombie in time with the track.

It has also been used in Hardcore Henry, American Dad, Skins, Glee and Doctor Who. It was also voted the 'Best Driving Song' ever by Top Gear viewers.

It used as the theme song for Al Murray's Happy Hour, which ran from 2007 to 2009.

Who has covered it?

McFly - Don't Stop Me Now

McFly recorded a cover for Sport Relief in 2006, taking it to number one in the UK.

Foxes also covered the song for a 2014 episode of Doctor Who.