9 new albums to look forward to in 2019
3 January 2019, 14:33 | Updated: 3 January 2019, 14:45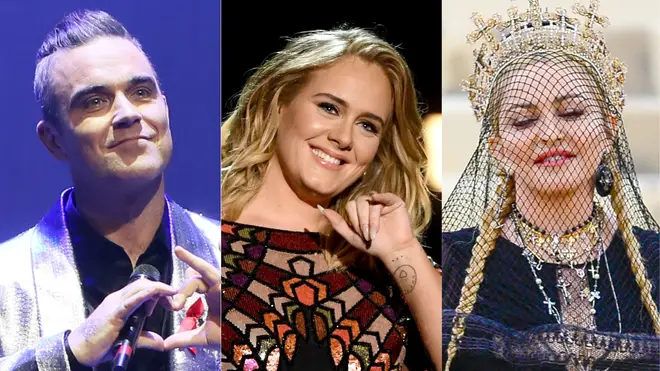 Several new albums have already been confirmed for 2019, and here are just a few highlights to watch out for.
Adele - TBA

Picture: Getty

Adele has yet to confirm when her follow-up to the massive 25 will be released, but she is expected to unleash it to the world in 2019.

There was a four-year gap between her last two albums, so fingers crossed we'll be hearing some brand new belters by the end of the year.

Avril Lavigne - 'Head Above Water'

Avril Lavigne - Head Above Water (Official Video)

Released: February 15

Avril Lavigne's long-awaited sixth album has been delayed for years due to the singer's battle with Lyme Disease.

Inspired by her difficult few years, Avril said that she "sat behind a piano and sang past the pain". If the first couple of tracks released so far are anything to go by, it may well be one of her best yet.

Robbie Williams - 'Under the Radar Volume 3'

Robbie Williams | I Just Want People To Like Me - Official Video

Release date: February 14

Robbie releases his third not-an-actual-album-but-collection-of-unrelased-songs via his website on Valentine's Day.

The last two collections have been a fun and eclectic affair, so we're looking forward to another one.

Freya Ridings - 'Freya Ridings'

Released: May 31

Singer-songwriter Freya Ridings had a fantastic 2018, with her debut single 'Lost Without You' becoming a massive hit in the UK.

She will finally release her self-titled debut studio album this year, which promises to be a fantastic album of moving ballads and catchy pop tracks.

Trevor Horn - 'Trevor Horn Reimagines the Eighties'

Trevor Horn (feat. Robbie Williams) - Everybody Wants to Rule the World (Lyric Video)

Released: January 25

Music producer extraordinaire - aka the man behind countless classics from 'Video Killed the Radio Star' to 'Relax' to 'Kiss from a Rose' - has brought together a host of performers for brand new versions of '80s favourites that he helped produce the first time around.

Robbie Williams, Matt Cardle, Simple Minds, All Saints and more feature on the highly intriguing album.

Madonna - 'Magic'

Picture: Getty

Release date: TBA

The Queen of Pop is back for her 14th album in 2019, which was teased as being titled Magic in a recent newsletter to fans.

The LP is apparently inspired by traditional Portuguese fado music, and sees her reunite with producer Mirwais, who previously worked on her classic Music and American Life albums.

'Cats' soundtrack

Andrew Lloyd Webber in 2016. Picture: Getty

After a year of huge movie soundtracks, from The Greatest Showman, Mamma Mia 2, A Star is Born and Bohemian Rhapsody, there's another musical coming our way in the shape of Cats.

Andrew Lloyd Webber's hit musical is getting a big screen version next December, with roles from the likes of Taylor Swift, Jennifer Hudson and James Corden.

Dido - 'Still on My Mind'

Dido - Hurricanes (Official Lyric Video)

Released: March 8

Dido's fifth album is her first in six years, and she'll be supporting it with her first tour in 15 years.

She wrote and recorded the album with her brother Rollo from Faithless. She said she "only wanted to make another album if it was with him", and called the recording process an "absolutely magical experience".

Backstreet Boys - 'DNA'

Backstreet Boys - Chances (Official Video)

Released: January 25

The boys are back with their first new album since 2013, with the group saying that they "analysed their individual DNA profiles to see what crucial element each member represents in the group's DNA".

The album is produced by OneRepublic's hitmaker Ryan Tedder among others, and promises to be a mature pop record by the manband.