Shane MacGowan facts: Pogues singer's age, wife, children, songs, health and career explained
30 November 2023, 12:05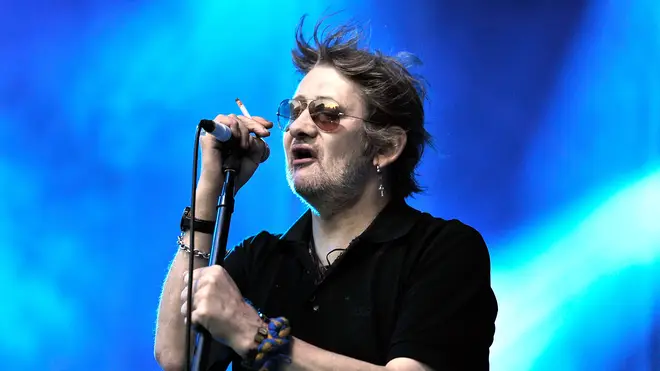 Shane MacGowan was a legendary singer and songwriter who has been the voice of Irish punk and folk music for over four decades.
Born in England to Irish parents, Shane grew up with a love for literature and music, especially the traditional songs of his ancestral homeland.
He started his career as a punk rocker in the late 1970s, but soon found his niche as the leader of the Pogues, a band that fused punk energy with Irish melodies and instruments. He performed some of the most iconic songs of the genre, such as 'Dirty Old Town', 'A Pair of Brown Eyes', and 'Fairytale of New York'.
He also collaborated with many artists, such as Kirsty MacColl, Joe Strummer, Nick Cave, and Johnny Depp.
His life and career have been marked by both brilliance and controversy, as he struggled with addiction, health issues, and personal conflicts. He is widely regarded as one of the most influential and original songwriters of his generation, and a cultural icon of Ireland.
When and when was he born?

Shane MacGowan was born on December 25, 1957 in Pembury, Kent, England.

He marked his 65th birthday in 2022.

His parents were Maurice and Therese MacGowan. His father was a wages clerk at C&A and his mother was a traditional Irish dancer and singer. He also had a sister named Siobhan MacGowan, who was born when he was five years old.

He grew up in Tipperary, Ireland, where his family home was a safe house for the old IRA during the Black and Tans War. He had a very religious upbringing and learned to read at an early age.

How did he get his start in music?

Shane MacGowan At His Parents' Home. Picture: Getty

Shane MacGowan got his start in music when he was a teenager. He was inspired by the punk rock band The Clash, who performed at a concert in London in 1976.

He was so impressed by their show that he got into a fight with some of the audience members, and his earlobe was cut by Jane Crockford, the bassist of The Mo-dettes.

A photographer took a picture of him covered in blood, which made the local newspapers with the headline "Cannibalism at Clash Gig".

After this incident, MacGowan formed his own punk band, The Nipple Erectors (later known as The Nips), which featured Shanne Bradley. They released four singles before splitting up in 1981. They also recorded a demo with Paul Weller, the guitarist of The Jam.

However, MacGowan soon realized that he wanted to combine his love for punk with Irish folk music. He moved back to Ireland and joined a band called Pogue Mahone, which later changed its name to The Pogues. He became the lead singer and songwriter of this band, which became one of the pioneers of Celtic punk.

What are his biggest songs?

The Pogues - Fairytale Of New York (Official Video)

Shane MacGowan wrote and performed many songs that have become classics of the Celtic punk genre. Some of his biggest songs are:

"Fairytale of New York" - This Christmas classic, featuring Kirsty MacColl, is one of The Pogues' most renowned songs.
"Dirty Old Town" - Originally written by Ewan MacColl, The Pogues' rendition, with Shane MacGowan's distinctive vocals, gained popularity.
"The Irish Rover" - A lively collaboration between The Pogues and The Dubliners, showcasing MacGowan's singing.
"Rainy Night in Soho" - A poignant ballad that highlights MacGowan's ability to convey emotion through his lyrics.
"Sally MacLennane" - Another lively and well-known track that captures the spirit of The Pogues' folk-punk sound.
"A Pair of Brown Eyes" - A classic Pogues track known for its storytelling lyrics and emotive melody.
"If I Should Fall from Grace with God" - The title track from The Pogues' third studio album, featuring MacGowan's distinctive vocals.
"Streams of Whiskey" - A lively and spirited song that captures the energy of The Pogues' early work.
"Thousands Are Sailing" - This song reflects on Irish emigration and features MacGowan's poetic lyrics.
"The Body of an American" - Another powerful and evocative song by The Pogues, showcasing MacGowan's storytelling prowess.

What are Shane MacGowan's health issues?

Shane MacGowan had various health issues over the years. This includes:

Encephalitis: This is a rare brain condition that causes inflammation and swelling of the brain. It can lead to serious complications, such as loss of movement, difficulty with speech, seizures, and coma. MacGowan was diagnosed with encephalitis in December 2022 and was hospitalized for treatment.

Broken pelvis: MacGowan broke his pelvis in 2015 after falling at his home. He underwent surgery and was confined to a wheelchair for several months. He also suffered from infections and complications due to the injury.

Torn ligaments: MacGowan tore ligaments in his knee in 2021 and had to undergo another surgery. He was never able to fully recover from the injury and confirmed in April 2022 that he was no longer able to walk.

Addiction: MacGowan was open about his struggle with alcohol and drug addiction, which has affected his health and career. He had been in and out of rehab several times, but he was never able to quit completely. He also lost most of his teeth due to his addiction and had to get dental implants in 2016.

Was he married and did he have kids?

Shane MacGowan with wife Victoria. Picture: Getty

Shane MacGowan married his long-time partner Victoria Mary Clarke in 2018, after being together for more than 30 years.

They had a private ceremony in Copenhagen, Denmark, with only a few close friends and family members.

According to an interview with Victoria Mary Clarke, they decided not to have children because they felt they were too indisciplined and irresponsible to be parents. She also said that they were happy with their dogs and cats, and that they considered them as their children.