ABBA's Benny and Bjorn surprise fans at Mamma Mia's 20th West End anniversary
7 April 2019, 19:55
ABBA fans were treated to a huge surprise when the group's leading men appeared on stage in London.
Celebrating the stage musical Mamma Mia!'s 20th anniversary in London's West End, ABBA's Benny Andersson and Bjorn Ulvaeus made a surprise appearance at the Novello Theatre.
Bjorn told the crowd it felt "both strange and wonderful" to be there.
The pair wrote the music and lyrics to the hit stage show, based on the music of ABBA, which has been seen by over 65 million people around the world.
They were joined at the Novello Theatre by producer Judy Craymer, director Phyllida Lloyd and writer Catherine Johnson, who Bjorn described as "three angels".
Confetti rained down during a medley of ABBA classics including 'Dancing Queen' and 'Waterloo'.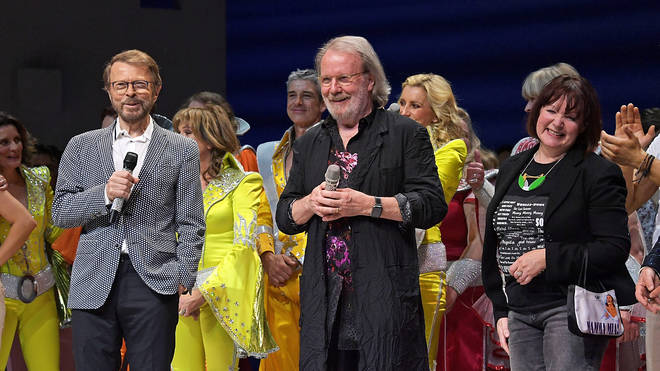 Speaking later, Benny said it had been "too long" since he had seen the show: "There is a chance to be immersed, to get moved and I was tonight and I'm happy that I can feel that."
The musical is centred on a mother, her daughter and three potential fathers on a Greek island, all to the tune of ABBA's pop classics.
It was turned into a film in 2008, starring Meryl Streep, Amanda Seyfried, Pierce Brosnan and Colin Firth, who later reunited for a sequel, Mamma Mia! Here We Go Again, last year.
Meanwhile, ABBA will soon release new music together for the first time in over 30 years.