Bryan Adams was interrupted by stage invader during 'Summer of 69' and he handled it perfectly
14 July 2023, 13:26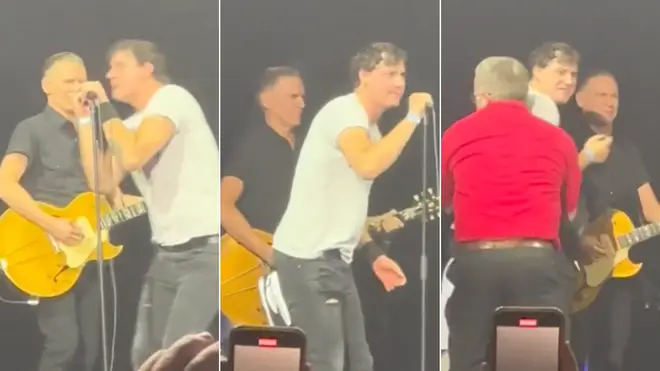 When Bryan Adams was performing in Salt Lake City recently, things got a bit out of hand when a fan came on stage and seized the microphone when he was singing 'Summer of '69'.
The well-known opening chords of Bryan Adams' hit 'Summer of 69' had just been kicked off by the Canadian rocker when a young man wearing a white shirt and torn trousers emerged from the audience.
Bryan stepped back as the fan approached the microphone and began to sing a few lines from the first lyrics.
Security immediately showed up and ejected the man from the stage.
Amazingly, Bryan didn't skip a beat, continuing the 1985 hit where the other musician left off while rocking the entire time.
A video of the event has gone viral on social media, and many users have praised Bryan Adams for how he handled the uninvited visitor.
Watch the moment below:
On Twitter, Bryan stated that "Stage crashing NOT recommended," and on Instagram, he added the phrase "Sometimes you just gotta laugh."
Bryan's incident occurs at a time when the distinction between fans and musicians seems to be more hazy than ever.
Several musicians, including Taylor Swift, Harry Styles, Bebe Rexha, and Lil Nas X, had to abandon recent shows as a result of fans throwing objects at them from the audience.
The items have included wristbands, sex toys, and even phones. The most strange incident was when a fan tossed their mother's ashes upon Pink during her performance at BST Hyde Park in London.