'Tiny Dancer', 'Sweet Caroline' and other classics inducted into Grammy Hall of Fame
15 January 2020, 10:24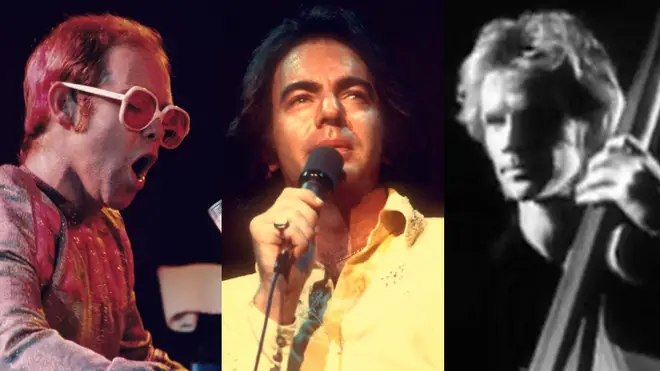 The Recording Academy has inducted 26 iconic songs and albums into its Grammy Hall of Fame.
This year's inductees include a wide range of singles and albums that are at least 25 years old that "exhibit qualitative or historical significance".
These include Elton John's classic 1971 hit 'Tiny Dancer', The Police's 1983 track 'Every Breath You Take' and Neil Diamond's stadium-pleaser 'Sweet Caroline'.
Eurythmics' 'Sweet Dreams (Are Made of This)' and Patsy Cline's 'Walkin' After Midnight' also get recognised in the latest list.
"Each year it is our distinct privilege to preserve a piece of cultural and music history with our Grammy Hall Of Fame inductions," said Deborah Dugan, President/CEO of the Recording Academy.
Elton John - Tiny Dancer (Live On Old Grey Whistle Test)
"We are so honoured to welcome these timeless masterpieces to our growing catalogue of iconic recordings that serve as a beacon of music excellence and diverse expression that will forever impact and inspire generations of creators."
Now in its 47th year, the Hall of Fame currently has 1,114 recordings. Recordings are reviewed each year by a special member committee containing knowledgeable professionals, with final approval by the Recording Academy's National Board of Trustees.
The 62nd Annual Grammy Awards will be broadcast live on Sunday, Januaty 26 at 8pm in the US.
The full list of inductees are:
Machito - 'Afro-Cuban Jazz Suite'
The Nat King Cole Trio - Capitol Presents The King Cole Trio (album)
James P Johnson - 'Carolina Shout'
Joni Mitchell - Clouds (album)
Skip James - 'Devil Got My Woman'
The Allman Brothers Band - Eat a Peach (album)
The Police - 'Every Breath You Take'
The Police - Every Breath You Take
Peter Frampton - Frampton Comes Alive! (album)
Blind Alfred Reed - 'How Can A Poor Man Stand Such Times And Live'
The Chuck Wagon Gang - 'I'll Fly Away'
Bo Diddley - 'I'm A Man'
The Stanley Brothers & The Clinch Mountain Boys - 'I'm A Man Of Constant Sorrow'
Public Enemy - It Takes A Nation Of Millions To Hold Us Back (album)
Dick Dale And The Del-Tones - 'Miserlou'
Swan Silvertones - 'Oh Mary Don't You Weep'
Willie Nelson And Merle Haggard - 'Pancho And Lefty'
Joshua Rifkin - Piano Rags By Scott Joplin (album)
Devo - Q: Are We Not Men? A: We Are Devo! (album)
Neil Diamond - 'Sweet Caroline (Good Times Never Seemed So Good)'
Eurythmics - 'Sweet Dreams (Are Made Of This)'
Taj Mahal - Taj Mahal (album)
Nancy Sinatra - 'These Boots Are Made For Walkin''
Elton John - 'Tiny Dancer'
Patsy Cline - 'Walkin' After Midnight'
The Surfaris - 'Wipe Out'
Mary Lou Williams - Zodiac Suite (album)