Elton John and Watford FC: The popstar's love and history of the football club explained
18 May 2019, 13:29 | Updated: 18 May 2019, 20:41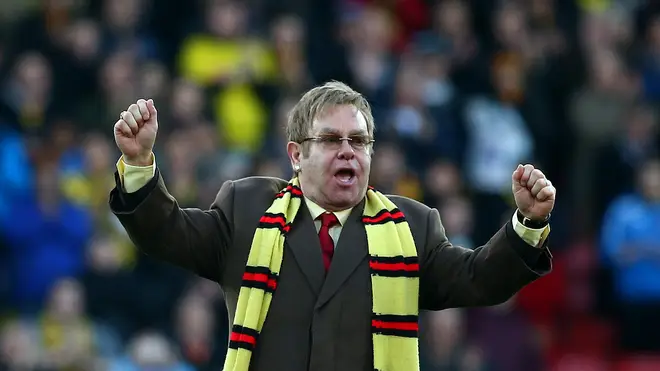 Sir Elton John has been connected to Watford Football Club for decades, including ownership and even sending is kids to play for them.
Alongside the likes of Delia Smith and Lord Sugar, Elton John is among those in showbiz who have moved into football club ownership, and his love for Watford FC lives on.
With Watford in the 2019 FA Cup Final, and his sons Elijah and Zachary on hand to walk out the players at Wembley - let's look back at just how and why Elton became so linked with the club:
Why does Elton John support Watford?

Elton John has supported Watford since his childhood, having grown up in the local area of Pinner in North London.

When did Elton John own Watford FC?

Elton John in Watford's kit in 1973. Picture: Getty

Elton became the club's chairman and director in 1976, and soon appointed Graham Taylor as manager.

He also invested large amounts of money, seeing the club jump three divisions into the English First Division at the time.

Watford also finished runners up in the First Division to Liverpool in 1983, and reached the FA Cup Final at Wembley Stadium in 1984.

Elton John and Graham Taylor in 1984. Picture: Getty

He eventually sold the club to Jack Petchey in 1987, but remained its president.

In 1997, he re-purchased the club back from Petchey, and became chairman again.

He stepped down in 2002 when the club required a full-time chairman, but he once again continued as president of the club.

Does Elton John still attend Watford matches?

The Sir Elton John Stand. Picture: Getty

While no longer the majority shareholder of the club, he still holds a large financial interest.

In June 2005, he held a special concert at Watford's stadium, Vicarage Road, and donated the funds to the club. He did the same again in May 2010.

On December 13, 2014, he appeared at Watford's Vicarage Road with husband David Furnish and sons Zachary and Elijah, for the opening of the 'Sir Elton John stand', and is an honorary life president. He described the moment as "one of the greatest days of my life".

"One thing about me not attending matches more recently: I don't like crowds," he told the Watford Observer in 2014.

"It is not so comfortable going to matches as it was back in our day, back in the 1970s. People are different and they have these mobile phones and their cameras. They didn't have them years back, so it is different.

"You are having your photo taken all the time. It is not so easy to relax and just concentrate on a game."

It was also recently reported that Watford were considering changing their intro music from 'Z Cars' to Elton's 'I'm Still Standing'.

Does his son play for Watford?

Elton John, David Furnish and their sons attend a Watford game in 2017. Picture: Getty

Zachary Jackson Levon Furnish-John signed a deal to join Elton John's beloved Watford in 2018, aged 7, in their academy set-up.

Speaking about Zachary and his five-year-old son Elijah, Elton said: "They're thriving. They're seven and five now. Zachary is incredibly into soccer.

"He plays for the Watford Academy team."