Who was Elvis Presley's father Vernon and what happened to him after his son's death?
20 May 2022, 16:44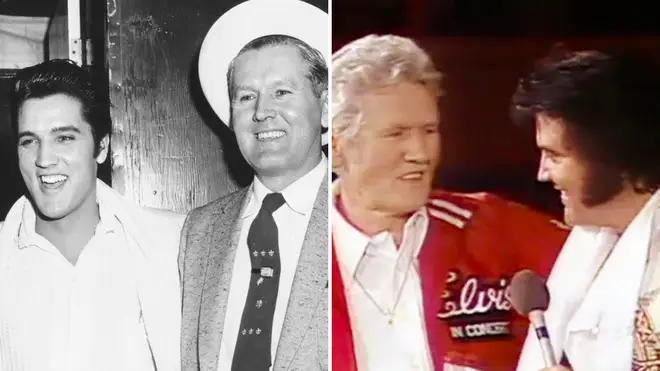 Elvis Presley wouldn't have been the megastar he became if it wasn't for the love and support of his parents.
While Elvis was known to have been particularly close to his mother Gladys, it was his father Vernon who was with him every step of the way, right up until the King's untimely death.
Where and when was Vernon Presley born?

Elvis with his parents. Picture: Getty

Vernon Presley was born on April 10, 1916, in Fulton, Mississippi.

He met and married Elvis's mother Gladys Smith, when he was just 17.

Gladys was four years older than him, and because Vernon was underage at the time, they lied about their ages in order to get married in 1933.

Gladys soon became pregnant and she gave birth on January 8, 1935.

However, tragedy occurred during the birth. Gladys had twins, but the first boy, Jesse Garon Presley, was stillborn.

The second boy, Elvis Aaron Presley, survived.

Elvis Presley on Leave with His Parents. Picture: Getty

Speaking in 1978, Vernon said he was excited to welcome his child. He said: "My love for my son began even before he was born.

"At that time there was almost nobody poorer than my wife Gladys and me.

"But we were thrilled and excited when we learned that we were going to be parents.

"I was only 18-years-old but throughout Gladys' pregnancy it never occurred to me that I wouldn't be able to take care of her and the baby."

What did Vernon Presley do for a living?

Elvis Presley and his father Vernon. Picture: Getty

According to the book Last Train to Memphis: The Rise of Elvis Presley, Vernon had various small jobs trying to make ends meet.

In 1938, he served eight months in prison after altering a cheque.

When Elvis began finding success, Vernon worked alongside his son to guide him.

When Elvis was 20, he was offered a contract with Sun Records, but he was still too young to sign, so Vernon did it for him.

Vernon was known to have managed Elvis' affairs from Graceland, where their family lived from when Elvis was 21.

He also went on tour with his son, and helped oversee his finances. At one point, Vernon even had a role as an extra in his son's film Live A Little, Love A Little.

How many wives did Vernon Presley have?

Vernon Presley posing with his second wife Dee ((L-R) Nancy Sinatra, Nelson Rockefeller, Vernon Presley, Dee Presley, Ricky Stanley, David Stanley, Billy Stanley). Picture: Getty

Vernon was married to Elvis's mother Gladys until her death at the age of 46 in 1958, leaving the pair distraught.

However, just two years later, Vernon married his second wife, Dee, and they moved into a home on the Graceland estate.

When did Vernon Presley die?

Vernon Presley was 63 years old when he died of a heart attack in June, 1979, just two years after his son had passed away.

After Elvis's death, Vernon was named executor of his estate.

After Vernon's passing, the inheritance from his son went to Lisa Marie Presley, Elvis's daughter. However, she was only able to collect the money when she reached 25 years-old.