Who is George Michael's ex-boyfriend Kenny Goss?
6 March 2023, 16:27 | Updated: 17 March 2023, 09:56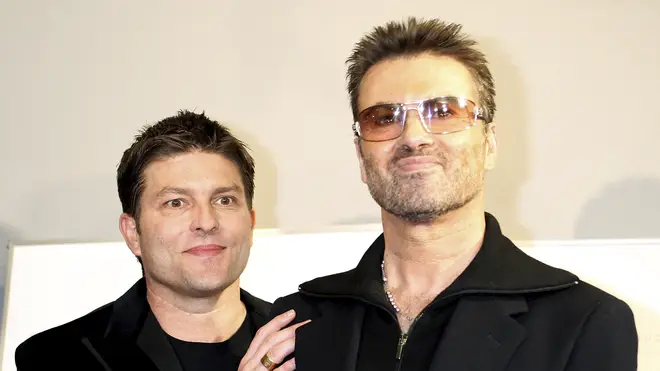 Kenny Goss was George Michael's longest relationship, and were together for 13 years.
Kenny founded a charity with the late singer, The Goss-Michael Foundation, and is now thought to have a share of the former Wham! singer's inheritance.
In 2023, he has made a rare public appearance to discuss his relationship with George in the Channel 4 documentary George Michael: Outed. But who is Kenny Goss and when did the couple meet?
Who is Kenny Goss?

Kenny Goss is an art dealer and businessman, born in Bromwood, Texas, in 1958.

He studied education and political science, and worked for Herkie Herkimer's Cheerleader Supply Co. He was previously a a gymnast and cheerleader at school.

How and when did he meet George Michael?

George and Kenny in 2002. Picture: Getty

Kenny came out as gay to his brother, revealing that he and George Michael were in a long-term relationship.

The couple first met at a Fred Segal restaurant in Los Angeles, after he moved there in 1988.

He did not tell his parents, and has described his sexuality as "this big pink elephant in the center of every holiday" when talking to The Dallas Morning News.

Kenny and George first got together in 1996, but they only went public two years later, after George publicly came out as gay after being arrested for "performing a lewd act" in a California toilet.

George said that he had kept his sexuality secret from the public, because he worried what effect it would have on his mother.

In 2005, it was reported that the couple were going to formalise their relationship with a civil partnership, but this was was postponed.

When and why did they split up?

Kenny Goss and George Michael. Picture: Getty

The couple broke up in 2009 after 13 years together. This was kept out of the public eye until George announced it on stage nearly three years later.

George said: "In truth Kenny and I haven't been together for two and a half years. I love him very much. This man has brought me a lot of joy and pain.

"My love life has been a lot more turbulent than I've ever let on, and I'm so sad about my relationship with Kenny. I'm sorry for any pain."

Kenny has said that George's drug use led to arguments, with George also struggling over Kenny's alcohol use.

Kenny said: "When I confronted him, he never denied it, never apologised. He was hard on me about drinking, because I developed a problem."

He continued to support George over the years, and joined him for a court appearance in 2010, and also visited him in an Austrian hospital when he contracted pneumonia in 2011.

George wrote 'Where I Hope You Are' about Kenny, with lyrics that included: "For so long there's been no-one else I care about. That my heart could really be so wrong again, well it wears me out. I had a picture in my soul, some place warm we could hang out when we're old. Now it's just – where I hope you are."

Speaking in 2022, Kenny said: "We all expected him to die. I had spent so much time when we lived together, being worried about him.

"Honestly, he hated the fact that I worried about him so much. What's the line he says in one of his songs? He says, "I can see it in your eyes when you look at me that way, it tears me in two". And it really did. I just didn't know what to do.

"I was worried about him all the time. Please don't say that the wrong way, if you love someone you are worried about them."