Santana almost recorded 'Smooth' with George Michael. Yes, really
24 January 2019, 16:05 | Updated: 5 February 2021, 14:54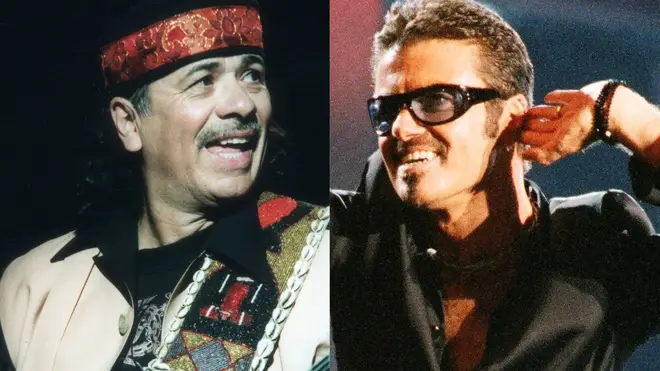 Santana scored one of the biggest comebacks in music history with their 1999 song 'Smooth' (a fantastic name for a song, if you ask us)
Rob Thomas sang the lead vocals on the track, which won three Grammy Awards: Record of the Year, Song of the Year, and Best Pop Collaboration with Vocals. It was also a number one hit in the US, and is still the second most successful song in US chart history.
However, it was originally going to sound totally different.
George Michael was the first choice to sing the lead vocals on the track, which was included on Santana's album Supernatural, an LP that also had duets with Eric Clapton, Dave Matthews, Lauryn Hill and others.
Matchbox Twenty star Rob Thomas co-wrote the song Itaal Shur, with Thomas wanting George to be the vocalist.
Santana - Smooth ft. Rob Thomas (Official Video)
He told Billboard: "When we finished the song, the conversation came around to who should sing it. I don't believe I was even in the running. But I WAS in the conversation with Clive Davis and his people about my thoughts on who should.
"My first thought was George Michael. In fact, it was George I had in my head when I recorded the vocals in the first place. If you listen to the melody and the cadence, it's an attempt to emulate his style in so many ways."
He added: "Because we share the same manager I got the opportunity to spend a fair share of time with George and after my third glass of wine, I would start to gush and he would respond, as he did with everything, like a true gentleman with kind words and insight.
Rob Thomas - "Father Figure"- Atlantic City, NJ 1-13-18
"I'll never be George Michael, but without George, I'm not sure I would have been Rob Thomas either."
However, after the record company heard Rob's demo, they wanted him to sing on 'Smooth', and the rest is history. As much as we love the song as it is, we do love to think there's a parallel universe where George made it even bigger.