Robbie Williams cradles newborn son Beau in adorable video
25 February 2020, 14:59
The 'Angels' singer cuddles his son in the heartwarming clip, after wife Ayda announced the arrival of their fourth child via surrogate on Valentine's Day.
Robbie Williams cradles his newborn son Beau Benedict Enthoven in a heartwarming video shared by wife Ayda Field last night (February 24).
In the clip the star gazes down lovingly at his fourth child, whose arrival via surrogate was announced by Ayda on Valentine's Day.
"How's it feel dada?" Ayda asks, before Robbie glances up grinning and ends the clip with a cheeky wink to the audience.
Watch the adorable moment below.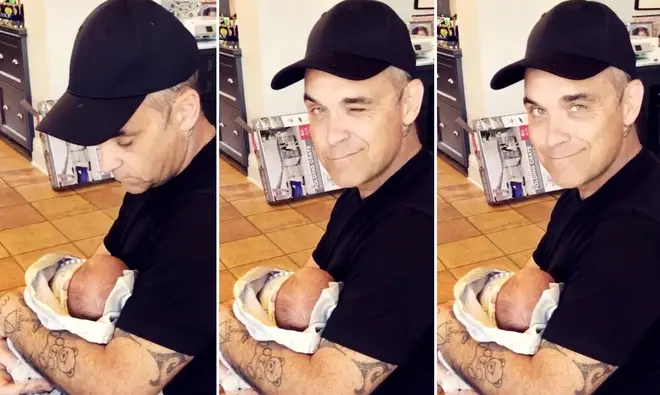 Ayda shared the wholesome moment to Instagram, captioning the post: "@robbiewilliams A Beau-tiful Moment #fatherandson #babybeau AWxx."
The post has already received over 80,000 likes, with hundreds of comments from well-wishers celebrating the new arrival.
The couple surprised fans on Valentine's Day this year with the news of Beau's arrival, after sharing a post to social media showing four pairs of childrens' feet – one which belonged to a little baby.
"On this Valentine's Day, we would like to celebrate love in the most awesome way... Beau Benedict Enthoven Williams," Ayda captioned the post.
"As with Coco, he is biologically ours, but born via our same incredible surrogate. We are so blessed to have our healthy son safely in our arms and are officially complete as a family."
The couple now have four children together – five-year-old son Charlie, daughters Teddy, seven, and Coco, one, and now newborn Beau.