Remembering when Dame Edna Everage left Tom Jones utterly speechless
24 April 2023, 16:26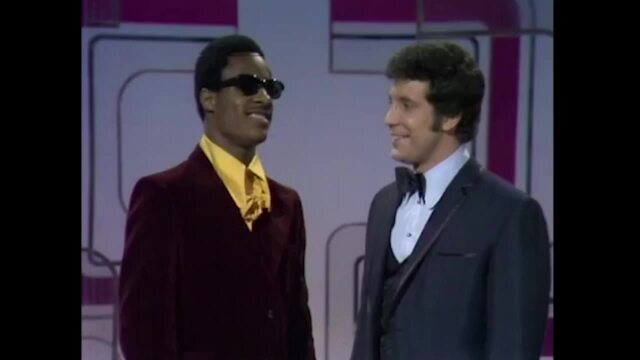 Stevie Wonder performs with Tom Jones in 1969
It takes a fair bit to shock Sir Tom Jones...
At the weekend the world mourned not just the death of Barry Humphries, but also his towering comic creations, including Sir Les Patterson and especially Dame Edna Everage.
While Dame Edna had her own shows and TV specials, it was often when she popped up on other more "normal" talk shows that she had her finest moments.
One such moment came on Christmas Eve in 2002, when Dame Edna and Tom Jones were sharing a spot on Parkinson.
It all started gently enough when Michael Parkinson complimented Dame Edna on her "ageless" appearance.
"Well, I'm trying to be ageless," Dame Edna replied. "I haven't... I've had a little work done..."
Tom Jones quietly piped up, "Have you?" but soon probably wished he hadn't.
Watch this Classic! The One and Only Dame EDNA EVERAGE meets Tom Jones
"Not quite as much as some people," she replied with a cheeky glance at the future-Sir Tom.
"Don't look at me as when you say that please!" Tom replied. "Keep your eyes that way!"
Dame Edna smoothed things over the way only she can. "No, but the thing is you are still recognisable, that's what I like!" she reassured Tom.
"You know some people, you know this as well as I do, they go in, they go in to see these cosmetic surgeons and they forget, before the anaesthetic takes over, they forget to say, 'I want people to know who I am when I come out'.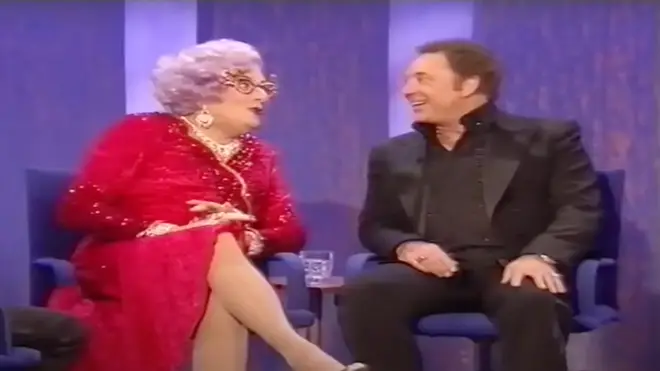 "They go in like a Mercedes and they come out like the backside of a Ford Mondeo, they do!"
But Damer Edna wasn't done yet.
Parkinson tried to clarify things by asking" But you've resisted the temptation so far?"
Dame Edna smirked as she replied: "Very much so, just a little tightening here and there. Nowhere that you can see.
The Dame Edna Experience. Guests: Lauren Bacall, Tom Jones and Gerald Durrell.
After pulling the most remarkable series of faces, she then looked towards Tom and gently crooned: "It's not unusual."
Tom should definitely have known what to expect being sat next to Dame Edna, having previously been a guest on The Dame Edna Experience.
He appeared on the show back in 1989, sharing a sofa with fellow icons Lauren Bacall and Gerald Durrell.
Tom took questions from Dame Edna and also gave a performance of the title track from that year's At This Moment album.