The Story of... 'Flashdance... What a Feeling' by Irene Cara
26 November 2022, 16:51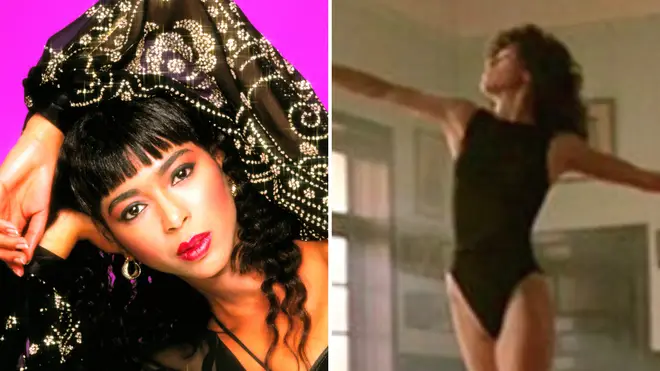 Flashdance featured one of the most iconic moments of cinema, helped largely to a fantastic theme song.
The 1983 romantic drama dance film starred Jennifer Beals as a young dancer aiming to become a professional ballerina.
The film was a surprising box office success, with a soundtrack from electronic pioneer Giorgio Moroder. Alongside the song 'Maniac' by Michael Sembello, it also featured the title track which won the film an Oscar and a Grammy.
Following the sad death of Irene Cara at the age of 63 in 2022, let's take a look back at the making of a pop gem.
Who wrote 'Flashdance... What a Feeling'?

Irene Cara and Keith Forsey with their Oscar for 'Flashdance'. Picture: Getty

Giorgio Moroder won an Oscar for Best Original Score in 1979 for Midnight Express, and he later worked with Flashdance producer Jerry Bruckheimer on the 1980 film American Gigolo.

Bruckheimer contacted Moroder in 1982, to ask if he would be interested in writing the music for a new film.

The movie told the story of Alex Owens, a young woman who dreams of becoming a ballerina but must overcome her fear of auditioning before a panel of judges.

He wasn't that interested at first due to other commitments, but Moroder wrote with some music that was "a very rough sketch".

The demo he sent was the music for what would become 'Flashdance... What a Feeling', but Moroder didn't want to compose the score until he saw a rough cut of the film.

Moroder asked his session drummer, Keith Forsey, to write the lyrics for the song, and he later received help from Irene Cara.

Giorgio Moroder. Picture: Getty

Cara - who had previously had success with performing the title track for 1980's Fame - described Forsey as "very personable, just a sweetheart. He was very funny. We definitely clicked."

She had been working on an album and looking for a producer in 1983, when she was approached by Paramount Pictures to provide lyrics for the song.

However, she was reluctant at first about being compared to another singer he had produced, Donna Summer.

Cara and Forsey were shown the last scene of the film, where Alex auditions. They were then driven to Moroder's studio to record the song.

She said: "I had no idea what the movie was about or anything. It did seem to me to have a similar look in regards to Fame, so I figured, well, this is another performing arts film."

What inspired the song's lyrics?

Jennifer Beals in Flashdance. Picture: Getty

Irene Cara told Forsey that she felt that the lyrics should describe the feeling of dance, and has said that he came up with the line that inspired the working title for the song, 'Dancing for Your Life'.

She said that the song became "a metaphor about a dancer, how she's in control of her body when she dances and how she can be in control of her life".

Moroder also felt that the lyric "what a feeling" was right for the film's story, but tried to persuade them to use the title of the film in the lyrics. However, it was only after the song was completed with the title 'What a Feeling', that 'Flashdance…' was added.

Who recorded it first?

Flashdance - Final Dance / What A Feeling (1983)

Moroder had previously produced Donna Summer's song 'Heaven Knows', which featured Joe 'Bean' Esposito, and Esposito recorded the first vocal demo of 'Flashdance... What a Feeling'.

Moroder was at first going to get Esposito to do the final recording, but Paramount wanted a famous singer.

Irene Cara agreed to write the lyrics if she would be the one to sing the song, and Moroder said that "she did absolutely fantastic work."

When you first heard it, you said, 'It's a hit.'

- Jerry Bruckheimer

How well did it perform?

'Flashdance' spent six weeks at number one on the Billboard Hot 100 in the US and topped the charts around the world (it reached number two in the UK).

It sold over a million copies, and won the Academy Award and Golden Globe for Best Original Song, and earned Cara the Grammy Award for Best Female Pop Vocal Performance.

The song cost Irene Cara a lot of money

Irene Cara. Picture: Getty

In 1985, Irene Cara filed a lawsuit against Al Coury Inc and Network Records, seeking $10 million in punitive and approximately $2 million in compensatory damages.

She claimed that Coury withheld $2 million in composing and recording deals involving 'Flashdance... What a Feeling'.

She later said that the treatment she received in the entertainment industry from that point on caused her to suspect that Coury began a smear campaign to ruin her career.

Care claimed that they warned other record labels of her lawsuit, so that no one would sign her.

In 1993, after concluding that Cara's career was indeed damaged as a result of the treatment she received, a Los Angeles County Superior Court awarded her $1.5 million for lost funds.

She then began earning royalties for her Network recordings almost a decade after her last chart hit in 1984.