The Story of... 'We Have All the Time in the World' by Louis Armstrong
29 September 2021, 17:52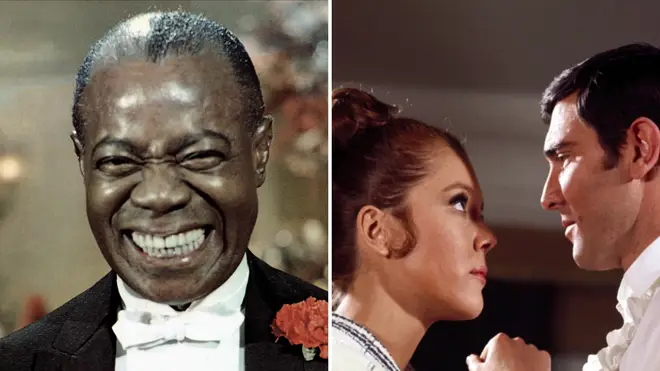 Looking back at the history of the stunning James Bond love song, originally from On Her Majesty's Secret Service.
It's one of the most beautiful love songs ever recorded, and also one of the greatest James Bond themes, even if you may have forgotten that's where it originally came from.
Recorded for George Lazenby's first and only outing as James Bond, the Louis Armstrong tune still sounds fantastic over 50 years later.
But how did the song come about and how did Louis get involved? Here's all the big facts:
Who wrote 'We Have All the Time in the World'?

John Barry in 1967. Picture: Getty

The music for the song was composed by John Barry, with the lyrics by Hal David.

John Barry had previously worked on the Sean Connery James Bond films, and also arranged Monty Norman's iconic main 'James Bond Theme'.

Hal David was one of the world's most successful songwriters in popular music history. Best known for his partnership with Burt Bacharach, he was behind some of the biggest hits of the 1950s, 1960s and 1970s, including 'Magic Moments', 'Walk on By' and 'I Say a Little Prayer'.

Hal David. Picture: Getty

'We Have All the Time in the World' was the secondary musical theme for the 1969 Bond film On Her Majesty's Secret Service. The film's title instrumental theme 'On Her Majesty's Secret Service' by John Barry was actually the main theme.

What inspired the song?

On Her Majesty's Secret Service Ending

The song title is taken from James Bond's final words in both the novel and the film.

In the film, George Lazenby's Bond is distraught after his wife Tracy (Diana Rigg) is shot and killed.

Bond says: "It's quite all right, really. She's having a rest. We'II be going on soon. There's no hurry, you see? We have all the time in the world."

The song then plays over the film's ending credits.

How did Louis Armstrong get involved?

Louis Armstrong in 1967. Picture: Getty

By 1969, Louis Armstrong was an iconic star of jazz and popular music, having been performing since the 1920s.

He was known for instantly recognizable gravelly voice, and for his highly influential trumpet playing.

Now in his late 60s, it was just a year after Louis had scored a UK number one single with 'What a Wonderful World'.

However, Louis was too ill to play his trumpet at the time, and therefore it was played by another musician. It was reportedly Louis' final recording session before passing away in 1971.

John Barry chose Louis Armstrong for the song, because he felt he could "deliver the title line with irony".

How did it perform in the charts?

Guinness infinity advert 1994 - Louis Armstrong - 'We have all the time in the world'

The song was released as a single in both the US and the UK, in December 1969.

Amazingly, it did not chart in either country at the time.

However, it finally found success in the UK 25 years later. In 1994, it was used in a Guinness beer advert. This re-release saw it reach as high as number three in the UK charts.

In 2005, a survey found that it was the third most popular love song played at weddings.

Louis Armstrong - We have all the Time in the World

Who else has covered it?

Among the many covers over the years include:

My Bloody Valentine
Deep Purple
Iggy Pop
Vic Damone
Michael Ball
Shirley Bassey
Alfie Boe