The 12 greatest songs written by Burt Bacharach, ranked
9 February 2023, 15:12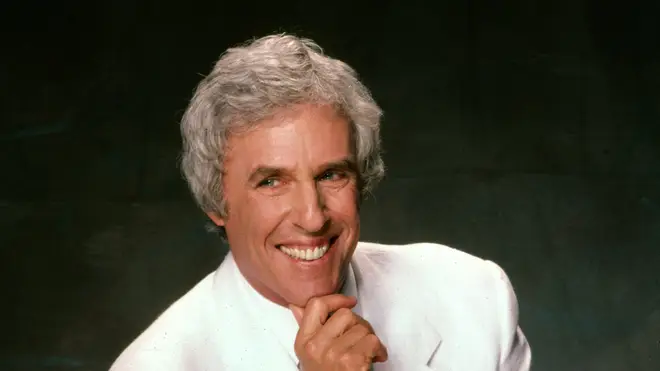 Burt Bacharach was responsible for some of the greatest pop melodies and love songs of the 20th century.
Often working alongside Hal David, 92-year-old Burt was a six-time Grammy Award winner and three-time Oscar winner, and his songs have been recorded by over 1,000 different artists.
But what are his greatest-ever songs? Here's our definitive playlist ranking:
'The Look of Love'

Dusty Springfield -Look of Love-live and rare!

Bacharach wrote this with Hal David, and it was used in the 1967 James Bond spoof Casino Royale and made famous by Dusty Springfield.

According to Bacharach, the melody of the song was inspired by watching Ursula Andress in an early cut of the film. The song was later nominated for an Oscar.

'Make It Easy on Yourself'

The Walker Brothers - Make It Easy On Yourself

Bacharach and David wrote this song in the early 1960s, and Jerry Butler first had a hit with it in 1962.

Dionne Warwick actually recorded the first demo (and eventually a hit with it in 1970), and Butler said of her version: "Man, it's a great song, and the girl who's singing it, and the arrangement, is a hit."

The Walker Brothers went on to score their biggest hit with a cover version three years later.

'Magic Moments'

Perry Como - Magic Moments

Written in 1957, this was one of Bacharach and David's first ever songs together.

Perry Como scored the most famous version of it a year later, achieving his biggest UK hit with a number one single.

And we'll never forget that Quality Street advert.

'I Just Don't Know What To Do With Myself'

Dusty Springfield - I Just Don't Know What To Do

Tommy Hunt first recorded this Bacharach/David song, before Dusty Springfield scored the biggest hit with it in 1964.

It has been recorded by many artists since, including Dionne Warwick and a hard rock version by The White Stripes.

'Raindrops Keep Fallin' on My Head'

Raindrops Keep Falling on my Head

Bacharach and David won an Oscar for this song, after its use in the 1969 classic movie Butch Cassidy and the Sundance Kid.

The song was recorded by BJ Thomas in seven takes for the movie, after Bacharach wasn't happy with the first six.

In the film version of the song, Thomas had been recovering from laryngitis, making his voice sound hoarser than on the single version.

In the UK, it was actually Sacha Distel's cover in 1970 that proved to be more popular.

'I'll Never Fall in Love Again'

Deacon Blue - I'll Never Fall in Love Again

This Bacharach/David song was written for the 1968 musical Promises, Promises, and has been covered by many artists ever since.

In 1969, the most popular version was by Burt's protege Dionne Warwick, while Bobbie Gentry's version topped the UK charts.

Other famous versions include Johnny Mathis, Deacon Blue, Carpenters, and Ella Fitzgerald.

Bacharach revisited the song as a duet with Elvis Costello for the Austin Powers: The Spy Who Shagged Me soundtrack in 1999.

'Anyone Who Had a Heart'

Cilla Black - Anyone Who Had A Heart (Live)

Dionne Warwick scored a big hit with this Bacharach/David ballad in 1963, but only in the States.

In the UK, it lost out to Cilla Black's cover version, which proved to be far popular at the time, reaching number one and selling nearly a million copies.

Dionne was apparently rather peeved with Cilla's version beating hers in the UK, with Cilla later saying: "It was a no. 1; Dionne was dead choked and she's never forgiven me to this day."

'Arthur's Theme'

Christopher Cross - Arthur's Theme

Burt Bacharach shared another Oscar for this song, which was performed by Christopher Cross for the comedy movie Arthur starring Dudley Moore.

The song was written as a collaboration between Cross, Bacharach, and Bacharach's frequent writing partner and then wife Carole Bayer Sager.

A fourth writing credit went to Liza Minnelli's ex-husband Peter Allen, as the line "When you get caught between the moon and New York City" was taken from an unreleased song Allen and Bayer Sager had previously written together.

'On My Own'

Patti LaBelle - On My Own (Official Music Video) ft. Michael McDonald

Written and produced by Bacharach and his former wife Carole Bayer Sager, it was first recorded by Dionne Warwick, but she decided not to release it.

A year later, Patti Labelle recorded it as a duet with Michael McDonald, and it became a huge number one hit in the US.

'Close to You'

They Long To Be (Close To You) - Carpenters HD_HQ 1970

Richard Chamberlain first recorded this Burt Bacharach and Hal David ballad in 1963, but it was not a hit.

Dionne Warwick (again) also released it as an album track a year later.

But it wasn't until the Carpenters covered it in 1970 that it became a massive hit, and the duo's breakthrough.

Herb Alpert had first been offered it, but he was not a fan of his own version.

'I Say a Little Prayer'

Aretha Franklin - I Say A Little Prayer: her very best performance!

Perhaps Aretha's most famous song, it was actually first recorded by, you guessed it, Dionne Warwick, a year before.

Written by Bacharach and David to convey a woman's concern for her lover who's serving in the Vietnam War, Aretha only ended up recording it after singing it for fun one day in the studio with backing singers The Sweet Inspirations.

'Walk on By'

Dionne Warwick - Walk On By

This is arguably Dionne Warwick's signature song, and the same goes for Burt Bacharach and Hal David.

Amazingly, it was only a B-side to another single, and it was down to a local New York DJ who preferred it, which may have saved her career after a string of unsuccessful singles.