The Story of... 'Wicked Game' by Chris Isaak
11 June 2021, 13:09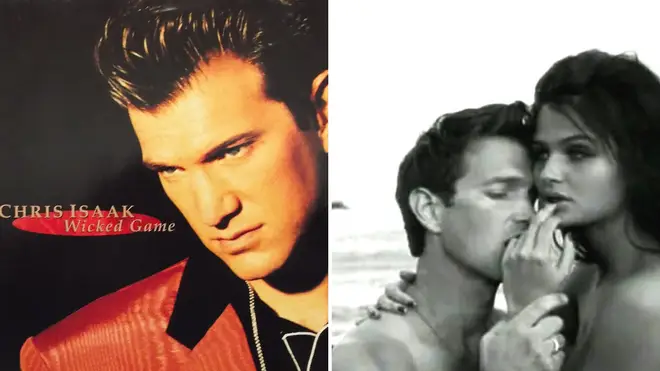 Chris Isaak's sultry ballad 'Wicked Game' was a modest hit the first time around, but it has grown over the years to become one of the world's most iconic love songs.
The seductive track has been covered by many other artists, and featured in countless movies, TV shows and adverts over the years.
This has even led to Dazed magazine pondering whether it might be the most influential love song in modern music.
30 years on from its chart success, let's look back at the history of Chris Isaak's masterpiece:
Who wrote 'Wicked Game' and what is it about?

Chris Isaac in 1986. Picture: Getty

American singer Chris Isaak wrote 'Wicked Game' for his 1989 album Heart Shaped World.

This was his third album, and before had largely released 1950s-style rock music and sophisticated R&B. He was aged 33 when 'Wicked Game' was released.

The song is often thought of as a ballad about unrequited love, but Isaak has said that the song was actually inspired by a telephone call from a woman seeking to arrange a casual sexual affair, and is about "what happens when you have a strong attraction to people that aren't necessarily good for you".

Speaking to Songfacts, Isaak said: "This one I wrote really late at night and it was written in a short time, because I remember that a girl had called me and said, 'I want to come over and talk to you,' and 'talk' was a euphemism.

Chris Isaak in 2013. Picture: Getty

"And she said, 'I want to come over and talk to you until you're no longer able to stand up.' And I said, 'Okay, you're coming over.' And as soon as I hung up I thought, 'Oh, my God. I know she's gonna be trouble. She's always been trouble. She's a wildcat. And here I am, I'm going to get killed, but I'm doing this.'

"And I wrote 'Wicked Game': 'world's on fire and no one can save me but you.' It's like you start thinking about it, and by the time she came over to the house, I had the song written. And I think she was probably upset because I was more excited by the song! I was like, 'Yes, you're gorgeous, baby. But listen to this song!'"

Who appears on the track?

James Calvin Wilsey (right) came up with the song's famous guitar line. Picture: Getty

While recording sessions for Isaak's third album, various different versions and arrangements of 'Wicked Game' were made before the final version was completed.

James Calvin Wilsey came up with the song's famous guitar lead. The song's bassline and drums were sampled from previous recordings of the song and looped.

Wisley died from multiple organ failure related to hepatitis and drug use, aged 61, in 2018.

Who appears in the music video?

Chris Isaak - Wicked Game ( Official Video )

The song'ss most well-known music video was directed by Herb Ritts, and filmed in Hawaii at what was formerly known as Kamoamoa beach in Hawaii Volcanoes National Park on the Big Island.

The black-sand beach was created from lava from Kilauea volcano flowing into the ocean around a mile away. The beach was covered by lava not long after the video was filmed.

The video famously featured supermodel Helena Christensen on the beach with Isaak. Christensen was topless through most of the video, but her nudity was concealed by the use of camera angles.

The video ended up winning the MTV Video Music Awards for Best Male Video, Best Cinematography and Best Video from a Film.

Which movie does 'Wicked Game' appear in?

"Wicked Game" - Chris Isaak / David Lynch - original video

The song's popularity surged after it was used in David Lynch's 1990 film Wild at Heart, starring Nicolas Cage and Laura Dern.

A second music video was made for the song, directed by Lynch, and featuring scenes from the film, alongside black-and-white footage of Isaak performing.

How did it perform in the charts?

Despite first being released as a single in 1989, it did not become a hit until its use in Wild at Heart.

Lee Chesnut, an Atlanta radio station music director who loved David Lynch films, began playing the song, and it quickly became an American hit in January 1991.

It reached number 6 in the US, and soon ranked highly in other countries. In the UK, it surprisingly only peaked at number 10.

Who has covered 'Wicked Game'?

HIM Wicked Game Official Video

Many, many artists have covered 'Wicked Game' over the years, including:

HIM
Il Divo
Gemma Hayes
Parra for Curva (as 'Wicked Games')
Corey Taylor
Grace Carter
James Vincent McMorrow
Coves
London Grammar