The top 50 greatest songs of the 2010s, ranked
2 August 2023, 09:59 | Updated: 2 August 2023, 10:01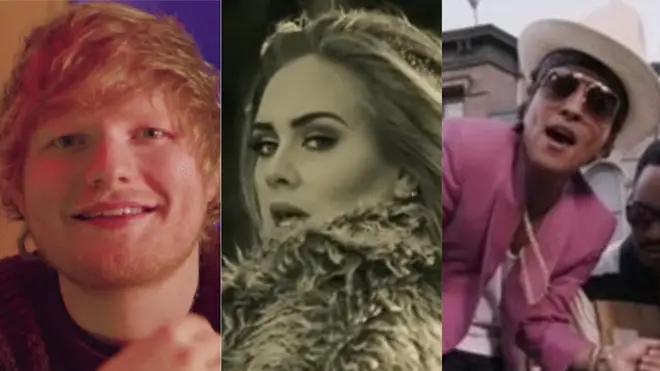 Another decade has come and gone, giving us an excuse to look back at the songs that defined the last 10 years.
We've gone back through the '10s to rank our favourite singles from 2010 to 2019. Are your top choices in our list? Here goes...
Lukas Graham - '7 Years'

Lukas Graham - 7 Years [OFFICIAL MUSIC VIDEO]

Danish pop band Lukas Graham became a one-hit-wonder in the UK in 2016, when this reflective track reached number one.

Singer Lukas Forchhammer described the song as being about his life up to that point, and what he hopes to achieve in the future. He said the reason the lyrics only go as far as the age of 60, is because his father died at 61, and he needed to "pass it to believe it."

Idina Menzel - 'Let It Go'

FROZEN | Let It Go Sing-along | Official Disney UK

You just couldn't escape this song in 2013 (or even now after Frozen 2 came out), sung by the "wickedly talented" (as John Travolta would say) Adele Dazeem Idina Menzel.

The song helped Queen Elsa embrace her abilities and escape her self-imposed shackles, and became a metaphor for anyone feeling restricted in their own life.

James Arthur - 'Say You Won't Let Go'

James Arthur - Say You Won't Let Go (Official Music Video)

Former X Factor winner James Arthur surprised us all with one of the best comebacks of the decade with this song.

He said of the ballad: "I think lyrically it relates to a lot of people as it tells a story. It's a love story that can be adapted to suit any situation someone might be going through. I didn't think I had a hit, but knew it was special, to me anyway."

Olly Murs - 'Dear Darlin''

Olly Murs - Dear Darlin' (Official Video)

This pop ballad was the third single from Olly's third album, and gave him one of the biggest hits of his career.

He said the song was "about writing to someone to tell them how I feel about losing someone. It's not the kind of song you'd expect me and Ed to write, as we're bubbly characters, but we were able to open up to each other."

Lil Nas X & Billy Ray Cyrus - 'Old Town Road'

Lil Nas X - Old Town Road (Official Video) ft. Billy Ray Cyrus

This is the ultimate song that shouldn't work but absolutely does when everything is put together.

A country-rap song that samples Nine Inch Nails and features Miley Cyrus's dad. Who knew that would make chart gold?

Robbie Williams - 'Candy'

Robbie Williams - Candy (Official Video)

Robbie scored his most recent number one to date with the lead single of his 2012 album Take the Crown.

Co-written with Gary Barlow, this pop earworm was about "a girl who thinks she's great. And she might be, but she's a bit nefarious with her ways".

fun. - 'We Are Young'

Fun.: We Are Young ft. Janelle Monáe [OFFICIAL VIDEO]

This was a mammoth hit across the world in 2012, and featured American singer Janelle Monae on vocals.

Singer Nate Ruess said it inspired by one specific night, after "my worst drinking night of all time," when he was kicked out of a taxi for vomiting inside. "The cabbie was demanding all this money, and all I could do was stand on the corner with my head against the wall. It took me another day before I was a functioning adult and could actually write down the verses."

Lorde - 'Royals'

Lorde - Royals (US Version)

The debut single from New Zealand singer Lorde, it has been dubbed by some as the ultimate anthem for millenials.

Lorde wrote this song in just half an hour when she was aged 16, and was inspired by historic aristocrats and other popstars' luxurious lifestyles.

Wiz Khalifa & Charlie Puth - 'See You Again'

Wiz Khalifa - See You Again ft. Charlie Puth [Official Video] Furious 7 Soundtrack

The second most-watched video in YouTube history was recorded as a tribute to the late actor Paul Walker for the movie Furious 7.

Singer-songwriter Charlie Puth teamed up with rapper Wiz Khalifa for the emotional track, with Puth also recording a version on his own.

Cee Lo Green - 'Forget You'

Cee Lo Green - Forget You

Co-written with Bruno Mars among others, this ultimate track to getting over an ex was a massive hit for Gnarls Barkley star Green in 2010.

Green later said that the pop anthem was also a track about the music industry itself.

Bebe Rexha and Florida Georgia Line - 'Meant to Be'

Bebe Rexha - Meant to Be (feat. Florida Georgia Line) [Official Music Video]

Bebe Rexha decided to go country for this track, which proved to be a massive country crossover hit, staying at number on the Billboard Country chart for a ridiculous 50 (FIFTY!) weeks.

She said of the song: "I never thought a New York girl like me would have a country hit, but I guess it goes to show you that some things are just... meant to be."

Passenger - 'Let Her Go'

Passenger | Let Her Go (Official Video)

English singer-songwriter Mike Rosenberg scored a massive hit in 2012.

The reflective breakup ballad sold over 4 million copies around the world and won Passenger an Ivor Novello award.

Jason Mraz - 'I Won't Give Up'

Jason Mraz - I Won't Give Up (Official Video)

American singer Jason Mraz proved that 2008's 'I'm Yours' wasn't a chart fluke with this ballad four years later.

Mraz said of the track: "As many of my songs are, I write for the purpose of understanding what the hell's going on in my life, my position in the world, processing that lesson and that miracle that I'm learning. Seeing it on the page, proving to myself that I understand the lesson, that I'm applying it to my life, and that I can move on."

Ellie Goulding - 'Starry Eyed'

Ellie Goulding - Starry Eyed

This was Ellie Goulding's second single, taken from her debut album Lights, introducing her to the world as one of the most exciting British artists of the decade.

"It's about letting go," she said of the song. "As opposed to all the sad and depressing things I write about, I decided to write something about the joining together of people in some kind of euphoric state—be it at a festival, at a show or in a club."

OneRepublic - 'Counting Stars'

OneRepublic - Counting Stars (Official Music Video)

Taken from the American band's 2013 album Native, this song became a huge hit worldwide and sold over a million copies in the UK alone.

The band explained that the song is about "laying in bed awake at night when you're stressed out of your mind, thinking 'How are we gonna make ends meet? How are we gonna pay the bills?' YouHow's this actually gonna happen or come to pass? So, instead of counting sheep, we're counting stars."

Owl City - 'Fireflies'

Adam Young's catchy pop tune was a hit in the States at the very end of 2009, but crossed over into the new decade in the UK, reaching number one for three weeks.

He described the song as "a little song about bugs and not being able to fall asleep at night."

Sam Smith - 'Stay With Me'

Sam Smith - Stay With Me (Official Video)

This gospel-inspired ballad helped Sam Smith truly burst onto the international scene, though a certain Tom Petty wasn't too happy with it.

Sam said the song is about "the moment in the morning after a one night stand, where the person you are with leaves your house, and you are left by yourself, and it's just a second, where you are just like: 'I wish, I wish'. You don't even love them, you don't really fancy them that much, it's just nice to have someone in the bed next to you."

Miley Cyrus - 'Wrecking Ball'

Miley Cyrus - Wrecking Ball (Official Video)

There aren't many videos more memorable than Miley Cyrus licking a sledgehammer and swining on a titular wrecking ball.

The emotional power ballad was initially written with Beyoncé in mind, but it ended up becoming something of a signature song for Miley at a turning point in her career.

Lewis Capaldi - 'Someone You Loved'

Lewis Capaldi - Someone You Loved (Official Video)

Scottish singer-songwriter Lewis Capaldi achieved a massive hit with this love song, reaching number one in the UK, and repeating the feat in the US after 24 weeks in the chart.

Capaldi has said it took him six months to write the song. He said: "A lot of people say that 'the best songs fall into your lap' and that they're the easiest ones to write and take the shortest amount of time: I wholeheartedly disagree with that. I think my best songs come from me sitting at a piano, bashing my head against a brick wall for hours and hours on end to get one good melody."

Gotye & Kimbra - 'Somebody That I Used to Know'

Gotye - Somebody That I Used To Know (feat. Kimbra) - official music video

Australian artist Gotye and New Zealand's Kimbra both achieved one hit wonder status with this surprise number one in 2012.

Speaking about the post-breakup song, Gotye said it was "definitely drawn from various experiences I've had in relationships breaking up, and in the parts of the more reflective parts of the song, in the aftermath and the memory of those different relationships and what they were and how they broke up and what's going on in everyone's minds."

Freya Ridings - 'Lost Without You'

Freya Ridings became an overnight star when her original heartbreaking ballad was used in an episode of Love Island in 2018.

"I think people can guess that it's that kind of heartbreak, when you've kind of come back home, and you realise a moment has kind of hit you a lot harder than you even though," Freya exclusively told Smooth Radio.

"I always write based off personal experience, but this song specifically was almost like it came from my deepest subconscious. It just kind of came out fully formed."

Bruno Mars - 'When I Was Your Man'

Bruno Mars - When I Was Your Man (Official Video)

This piano ballad from Bruno's second album sold over 8 million copies worldwide after its release in 2013.

The song took its toll on Bruno, who said at the time: "I'm never singing another ballad again, it's the most honest, real thing I've ever sung. I've never been this nervous. Can't explain it."

Emeli Sandé - 'Heaven'

Emeli Sande - Heaven (Official Music Video)

After featuring on a number of other artists' hits, Emeli Sandé finally scored her own solo success in 2011, starting with this debut track.

The former medical student said of the song: "It was written after a very long conversation I had with [producer] Naughty Boy. We got into a very deep conversation about religion and how to be good – what we all try to do in this day and age and how difficult it is. He said, 'I guess you just have to keep your heart clean' and that sparked the whole song. It was done really quickly and we knew it was a special one as soon as it was done."

Avicii - 'Wake Me Up'

Avicii - Wake Me Up (Official Video)

Late Swedish DJ Avicii released this folktronica track as the lead single from his debut album True in 2013.

American soul singer Aloe Blacc co-wrote the song, and provided vocals. He said of the song's meaning: "I started in hip-hop music back in the 90s and I never expected to be singing and have an actual career as a musician, but I'm travelling all over the world and I thought 'Life is a dream, wake me up when it's all over'."

Robyn - 'Dancing On My Own'

Robyn - Dancing On My Own (Official Video)

Inspired by disco tracks by Ultravox, Donna Summer and Sylvester, Swedish legend Robyn recorded this excellent dance-pop ballad about someone who dances alone in a club while watching her ex-lover with another woman. Calum Scott later scored a hit with a stripped-back piano cover.

She said of the song's background: "People have so many expectations when they go out, so many wishes about what their night is going to be: if they're going to meet that person, have a fun time with their friends, have a good high, hear good music. People get drunk and turn into themselves in a way, and they go to experience some kind of emotion. But it's not always about fun. There's a destructive side to it."

Coldplay - 'Magic'

Coldplay - Magic (Official Video)

Coldplay went all downtempo for their 2014 album Ghost Stories, with this ballad one of its most beautiful inclusions.

Fans debated if the song was about frontman Chris Martin's split from wife Gwyneth Paltrow (aka their 'unconscious uncoupling'), which had been announced a few months previously.

Taylor Swift - 'I Knew You Were Trouble'

Taylor Swift - I Knew You Were Trouble

Taylor Swift truly broke into the pop mainstream with her massive Red album, and this song was one of the main reasons for that.

Fans debated over who the song could have been about, with some pondering her ex John Mayer. She later said that the song told the story of a good girl falling for the bad boy, and is about a "toxic relationship" between them, resulting in a bitter break-up.

Adele - 'Hello'

The lead single from Adele's third album 25, it took the British singer and co-writer Greg Kurstin six months to finish. It was worth the wait.

Adele later said of the song's subject matter: "I felt all of us were moving on, and it's not about an ex-relationship, a love relationship, it's about my relationship with everyone that I love. It's not that we have fallen out, we've all got our lives going on and I needed to write that song so they would all hear it, because I'm not in touch with them."

Katy Perry - 'Teenage Dream'

Katy Perry - Teenage Dream (Official)

This was the title track of Katy Perry's massive second album, which spawned hit after hit after hit.

Katy said of the retro-sounding song's inspiration: "I thought about my own adolescent years, my own first love. I thought about watching Baz Luhrmann's 'Romeo and Juliet' and putting on a little mini disco ball light and just dreaming of Leo."

Justin Bieber - 'Love Yourself'

Justin Bieber - Love Yourself (Official Video)

Justin Bieber's fourth album Purpose in 2014 was a resounding success, proving any doubters that he was an artist to take seriously thanks to hits 'Sorry', 'What Do You Mean?' and this ballad.

Co-written with Ed Sheeran, the song is a 'kiss-off' to a narcissistic ex-lover who treated Justin badly. Even his mum didn't like her.

Carly Rae Jepsen - 'Call Me Maybe'

Carly Rae Jepsen - Call Me Maybe

Canadian singer Carly Rae Jepsen scored one of the biggest hits of 2012 with this insanely catchy tune.

Initially written as a folk song, Carly later said that it is "basically a pick up. What person hasn't wanted to approach somebody before and stopped because it's scary? I know I have."

Christina Perri - 'A Thousand Years'

Christina Perri - A Thousand Years [Official Music Video]

American singer Christina Perri had previously achieved chart success with power ballad 'Jar of Hearts', and she repeated the feat with this modern love song classic.

The song was written for the soundtrack of The Twilight Saga: Breaking Dawn — Part 1, and was specifically about the love affair between the characters Edward and Bella. Yes, Twilight was still in this decade.

Sia - 'Chandelier'

Sia - Chandelier (Official Music Video)

This electropop anthem was the lead single from Australian star Sia's sixth album 1000 Forms of Fear, and focuses on the melancholic theme of "the glitter and fatigue of a party girl's life".

The song's video also introduced to the world the talented then-11-year-old dancer Maddie Ziegler, who sported a Sia-style wig and performed an interpretive dance in a dirty apartment.

Paul McCartney - 'My Valentine'

Paul McCartney's 'My Valentine' Featuring Natalie Portman and Johnny Depp

This was one of two original songs featured on Paul McCartney's mostly-jazz covers album in 2012. It was first written back in 1983, but it remained unreleased until this new arrangement.

Eric Clapton plays guitar on the song, while actors Johnny Depp and Natalie Portman appeared in its music video, performing the lyrics via sign language.

Lady Gaga and Bradley Cooper - 'Shallow'

Lady Gaga, Bradley Cooper - Shallow (A Star Is Born)

Lady Gaga co-wrote this power ballad for the 2018 adaptation of A Star is Born, in which she starred alongside director Bradley Cooper.

Cooper and Gaga's chemistry in the film and on the song was incredible, and it later won an Oscar for Best Original Song.

Rihanna - 'Diamonds'

Sia wrote the lyrics to this R&B anthem in just 14 minutes, which is just ridiculous when you think about it.

The song saw Rihanna deviate from her previous recurring themes of unhealthy relationships on her other songs, with this track containing a message of love and positivity. By 2013, it had sold over 7 million copies worldwide.

Bruno Mars - 'Just the Way You Are'

Bruno Mars - Just The Way You Are [Official Video]

The debut single from Bruno Mars was an absolute cracker, which was inspired by classic love songs such as Joe Cocker's 'You Are So Beautiful' and Eric Clapton's 'Wonderful Tonight'.

He said: "There's nothing mind-blowing about it. I'm just telling a woman she looks beautiful the way she IS - and, let's be honest, what woman doesn't wanna hear those lyrics?!"

Pink and Nate Ruess - 'Just Give Me a Reason'

P!nk - Just Give Me A Reason ft. Nate Ruess (Official Music Video)

Pink collaborated with Fun lead singer Nate Ruess for this love song duet about the hopes of holding on to a relationship even when it looks as if it is coming to an end.

Originally, it was part of a song writing session, but Pink realized that she needed someone else to sing the song with her as she thought that it was more of a conversation than a one perspective song. It worked out very nicely in the end.

Ed Sheeran - 'Thinking Out Loud'

Ed Sheeran - Thinking Out Loud [Official Video]

This ballad broke so many records at the time it was hard to keep count. Among them was becoming the first single to spend a whole year inside the UK top 40, and it was also the first song to reach 500 million streams on Spotify.

Co-written with Welsh artist Amy Wadge, Ed later said that the lyrics were part-inspired by his then-girlfriend, Athina Andrelos. He said that he wrote the song "in a relationship at a really, really happy point".

Adele - 'Rolling in the Deep'

Adele - Rolling in the Deep

Written with Paul Epworth, this was the song that saw Adele become an international megastar, topping the charts in the US in 2011.

The gospel-disco song was apparently inspired by a Nashville US tour bus driver, and written in one afternoon after Adele's breakup with her boyfriend. It was "her reaction to, 'being told that my life was going to be boring and lonely and rubbish, and that I was a weak person if I didn't stay in the relationship." Charming.

Mark Ronson and Bruno Mars - 'Uptown Funk'

Mark Ronson - Uptown Funk (Official Video) ft. Bruno Mars

This homage to old-school funk and disco-pop gave Mark Ronson a humongous hit in 2014, even if several bands including the Gap Band claimed copyright infringement claims against him.

The song was born during a freestyle studio session when they worked on a jam Bruno Mars and his band played on tour. The song ended up lasting over 100 takes before it was perfected, with Ronson even passing out during one session trying to get his guitar part right. It was worth it in the end!

Clean Bandit and Jess Glynne - 'Rather Be'

Clean Bandit - Rather Be ft. Jess Glynne [Official Video]

This song cemented Clean Bandit as chart kings and queens, and also introduced singer-songwriter Jess Glynne for the first time.

Any song that can bring back the violin as a chart-topping tool is a winner in our book.

Take That - 'The Flood'

This was the moment all Take That fans had wanted for decades. All five boys back together, including Robbie Williams. And it was definitely worth the wait.

The lead single from 2010's Progress album, this power ballad was a perfect coming-together of old foes-turned friends.

Lana Del Rey - 'Video Games'

Lana Del Rey - Video Games (Official Music Video)

American singer-songwriter Lana Del Rey came seemingly from nowhere in 2011 with this excellent slice of '60s style baroque pop.

Lana later revealed that the inspiration for the song came from her ex-boyfriend, saying: "I think we came together because we were both outsiders. It was perfect. But I think with that contentment also comes sadness. There was something heavenly about that life – we'd go to work and he'd play his video games – but also it was maybe too regular."

Daft Punk and Pharrell Williams - 'Get Lucky'

Daft Punk - Get Lucky (Full Video)

Daft Punk returned to music in the funkiest way possible in 2013, teaming up with Pharrell and Nile Rodgers on what was easily the catchiest song for years.

The song was a huge hit around the world, giving Daft Punk their first UK number one, and sold over 9 million copies worldwide.

Ed Sheeran - 'Perfect'

Ed Sheeran - Perfect (Official Music Video)

Ed scored the Christmas number one for 2017 with this wedding favourite, which was also recorded as duets with Beyoncé and Andrea Boccelli.

It was also voted as Smooth's number one song in the 2018 All Time Top 500!

Adele - 'Someone Like You'

Adele truly became a superstar with the release of this heartfelt piano ballad, particularly after an emoptional yet simple performance at the 2011 Brit Awards.

Like much of 21, the song was based on a break-up, with Adele explaining: "Well, I wrote that song because I was exhausted from being such a b*tch [on other songs].

"I was really emotionally drained from the way I was portraying him, because even though I'm very bitter and regret some parts of it, he's still the most important person that's ever been in my life, and 'Someone like You,' I had to write it to feel OK with myself and OK with the two years I spent with him. And when I did it, I felt so freed."

John Legend - 'All of Me'

John Legend - All of Me (Edited Video)

This love song was one of the biggest hits of the decade and cemented John Legend as one of the most admired singer-songwriters of his generation.

It was inspired by John's then-fiancée, model Chrissy Teigen. He said: "The song is saying things that balance each other out. At the same time as you're giving everything up, you're gaining everything, and that's what the whole song is about. If you're in love and you connect, then even when you're giving things up, you're gaining so much from it."

Lady Antebellum - 'Need You Now'

Lady Antebellum - Need You Now (Official Music Video)

Released in the US in 2009, this country power ballad became a UK hit a year later. It had become one of the biggest country-pop crossover hits in their homeland for nearly a decade.

The song describes calling someone in the middle of the night due to loneliness (we've all been there). Singer Hillary Scott said: "All three of us know what it's like to get to that point where you feel lonely enough that you make a late night phone call that you very well could regret the next day."

Pharrell Williams - 'Happy'

Pharrell Williams - Happy (Official Music Video)

You simply couldn't escape this song in late 2013 and essentially all of 2014. Pharrell wrote this song for the Despicable Me 2 soundtrack, and it couldn't have been more of a success.

Channelling soul and funk legends such as Curtis Mayfield, it eventually became one of the top 10 best-selling singles in the UK of all time.