Songs with a colour in the title: A handy list
13 April 2021, 15:48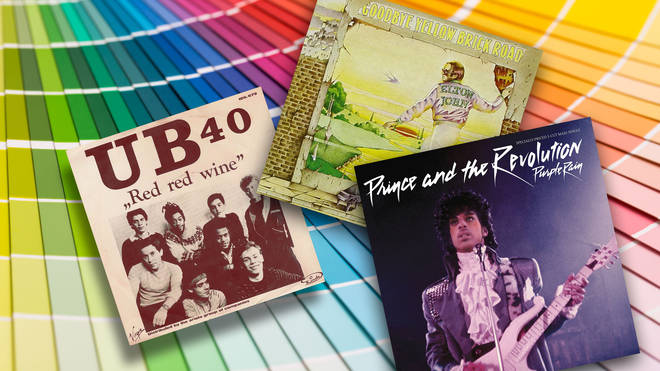 From Van Morrison to Tom Jones, we've made this list of hit songs with colours in the title so you didn't have to.
Artists including Neil Diamond, Elton John, Sting, Prince and Kelly Clarkson have brought of some of the best colour-themed songs of all time.
So, whether you're playing the 30 Day Song Challenge, or you just love a geeky list, here's some of the biggest hits with colours in the title....
The Beatles - 'Yellow Submarine'

Elton John - 'Goodbye Yellow Brick Road'

Van Morrison - 'Brown Eyed Girl'

Booker T & the MGs - 'Green Onions'

Tom Jones - 'Green Green Grass of Home'

Jimi Hendrix - 'Purple Haze'

Donovan - 'Mellow Yellow'

Bobby Vinton - 'Blue Velvet'

Procol Harum - 'A Whiter Shade of Pale'

The Moody Blues - 'Nights in White Satin'

The Beatles - 'Blackbird'

Freda Payne - 'Band of Gold'

ELO - 'Mr Blue Sky'

Neil Diamond - 'Forever in Blue Jeans'

UB40 - 'Red Red Wine'

Spandau Ballet - 'Gold'

Elton John - 'I Guess That's Why They Call it the Blues'

Prince - 'Purple Rain'

Chris de Burgh - 'Lady in Red'

Nena - '99 Red Balloons'

Alannah Myles - 'Black Velvet'

Sting - 'Fields of Gold'

Dido - 'White Flag'

Amy Winehouse - 'Back to Black'

The Who - 'Behind Blue Eyes'

Will Young - 'Evergreen'

AC/DC - 'Back in Black'

Kelly Clarkson - 'Behind These Hazel Eyes'

Joni Mitchell - 'Big Yellow Taxi'

All Saints - 'Black Coffee'

Soundgarden - 'Black Hole Sun'

Michael Jackson - 'Black or White'

Eiffel 65 - 'Blue (Da Ba Dee)'

New Order - 'Blue Monday'

The Marcels - 'Blue Moon'

The Rolling Stones - 'Brown Sugar'

The Stranglers - 'Golden Brown'

Prince - 'Little Red Corvette'

Will Smith - 'Men in Black'

REM - 'Orange Crush'

The Rolling Stones - 'Paint it Black'

Nick Drake - 'Pink Moon'

The Psychedelic Furs - 'Pretty in Pink'

Daniel Merriweather - 'Red'

Nick Cave - 'Red Right Hand'

Gene Autry - 'Rudolph the Red Nosed Reindeer'

Bob Dylan - 'Tangled Up in Blue'

Madonna - 'True Blue'

Bing Crosby - 'White Christmas'

Billy Idol - 'White Wedding'

Coldplay - 'Yellow'