The Bangles' 10 best ever songs, ranked
3 June 2021, 17:14 | Updated: 4 June 2021, 10:13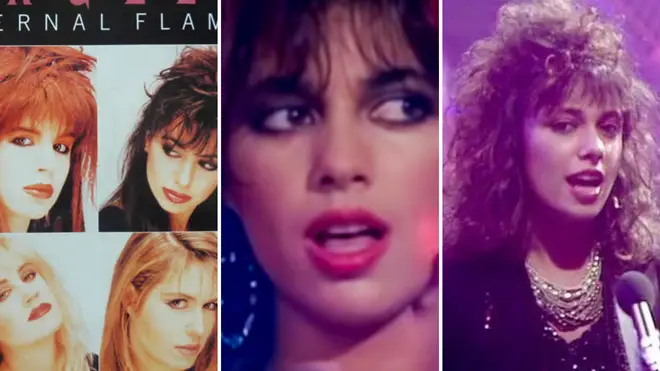 The Bangles are one of the most iconic pop bands of all time.
They had several huge hits in the 1980s, and still play fantastic shows to this day.
Here is a list of our very favourite songs by The Bangles, to make for a perfect beginners' playlist:
'A Hazy Shade of Winter'

The Bangles - Hazy Shade of Winter (Video Version)

In 1987, the Bangles were asked to record a song for the movie Less Than Zero. They chose to record a cover of this Simon & Garfunkel song, as they had been performing it live since 1983.

Lead vocals were performed by all four members, which was a rare occurrence for a Bangles song, as they mostly had just one member singing lead.

Following

The Bangles - Following (Audio)

Michael Steele sang lead vocals on this song, which was the first track she wrote on her own for the group.

The acoustic ballad is about jealousy, paranoia and obsession that follows the breakup of a relationship.

Anna Lee (Sweetheart of the Sun)

Anna Lee (Sweetheart of the Sun)

This is the opening track of the Bangles' most recent album, Sweetheart of the Sun, from 2011.

The song was inspired by the book Girls Like Us by Sheila Weller, which is a triple biography about the intertwined stories of singer-songwriters Carole King, Joni Mitchell, and Carly Simon.

The book had a deep impact on Hoffs, and she passed it on to Vicki and Debbi Peterson who also became big fans. The song showcases the influence these musicians had on the Bangles, both in their music and as role models of feminist women.

'Going Down to Liverpool'

The Bangles - Going Down to Liverpool

This was originally by Katrina and the Waves, but the Bangles recorded the most famous version.

The song had been introduced by a friend to Vicki Peterson, who immediately loved it and urged the band to record a cover version.

Its music video featured Star Trek legend Leonard Nimoy as a chauffeur who is unimpressed by the group, and at one point even turns off the car radio, stopping the song.

'In Your Room'

The Bangles - In Your Room (Video Version)

This was the lead single from the band's third album Everything in 1988.

Co-writer Billy Steinberg said of the song: "The Bangles liked everything from Petula Clark to The Beatles and all the '60s music they loved. So when we got together to write with Susanna it was right up our alley because of course Tom and I grew up in the sixties and that was what we loved. So we had that in common with Susanna".

'Walking Down Your Street'

The Bangles - Walking Down Your Street (Video Version)

This track gave the Bangles another top 10 hit in both the UK and US in 1987.

The music video featured guest appearances by actor Randy Quaid and rock icon Little Richard.

'If She Knew What She Wants'

The Bangles - If She Knew What She Wants

Jules Shear first released this song in 1985, and is from the viewpoint of someone "who wants to satisfy someone else but doesn't quite know how to do it because the other person is capricious".

The Bangles had worked with Shears on various projects - including Shears writing their 'I Got Nothing' song from The Goonies - and this call-and-response version gave them an international hit in 1986.

'Manic Monday'

The Bangles - Manic Monday

Superstar Prince wrote this song, and it was originally intended for the group Apollonia 6 in 1984, but he offered the song to The Bangles two years later.

The song describes a woman who is waking up to go to work on Monday, but wishing it was still Sunday so she could relax.

Debbi Peterson later said: "Prince really liked our first album. He liked the song 'Hero Takes a Fall', which is a great compliment, because we liked his music. He contacted us, and said, 'I've got a couple of songs for you. I'd like to know if you're interested,' and of course we were.

"One of the songs Prince brought to the group was 'Manic Monday', written under the pseudonym of Christopher. It was a Banglefication of a Prince arrangement. He had a demo, that was very specifically him. It was a good song, but we didn't record it like 'This is our first hit single! Oh my God! I can feel it in my veins!' We just did the song, and the album, and then sat back and thought about it."

'Walk Like an Egyptian'

The Bangles - Walk Like an Egyptian (Video Version)

This track sold over a million copies and was the biggest-selling single in the US in 1987.

Producer Liam Sternberg wrote the song after seeing people on a ferry walking awkwardly to keep their balance. Their poses reminded him of drawings in Ancient Egyptian paintings. He offered it to Toni Basil, who turned it down. Lene Lovich recorded the first version, but it was unreleased when she decided to take a break from music.

After The Bangles took it on, producer David Kahne got each member to sing the lyrics to determine who would sing each verse. He disliked Debbi Peterson's vocals, so she was relegated to just backing vocals. Not only did this cause tension, but he made it worse by using a drum machine in place of her usual drumming. Ouch!

'Eternal Flame'

The Bangles - Eternal Flame (Video Version)

Bangles member Susanna Hoffs teamed up with seasoned songwriters Billy Steinberg and Tom Kelly to write this power ballad.

The song was inspired by two eternal flames: one at the gravesite of Elvis Presley that the Bangles saw when the band visited Graceland, and one at a local synagogue in Palm Springs which Steinberg attended as a child.

Hoffs later revealed she sang the recording completely naked after producer Davitt Sigerson pranked her by saying Olivia Newton-John had done the same thing.