Are you sitting on a goldmine? The most valuable £1, £2, 50p, 20p and 5p coins
21 March 2019, 17:50 | Updated: 13 May 2019, 12:46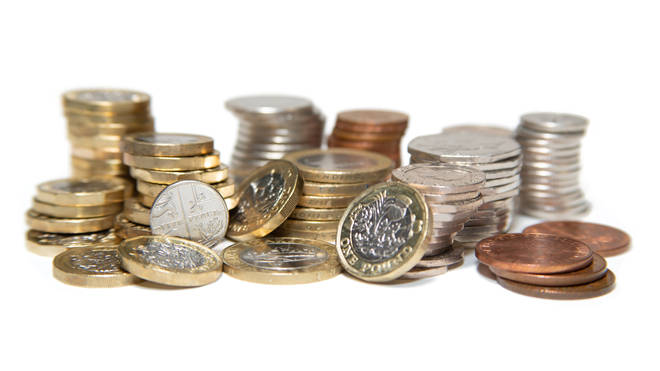 Check your pockets! Your loose change may be worth a lot more than you expect.
In recent years, there have been a number of rare coins doing the rounds online, leading to many of us reaching for our wallets to see if we've got one hidden away.
Here are some of the most valuable ones around right now, according to the experts:
The typo Guy Fawkes coin

Picture: Royal Mint

The Royal Mint released a special £2 coin in 2005 on the 400th anniversary of the Gunpowder plot, but some of them had a small typo that read 'Pemember, pemember the Fifth of November'.

They sell online for between £5 and £7.

The Charles Dickens £2 coin

Charles Dickens £2.

Picture: Royal Mint

Released to celebrate the author's 200th birthday, The Charles Dickens £2 features the a selection of titles from his vast catalogue of books, shaped in the image of his side-profile.

The coins sell for £4 - more if in particularly good condition.

The 1983 'New Pence' 2p coin

New Pence 2p.

Picture: Getty

All 2 pence coins minted between 1971 and 1981 featured the wording 'New Pence', however due to a printing error in 1983, a limited few were struck with 'New Pence' on the reverse.

The rare coin has been known to sell for more that £540, so if you find one it's certainly worth holding onto!

The Commonwealth £2 coin

Picture: Royal Mint

This special coin was minted to commemorate the Northern Ireland 2002 Commonwealth Games, and is one of the rarest £2 coins.

Fewer than 500,000 were minted at the time, and they can sell online for anything between £15 and £25.

Olympic Swimmer 50p coin

Olympic Swimmer 50p.

Picture: Royal Mint

Worth upwards of £1,500, only 600 Olympic Swimmer coins were printed before the design changed - making it highly collectable among coin aficionados.

You're on to a winner if you find one of these in your pocket!

Kew Gardens 50p coin

Kew Gardens 50p.

Picture: Royal Mint

A standard coin design is minted at 5 million units, so this Pagoda stamped Kew Gardens coin is a relatively rare find as only 210,000 copies were made in 2009.

A coin can sell from £30-£50 to the right collector and has been known to sell online for as much as £120.

The Peter Rabbit 50p coin

Peter Rabbit 50p.

Picture: Royal Mint

The Beatrix Potter coins are in their fourth year of minting and the Peter Rabbit coins are by far the most popular.

Released to only a select number of National Trust properties and online, the coins from 2017 are selling for upwards of £600.

The Royal Mint has just released its latest Petter Rabbit collection (March 19), but they are selling out fast, so hurry!

The WWF 50p coin

WWF 50p.

Picture: Royal Mint

The Royal Mint released a limited edition 50p coin to commemorate the World Wildlife Fund's 50th birthday in 2011.

The coin has been in circulation for a while and usually fetch up to £10, but rarer editions can go for considerably more.

The Alphabet 10p coins

Alphabet 10p.

Picture: Royal Mint

A relative newcomer to the rare coin scene, the 26 Alphabet 10p coins were released in August 2018 and have proved to be widely popular already.

With each letter celebrating what it means to quintessentially, the coins are only currently changing hands for around £2 at the moment, but are worth holding onto as their value is due to soar.

The most scarce - and therefore most popular coins - are S (for Stonehenge), K (King Arthur) and L - (Loch Ness Monster).