When will the new Peter Pan and Tinkerbell 50p coins be released by the Westminster Collection?
11 June 2019, 16:37 | Updated: 13 June 2019, 15:49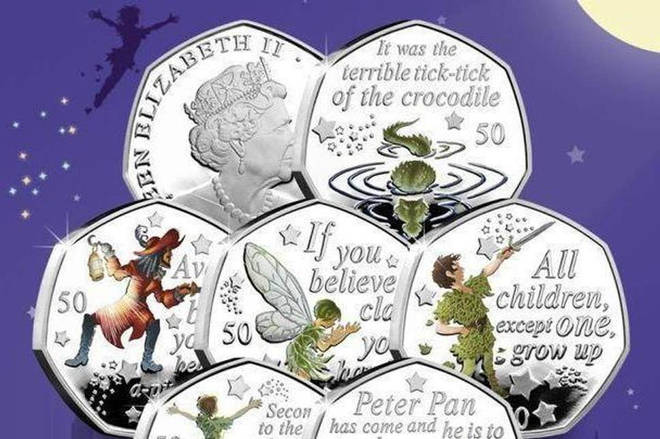 J.M. Barrie's classic children's book characters are the latest fictional heroes to get their own coin collection. Here's everything you need to know...
The Westminster Collection is issuing a brand new Peter Pan coin collection - featuring J.M. Barrie's much-loved fictional characters on a range of fifty pence pieces.
For every purchase, the Westminster Collection will make a donation to the Great Ormond Street Hospital, as 2019 marks 90 years since the author gifted all future rights of the book to the children's hospital.
But when is the collection released, what characters are featured in the series and how much do the coins cost? Here's everything you need to know...
READ MORE: Here are the most collectible Beatrix Potter coins
When will the new Peter Pan 50p coins be released?
While the coins are currently available, demand is high due to the fact they are a limited series.
Collectors and Peter Pan fans will have to wait in a queue of over 2,000 people, before they can get their hands on one.
You can buy yours at the Westminster Collection here.
What Peter Pan characters are featured in the range?
Engraved with David Wyatt's illustrations, the coins will be available in silver, gold and base metal.
The silver proof coins also have colour illustrations on them, while the other metals are monochrome.
In total, there are six designs - two of which feature The Boy Who Never Grew Up himself.
Others feature Tinkerbell, Captain Hook, the Crocodile, Wendy Darling and her dog Nana.
How much do the coins cost?
The metal base coins start at just £6.25, while the silver fifty pence pieces will set you back £65.
Gold Peter Pan coins are, naturally, the priciest, costing £995 each.