Thomas Rhett opens up about his famous father and his sweet family: 'My daughter has no idea why people like me'
16 March 2023, 15:07 | Updated: 22 March 2023, 13:53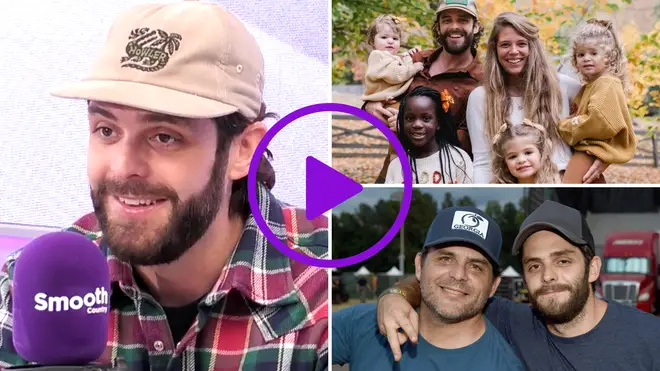 Thomas Rhett has become one of country music's biggest stars over the past decade.
The 32-year-old star from Georgia has scored over 20 hits in the country charts in the States, and is always guaranteed to put on a fantastic show, just like he did when he headlined this year's C2C festival in the UK.
He will be releasing his new album Country Again: Side B later this year, following on 2021's Side A and last year's Where We Started.
While he was in London, Thomas Rhett caught up with Smooth Country's Eamonn Kelly about his new music, performing to fans in the UK and his growing family.
Thomas - who is the son of country star Rhett Akins - opened up about what it was like growing up alongside his famous father, and how his dad made sure Thomas carved out his own career.
"I was just one of those kids," Thomas said about growing up. "I really enjoyed being the centre of attention as a kid. Anytime there was a camera out, I was like, 'hey, you want me to do a dance?'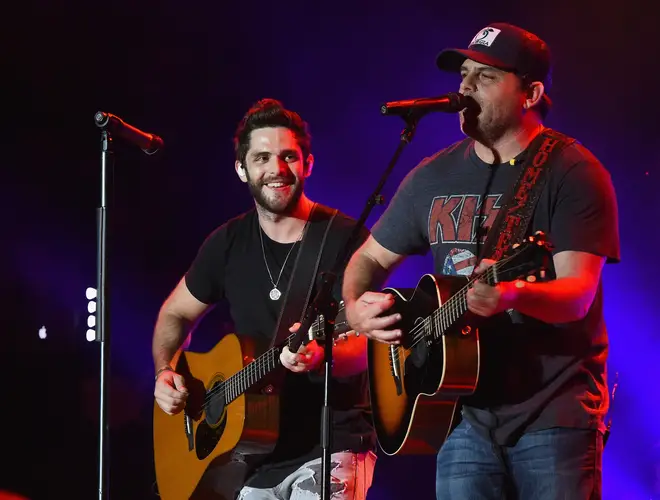 "I've always been an entertainer spirit. My wife is the same. When we do any get together, it is at our house because we love to host, we love to entertain, we love to cook, we love to serve, we love all the things. So as a kid, it really wasn't about wanting to do what dad did. It was just like, 'hey, move over. Let me sing one for this audience'.
"And playing the drums was my first instrument, so I'll never forget I went to some Nebraska county fair with my dad when I was like, nine, and I learned how to play 'Sweet Home Alabama' on the drums, and dad let me get up there during their encore and play with him.
"And so that was kind of my first taste of, like, 'this is cool'. And as I got into high school, I really just wanted to learn how to write and play and sing for the girl aspect. Like, if I can go to a party and play an old George Strait song or whatever's popping right now, maybe somebody wants to date the boy, you know what I mean?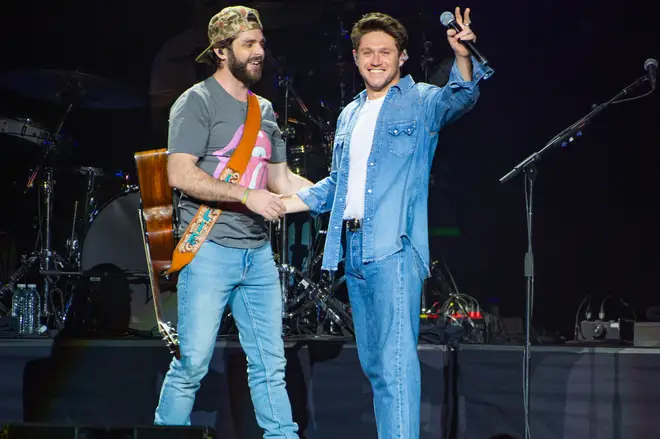 "But it really wasn't until I got to college that I discovered I was not a great student. Like, me and math still have never clicked. I learned how to tip two years ago from my wife without using a calculator. And I started hanging around my dad. I just started being like, 'hey, can I just come watch you all write songs? I'm not going to say anything'.
"I just want to watch because I think it's so fascinating, and so I'd go watch them. And then I would start a band at school with a couple of buddies that were also really wanting to be songwriters, and we'd play it for rat parties, and we'd go play for like 20 people down at Puckets grocery store in Franklin, Tennessee and all this kind of stuff.
"And that's where I kind of got the bug. And I got to play a writer's round with my dad. And there was a publisher there who came and asked me, he said, 'can you write songs?' And I said, 'I have no idea. Maybe'. And he said, 'I want to sign you to a developmental publishing deal. We're going to give you like $300 a month'.
Thomas Rhett - Make Me Wanna
"And to me, that was like I was rich in college, and I started off just writing and writing and writing and ultimately ended up getting my first ever cut on Jason Aldean's record. That song was called 'I Ain't Ready to Quit'. And that was the moment where I looked at my mom and I said, hey, I'm going to drop out."
"And she said, 'well, you have to finish your exams and you got to get an A on all of them to get my blessing to drop out of school'. And so I studied my face off, got an A on all my exams, and I dropped out. I had like 20 hours of school left and then just started playing shows and signed a record deal when I was 21 and and off to the races."
But Thomas made sure that he made his own way, explaining: "My dad really did help me learn how to write songs, but when I started to become an artist, I did write with my dad a ton, and my dad was responsible for my first two number one songs, but he was really diligent about letting me do it.
"He was always there for advice, but he was like, 'hey, it's time for you to go figure out who you want to go be'. He was like, 'go find a bunch of other writers that have nothing going on. Go make friends with a bunch of artists that just sign record deals that don't have any success, and you all go learn from each other. You all go fail with each other. You all go succeed with each other'.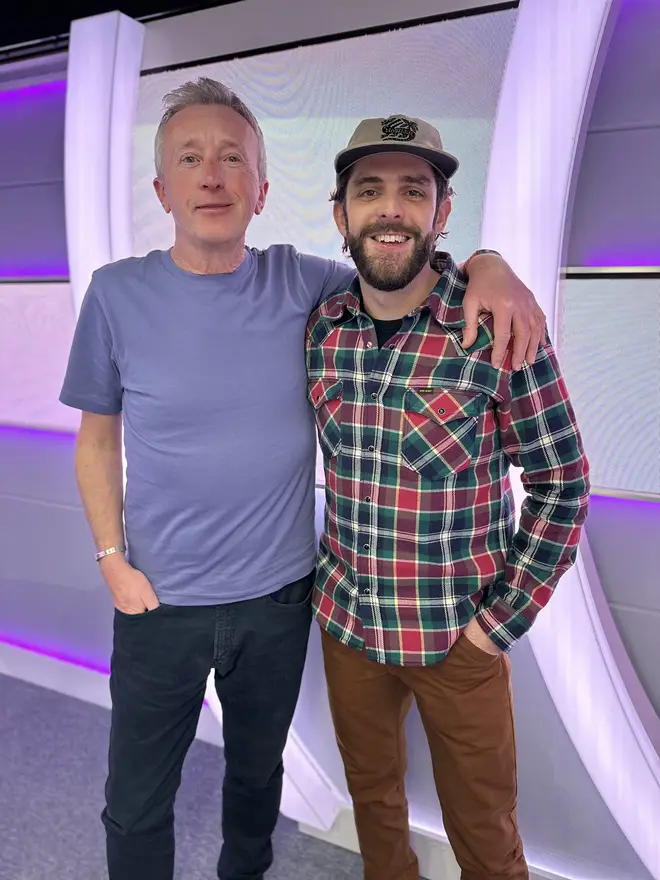 "And it wasn't until really my second record, I remember, or even my first record, putting out a song called 'Make Me Wanna' that at the time, really did not make sense on country radio.
"I mean, it was like the Bee Gees had a baby with Alan Jackson, you know what I mean? It didn't make any sense. And that song sat at 40 on the chart for like 30 weeks, and I'm looking at everybody going like, 'well, there's always songwriting, guys'. This is it.
"And then when 'Make Me Wanna' went number one, it opened up this pathway for me that I finally had a lane that no one else was driving on. So if it weren't for my dad being like, 'you just got to go be you. You can't go chase, you can't go copy, because there's already that person'.
Thomas Rhett married his partner Lauren in late 2012. In 2017, they announced that they were adopting a baby girl from Uganda, Willa, and they were also expecting. They welcomed their daughter Ada in August 2017, followed by Lennon in 2020 and Lillie in 2021.
Speaking about being a dad, Thomas said: "So there's an area called Franklin, Tennessee, which is like south of Nashville, beautiful little town. And we were walking around Christmas shopping, and there was a group of girls that walked up and wanted a picture with me and my five year old, Ada James, who is the firecracker of our family.
"She looked at me and she said, 'why do people like you? And so I had to come up with analogy really quick, but I was like, 'hey, what if you saw Moana walking down the street Would you want to go say hey?'. And she was like, 'yeah'. And I was like, 'same thing'. She was like, 'yeah, but why do they like you?' And I was just like, 'just forget it. Don't even worry about it.'
He continued: "But Ada James comes up to me all the time, and she wants to be something different every day. She's like, 'when I get older, I want to be a cop and a kindergarten teacher'. And I was like, 'well, you probably can't do both of those things'. And then some days, she's like, 'I want to be a singer like you'. And I'm like, 'are you sure?'.
"And my wife's like, 'no, you don't'. But they all love music, man. Like, every time I'm in the studio downstairs at my house, they all love to sit there and record into the mic or make a beat or play on piano or pick up the guitar.
"People ask me all the time if music or musical knowledge is hereditary. And I think there is maybe something hereditary to it. But I think it's like if you grew up and your dad was a carpenter, you kind of just innately know about how to make things with wood just because you grew up around it. And so I don't know if it's much hereditary as just growing up and being saturated in it every day."