Colin Farrell facts: Irish actor's age, girlfriend, children, movies and career explained
10 March 2023, 09:42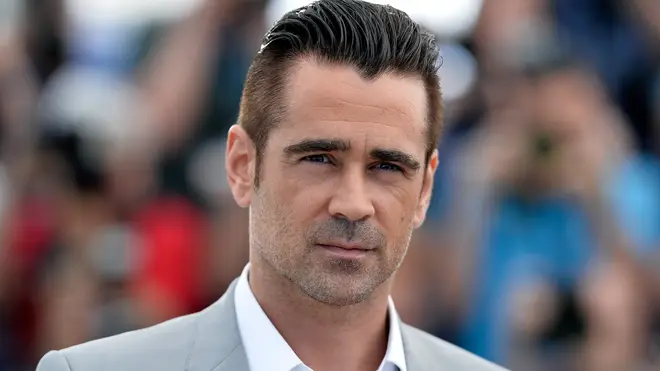 Colin Farrell is one of the most successful Irish actors of all time.
Colin Farrell became a Hollywood leading man in the 2000s, and has achieved various awards and nominations, including two Golden Globes and a nomination for an Academy Award.
Starting his career in 1990s TV drama Ballykissangel, he went on to star in various films, starting with his breakthrough in Steven Spielberg's Minority Report. This was followed by high-profile roles in Daredevil (2003) and as Alexander the Great in Alexander (2004), as well as Michael Mann's Miami Vice (2006) and Woody Allen's Cassandra's Dream (2007).
Colin won universal acclaim for playing a rookie hitman in the comedy In Bruges (2008), with further roles including Horrible Bosses (2011), Saving Mr. Banks, The Killing of a Sacred Deer (2017), and True Detective (2015).
He played Percival Graves in the fantasy film Fantastic Beasts and Where to Find Them (2016) and Penguin in the superhero film The Batman, and has had high praise for his part in 2022's The Banshees of Inisherin.
How old is Colin Farrell and where is he from?

Colin Farrell in 2018. Picture: Getty

Colin Farrell was born in the Castleknock area of Dublin on May 31, 1976. He celebrated his 46th birthday in 2022.

He is the son of Rita (née Monaghan) and Eamon Farrell. His father played football for Shamrock Rovers FC and ran a health food shop. His uncle, Tommy Farrell, also played for Shamrock Rovers.

His older brother is named Eamon Jr, and he has two sisters named Claudine (who now works as his personal assistant) and Catherine.

As a youth, he unsuccessfully auditioned for the boyband Boyzone, and turned to acting after watching Henry Thomas' performance in ET the Extra-Terrestrial.

Is Colin Farrell married and does he have kids?

Colin Farrell and his ex Angelina Jolie. Picture: Getty

Colin Farrell and ex-girlfriend, Kim Bordenave, the mother of his first child, in 2003. Picture: Alamy

Colin's early relationships included actress Amelia Warner, singer Britney Spears, model Nicole Narain, Hollywood legends Demi Moore and Angelina Jolie, and even the late Elizabeth Taylor, who was 40 years older than him.

He has a son named James Padraig (born in 2003) with American model Kim Bordenave.

In 2009, Colin had a second son, Henry Tadeusz, with Polish actress Alicja Bachleda-Curuś (his co-star in Ondine).

As of 2023, Colin Farrell's most recent relationship was with Kelly McNamara, PA to U2's The Edge. They are said to have been on-and-off since 2017.

Alicja Bachleda-Curus and Colin Farrell. Picture: Alamy

How tall is Colin Farrell?

Colin Farell stands at around 5ft 10in (177.8 cm) tall.

Speaking on the Jay Leno show, Colin said he was: "Five Ten, 165" and in Wired he said he was "Five ten and three quarters".