10 times Hugh Jackman proved he is the most awesome man in Hollywood
25 October 2019, 16:22 | Updated: 25 October 2019, 16:38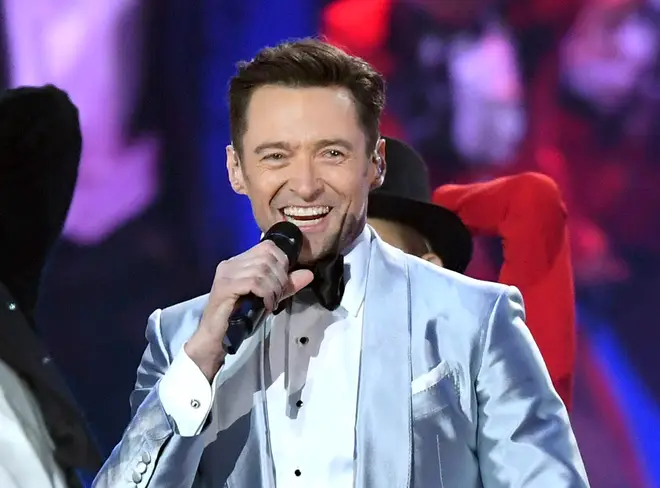 It's fair to say Hugh Jackman has worked incredibly hard in his industry to bring us several memorable moments.
Proving he is the most awesome man in Hollywood, Smooth Radio has rounded up a list of 10 Hugh moments we think are spectacular.
Hugh's hilarious 'ongoing feud' with Ryan Reynolds

Why can't these two just get along?

When he was too cool for Bond

Hugh Jackman with James Bond star Daniel Craig.

Picture: Getty

Hugh was reportedly asked to consider taking on the role as James Bond before Daniel Craig was chosen to play the character.

However, the 51-year-old turned it down due to other commitments, telling PA in 2011: "I was about to shoot X-Men 2 and Wolverine had become this thing in my life and I didn't want to be doing two such iconic characters at once."

Hugh co-starred with Bond star Daniel on Broadway at the Schoenfeld Theatre in a limited engagement of the play A Steady Rain, which ran from September 10 2009, to December 6 2009.

When Hugh showed off his live vocals as Jean Valjean in 2012's Les Misérables

Shivers.

When Hugh teamed up with Barbra Streisand for an incredible duet

Barbra Streisand & Hugh Jackman - Any Moment Now (Official Video)

How did we forget that this happened??

That time Hugh opened The BRIT Awards 2019

Never was the Brits so glamorous.

When Hugh put himself through a major body transformation to bring us Wolverine

Hugh Jackman in The Wolverine.

Picture: Marvel • 20th Century Fox

Hugh was required to add a great deal of muscle for the role, and in preparing for the fourth film in the series, he bench-pressed over 136kg.

At 6ft 3, Hugh stands 30cm taller than Wolverine, who is said in the original comic book to be 5ft 3 inches.

Filmmakers were frequently forced to shoot Jackman at unusual angles or only from the waist up to make him appear shorter than he actually is, and his co-stars wore platform soles.

Being there to support his friends

Hugh paid an emotional tribute to his friend Olivia Newton-John after the 70-year-old star revealed she wasn't sure how long she has left to live.

The Greatest Showman star sent a tribute video to the Grease actress from his The Man, The Music, The Show gig at Sydney's Qudos Bank Arena.

Along with a crowd of 15,000 people, 50-year-old Hugh recorded a short video clip.

Filming himself in front of the audience, Hugh said: "Hi Olivia, it's Hugh, with 15,000 of your closest friends and family.

"Listen, you are the most amazing person, the most amazing mum, the most amazing ambassador, singer and dancer. We just love you."

The time Hugh performed with Aretha Franklin

2005 59TH ANNUAL TONY AWARDS- SOMEWHERE- WEST SIDE STORY- HUGH JACKMAN AND ARETHA FRANKLIN

In 2005, Hugh performed a duet of 'Somewhere' with Aretha Franklin at he 59th Annual Tony Awards.

Hugh said: "One of the highlights of my career was singing with Aretha Franklin at The Tony Awards. It was an out of body experience. One of the greatest singers of all time."

Hugh loves his fans as much as they love him

Smashing box-office records as P.T. Barnum in The Greatest Showman

Need we say more?