Idris Elba shares update and thanks fans for support after coronavirus diagnosis
18 March 2020, 12:41
The actor said he's not experienced any symptoms of the virus, and also addressed why he had a coronavirus test after some backlash online.
Idris Elba has shared an update on his health after revealing he tested positive for coronavirus on Monday (March 16).
The actor went live on Twitter yesterday to talk about his experience of COVID-19 and answer questions, saying he felt it was the right thing to do as "we ain't the only ones".
"It's been a mad 24 hours as you can probably guess. And yesterday was just… was good and bad," Idris said.
"It was bad because obviously I tested positive. But it was also good, because I think, [it] opened up a lot of conversation around it. I think it made it a lot more real for some people. Definitely made it more real for me, and my family."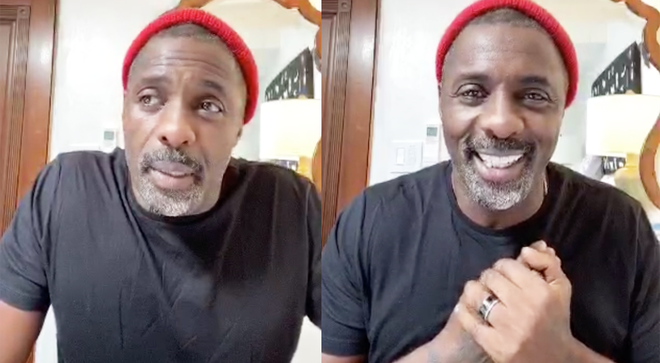 Even though the actor has tested positive for the virus, he explained that he still hasn't experienced any symptoms, but he's "a little bit tired" due to a lack of sleep.
He is, however, checking his temperature twice a day.
Idris thanked people for the positive response to his announcement, but also added that he'd received a negative reaction from some people too.
This morning I tested positive for Covid 19. I feel ok, I have no symptoms so far but have been isolated since I found out about my possible exposure to the virus. Stay home people and be pragmatic. I will keep you updated on how I'm doing 👊🏾👊🏾 No panic. pic.twitter.com/Lg7HVMZglZ

— Idris Elba (@idriselba) March 16, 2020
After Elba's shared his original video in which he revealed his diagnosis, many fans tweeted worried responses that his wife, Sabrina, was beside him.
But he quashed the concerns, saying: "Sabrina is good too. Sabrina, today, finally managed to get a test, and we're thankful for that.
"Just for clarification, Sabrina wanted to be by my side. As much as we talked about her not coming to where I am, she did. And wanted to. And I love her even more for it, and I would do the same for her."
The actor addressed why he had been tested for the virus even though he had not shown any symptoms, explaining that he was told someone he had been in contact with last week had tested positive.
"I'm on location, about to start a film, and the news breaks that this person, who is also in the public eye, had tested positive.
"So it was definitely something that I had to do, as I was about to start filming, and I was around a lot of people.
"And quite honestly, my job made me test immediately."
You can find the latest coronavirus advice from the NHS here.