Arnold Schwarzenegger giving coronavirus advice while feeding his donkey and pony is what we all need
16 March 2020, 10:34 | Updated: 17 March 2020, 14:36
Arnold Schwarzenegger is keeping calm and carrying on in this amazing video from the actor's social media.
In these times of need, there is one thing that can help us through it: Arnold Schwarzenegger and his cute large pets.
The Terminator actor told his fans that they need to follow quarantine guidelines handed out, while his pony Whiskey and donkey Lulu waited patiently for some carrots to eat.
He wrote alongside the video: "Stay at home. Stay at home as much as possible. Listen to the experts, ignore the morons (foreheads). We will get through this together."
Now, if Arnie tells us to stay at home, we stay at home.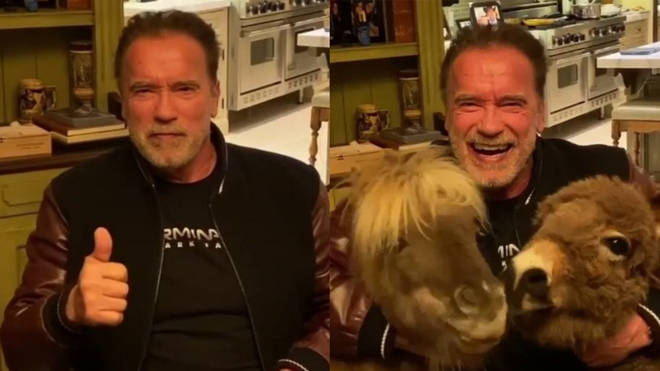 In the video, the 72-year-old told his fans: "The important thing is that you stay at home because there's a curfew now. No one is allowed out especially someone who is 72 years old. After 65 you're not allowed out your house anymore in California, so you gotta stay home.
"That's what we do. We don't go to restaurants, we don't go to anything like that anymore here. We just eat with Whiskey and with Lulu [his pets] and have a good time and get entertained. Look at that beautiful smile she has.
"No more restaurants, forget all that. Gatherings, restaurants, gymnasiums are out the window. You stay home."
So far, California has seen around 340 cases of coronavirus by Sunday (March 17), a 14% increase from the day before. The state has reported six deaths, while 116 patients are 65 or older.