Coronavirus: What music gigs and festivals have been cancelled?
12 March 2020, 14:48 | Updated: 18 March 2020, 13:42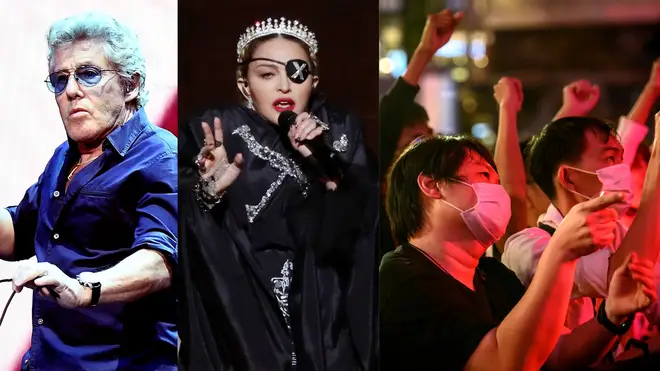 The coronavirus pandemic has led to tight restrictions on travel and large public events across the world, meaning that many gigs have been cancelled or postponed.
With the number of COVID-19 cases rising, and films like No Time To Die being delayed by several months, here is a list of just some big music events that have been cancelled so far:
Madonna

Madonna. Picture: Getty

The Queen of Pop announced she will be cancelling gigs in France, due to coronavirus on Monday (March 9), with more likely to follow.

The news came after France banned gatherings of more than 1,000 people at the weekend.

The Who

The Who. Picture: Getty

Rock legends The Who have cancelled their upcoming major tour in the UK and Ireland, saying the decision was made with "much regret" but "fans' safety is paramount".

It was due to start in Manchester on March 16, and finish at Wembley on April 8, with all 10 now being rescheduled for later in the year.

They have also called off a planned show at the Royal Albert Hall in aid of the Teenage Cancer Trust on March 28.

Coachella

The annual Californian festival was due to take place in April, but has now been pushed back to October.

Coachella will now take place on the weekends of October 9, 10 and 11 and October 16, 17 and 18.

Coachella organisers Goldenvoice said: "While this decision comes at a time of universal uncertainty, we take the safety and health of our guests, staff and community very seriously. We urge everyone to follow the guidelines and protocols put forth by public health officials."

Miley Cyrus

Miley Cyrus. Picture: Getty

The 27-year-old singer has cancelled a show in Australia for the country's bushfire relief, referring to recommendations that travel will be stripped back.

She said: "Due to the recommendations of local, state, federal and international government authorities, including the Center for Disease Control, to reduce potential health risks in response to the current global health crisis, we are no longer traveling to Aus for the show.

"I am so disappointed to not be there, but I have to do what is right to protect the health and safety of my band and crew. I will still be making a donation to help the victims of the Australian bush fire. I'm sorry to miss everyone in Australia, but I will be back soon."

SXSW

US festival SXSW was cancelled for the first time in 34 years last week.

Organisers said they were "devastated to share this news", and added that they are now "working through the ramifications of this unprecedented situation".

"'The show must go on' is in our DNA, and this is the first time in 34 years that the March event will not take place. We are committed to do our part to help protect our staff, attendees, and fellow Austinites.

"We are exploring options to reschedule the event and are working to provide a virtual SXSW online experience as soon as possible for 2020 participants."

Pearl Jam

Pearl Jam. Picture: Getty

The US rock band has decided to postpone the North American leg of their Gigaton world tour "with deep frustration and regret".

17 performances in the US and Canada in March and April were put on hold.

The band said: "The levels of risk to our audience and their communities is simply too high for our comfort level.

"Add to that we also have a unique group of passionate fans who travel far and wide. We've always been humbled by this and respect their energies and devotion. However in this case, travel is something to avoid."

Mariah Carey

Mariah Carey. Picture: Getty

Mariah has blamed "international travel restrictions" for pushing a concert in Hawaii from March to November.

She wrote: "Aloha Hawaii!! I'm so so sad to have to announce that I'm postponing my show to November. I was so excited to come back to Hawaii on my 'anniversary month' but evolving international travel restrictions force us to consider everyone's safety and well being."

Avril Lavigne

Avril Lavigne. Picture: Getty

The Canadian singer has announced that she had called off shows in Zurich, Japan, Taiwan, Hong Kong and the Philippines.

Saying she was "completely bummed out" at having to make the decision, she added: "I am so sad to announce that we are unable to tour the Asian markets due to the continuous outbreak of the coronavirus.

"My band, crew and I have been working so hard to bring this tour worldwide and are completely bummed out. Please everybody take care of yourselves and stay healthy. You're in my thoughts and prayers and we are hoping to announce rescheduled shows soon."

Avril is set to perform in the UK soon, but has yet to announce if these shows will also be cancelled.

Michael Bublé

Michael Bublé has postponed his remaining arena shows in March and April to later unknown dates.

He said: "I was looking forward to getting back on the road but the safety of my fans and my touring family of course take priority under the current circumstances.

"We will be coming back soon with new dates and everyone will be safe to enjoy a great night out. Stay well everyone."

Michael's tour dates beginning May 2 are due to continue as scheduled.

Cher

Cher has postponed the remainder of her ABBA-inspired Here We Go Again Tour with new dates from September to December.

Cher said: "I'm heartbroken, but the health of my fans and my touring family comes first.

"The shows have been really special but, nothing is more important than everybody's safety.

"I'm excited to see everyone when we're back out on the road."

Taylor Swift

Taylor Swift was scheduled to headline Capital One's JamFest in Atlanta on April 5. The event has now been canceled.

Lionel Richie

Lionel Richie postponed his March 13 and 14 Las Vegas shows at the Encore Theater.

The singer tweeted: "I have been looking forward to performing at the Wynn this weekend but the safety and health of everyone, including my fans comes first and foremost.

"Myself and the Wynn have decided to postpone my shows on Friday and Saturday until further notice. I look forward to seeing everyone soon! Stay healthy!"

Celine Dion

Celine Dion postponed the March and April dates of her Courage World Tour in North America. New dates are yet to be announced.

Elton John

Elton John has postponed 17 of his upcoming Farewell Yellow Brick Road tour dates until 2021.

The shows, scheduled from March 26 to May 2, will be rescheduled for next year.

Elton's shows from May 22 to July 8 are expected to go ahead as planned.

A statement read: "This tough decision has been made with the safety and well-being of his fans put to the fore, at a time when health services are under increased pressure and with the concern that these gatherings risk accelerating the spread of the Coronavirus [COVID-19]."

Queen and Adam Lambert

Queen and Adam Lambert's May 26 show at the AccorHotels Arena in Paris has been postponed "following a government decree in France to cancel all indoor events over 5,000 capacity in France until May 31 in an effort to contain the spread of Coronavirus."

Glastonbury Festival 2020

Michael and Emily Eavis said in a statement: "We very much hope that the situation in the UK will have improved enormously by the end of June.

"But even if it has, we are no longer able to spend the next three months with thousands of crew here on the farm, helping us with the enormous job of building the infrastructure and attractions.

"We were so looking forward to welcoming you all for our 50th anniversary with a line-up full of fantastic artists and performers that we were incredibly proud to have booked.

"We're so sorry that this decision has been made. It was not through choice.

"But we look forward to welcoming you back to these fields next year and until then, we send our love and support to all of you."