Judy Garland movie starring Renee Zellweger: Judy trailer, cast, release date, plot and more revealed
15 May 2019, 16:22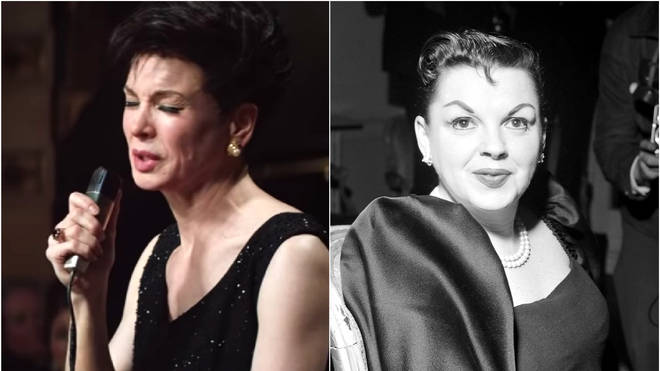 Renee Zellweger will portray the late showbusiness icon Judy Garland in an upcoming biopic about her later years.
From the release date, to the trailer and its cast, here are all the important information you need about Judy.
Judy trailer: Is there a teaser?

Yes, BBC Films unveiled a full trailer in May 2019, showing Renée Zellweger as Judy Garland for the first time.

The trailer also gives a sneak peak as Zellweger singing as Garland.

Judy release date: When does the film come out?

The film will first be released in the United States on September 27, 2019.

It then follows in the UK on October 4, 2019.

Judy cast: Who stars in the biopic?

Renee Zellweger. Picture: Getty

Renée Zellweger plays Judy Garland in the movie, and she is joined by:

- Rufus Sewell as Sidney Luft, Judy's third husband

- Michael Gambon as Bernard Delfont, theatrical impresario

- Finn Wittrock as Mickey Deans, Judy's fifth and final husband

- Jessie Buckley as Rosalyn Wilder, the show's production assistant

- Bella Ramsey as Lorna Luft, Judy's daughter with Sidney Luft

- John Dagleish as Lonnie Donegan, legendary skiffle singer

- Gemma-Leah Devereux as Liza Minnelli, Judy's daughter with Vincente Minnelli

Judy plot: What is the film about?

The film is based on the true story of Judy Garland's final ever concerts in London in the late 1960s.

The official synopsis reads: "Winter 1968 and showbiz legend Judy Garland arrives in swinging London to perform in a sell-out run at the Talk Of The Town.

"It is 30 years since she shot to global stardom in the Wizard Of Oz, but if her voice has weakened, its dramatic intensity has only grown.

"As she prepares for the show, battles with management, charms musicians, and reminisces with friends and adoring fans, her wit and warmth shine through.

"Even her dreams of romance seem undimmed as she embarks on a courtship with Mickey Deans, her soon-to-be fifth husband. And yet Judy is fragile.

"After working for 45 of her 47 years, she is exhausted; haunted by memories of a childhood lost to Hollywood; and gripped by a desire to be back home with her kids.

"Featuring some of her best-known songs, the film celebrates the voice, the capacity for love and the sheer pizzazz of "the world's greatest entertainer".

Judy soundtrack: What songs will appear?

Picture: Decca

The Judy soundtrack will be released via Decca Records on September 27.

The full tracklisting is yet to be confirmed, but the film will definitely feature songs including 'Get Happy', 'Come Rain or Come Shine' and 'Over the Rainbow'.