Kate Garraway 'vanishes' live on TV during BGT star's magic trick - how did he do it?
28 February 2020, 11:32 | Updated: 28 February 2020, 13:19
Smooth Radio HQ was admittedly a tad concerned this morning (February 28), when Kate Garraway appeared to disappear in front of our eyes on Good Morning Britain.
Britain's Got Talent magician Darcy Oake appeared on the ITV morning show, and proceeded to make host Kate vanish on live TV.
The trick had been teased throughout the show, and it was then shown as the final segment, with Kate's co-host Ben Shephard giddy with excitement.
Kate had to take off her heels and step into a black box, while Darcy closed the lid on her.
The Smooth presenter joked that she was a "contortionist", before Darcy actually appeared to make her disappear completely.
Opening up the box, it collapsed to the floor and Kate was not there. However, some fans watching at home may have worked out how it was.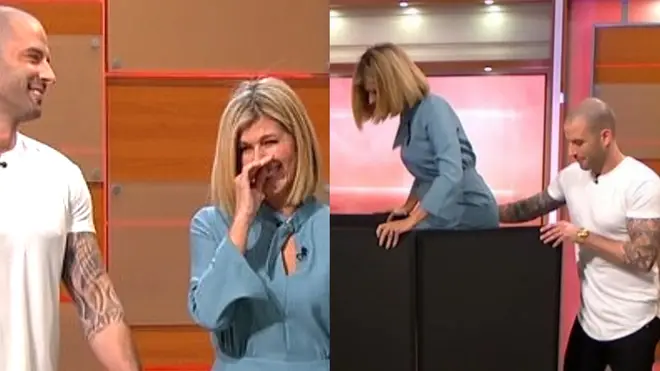 If you don't want to be spoiled and be hunted by the Magic Circle, look away now!
Many viewers pointed out that the camera gave away what happened, there was actually a trapdoor on the studio floor which the box covered.
"They should have made the trap door in the table disappear first," one viewer wrote. Another added: "Mirrored floor gives the illusion of the floor being there and then Kate basically climbed into the hole prior to the collapse."
"I'm very impressed, I've been trying to do that for years," joked Ben after the stunt.
Thankfully, Kate was fine and appeared on her Smooth morning show a short time later!
Darcy Oake will be touring the UK from March 21 until March 21. For tickets please visit here.