Monty Don shares unseen photos of dog Nigel in tribute to beloved 'old friend'
13 May 2020, 12:41 | Updated: 20 May 2020, 14:00
The Gardeners' World presenter shared a selection of unseen photos of the dog on Instagram following the devastating news that fan favourite Nigel had died.
The golden retriever Nigel, who was 12 years old when he died, can be seen in the photos from when he was just a puppy.
The new photos were taken soon after he arrived as the newest member of the Don family.
The picture is just one of a collection Monty Don has shared on his social media accounts and personal website since the announcement of Nigel's death on Monday.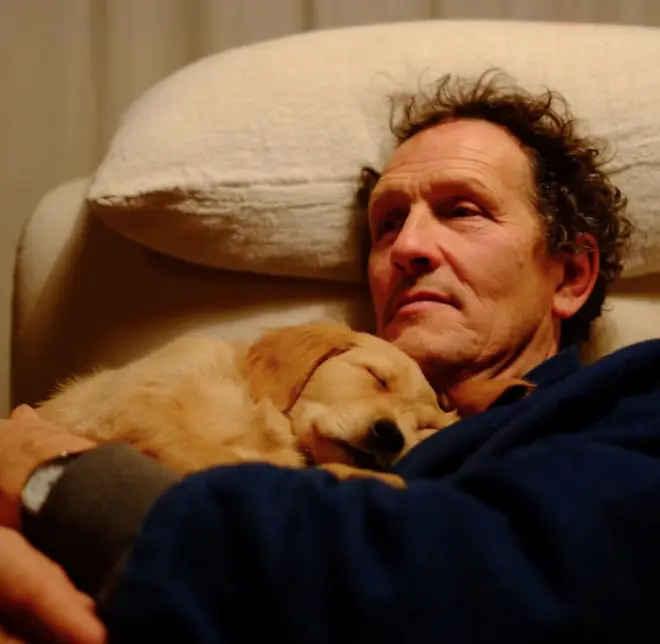 On Tuesday (May 12) Monty posted a new picture of Nigel on Instagram and thanked fans for their 'overwhelming' support since the dog's death.
"Thank you for all your lovely and kind messages about Nigel. They are overwhelming. I have posted more pictures of him on my website," he said.
The new snaps come after fans were devastated by the news of Nigel's death on Monday.
Thanks to all that have sent so many lovely and kind messages about Nigel. It has meant a great deal. I have posted many more pictures of him on my website https://t.co/zSdEo68Y6W.
He is now in the garden and of the garden and we will celebrate his good life by living well. pic.twitter.com/BNE4iaZAKV

— Monty Don (@TheMontyDon) May 12, 2020
Monty said that Nigel: "Was suddenly taken ill with violent, unstoppable seizures and despite everything that our wonderful vets could do he slipped quietly away."
Taking to his social media accounts, he said: "I am very sorry to announce that Nigel has died.
"He slipped quietly away with no pain or suffering and is now buried in the garden with lots of tennis balls.
"Rest now old friend. See you in the sweet bye and bye."
Fans of Monty and his faithful companion reacted with sadness to the news.
"So sorry to hear about Nigel. I know he was your soulmate," one wrote.
"The nation will miss his beautiful, gentle presence on their screens," another said.
Monty Don introduces NIGEL: My Family and Other Dogs
Since his first appearance on Gardeners' World in 2011, Nigel became a surprise star of the show; he soon had his own dedicated social media accounts and received fan mail from admiring viewers.
Monty's dogs Nigel and Nellie had often appeared alongside the star on the gardening programme.
In 2016 the star released a book called Nigel: My family and other dogs.