Who Wants to be a Millionaire: Where are all the Quiz personalities now?
15 April 2020, 12:16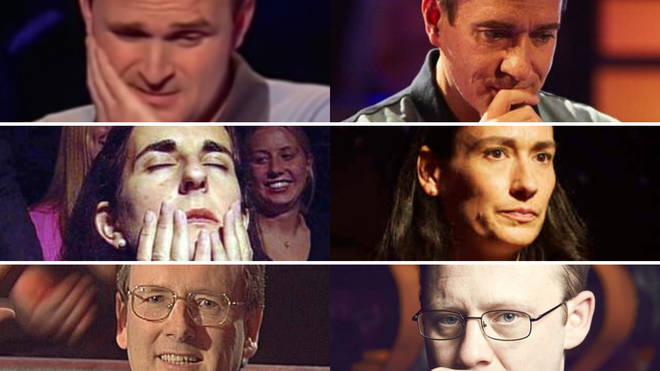 Catching up with ITV's Quiz personalities Charles Ingram, Diana Ingram, Tecwen Whittock, Adrian Pollock, Chris Tarrant, Claudia Rosencrantz, Paul Smith and others after the Who Wants to be a Millionaire cheating scandal.
ITV's new drama Quiz has transported us back to 2001, when Major Charles Ingram and his wife Diana attempted to cheat on Who Wants to be a Millionaire?
The nation has been gripped with the fascinating tale of how several people almost stole a million pounds, after Charles Ingram squirmed his way through intense questions from host Chris Tarrant.
In the end, after a trial at Southwark Crown Court, Charles, Diana and fellow quizzer Tecwen Whittock were convicted of "procuring the execution of a valuable security by deception". All three were given prison sentences suspended for two years, fined £15,000, and each ordered to pay £10,000 towards prosecution costs.
But where are the 'characters' now?
Charles and Diana Ingram

Charles Ingram / Matthew Macfadyen in Quiz.

Picture: ITV

After he was sentenced, the Army Board told Charles to resign as major after 17 years of service.

In 2003, Ingram was also convicted of an unrelated insurance fraud.

However, he forged a career on reality TV, with him and wife Diane appearing on The Weakest Link and The Games, and even took part in Channel 4's Wife Swap alongside Jade Goody.

In 2016, it was revealed that Ingram only paid £1,240 of the £25,000 fine he was handed in 2003. Magistrates cut his fine to £5,000, while Diana had her fine quashed on appeal.

Diana Ingram / Sian Clifford in Quiz.

Picture: ITV

The couple went back to their home in Westbury, selling jewellery made by Diana on a market stall. In October 2016, The Sun revealed he was selling homemade brooches and necklaces.

Charles reportedly sold his £450,000 country home after the scandal, and was last spotted selling jewellery at a Christmas market in Bath in 2019.

Tecwen Whittock

Tecwen Whittock / Michael Jibson in Quiz.

Picture: ITV

A lecturer from Cardiff, Tecwen was given a suspended sentence of 12 months and fined £25,000.

In the years after the trial, he quit his job and started a career as an after-dinner speaker, speaking to audiences with "very interesting and humorous anecdotes" from his role in the cheating scandal.

However, he has largely disappeared from public view in recent years, although his son visited the set of Quiz during filming.

Chris Tarrant

Chris Tarrant / Michael Sheen in Quiz.

Picture: Getty/ITV

Chris Tarrant was already the a big star when he first started hosting Who Wants To Be A Millionaire?, and he continued in the role for another 15 years after the Ingram scandal.

For the past two decades, he has continued to work in radio and TV (including a stint at Smooth Radio in 2008!), and from 2012 he started hosting the Channel 5 documentary series Extreme Railways.

Now aged 73, he was also awarded an OBE in 2004 for his charity work.

Adrian Pollock

Adrian Pollock / Trystan Gravelle in Quiz.

Picture: ITV

Adrian Pollock is Diana Ingram's brother, and also appeared as a contestant on the show before both Diana and Charles.

He and Diana were both quizzing fans, and Adrian even appeared on as a 'fastest finger' contestant four times, before finally getting his chance and winning £32,000 in 2000.

Diana claimed that the pagers she used during the show were not for signalling to her husband, but to try and keep contact with her brother, who had disappeared after running up gambling debts. He has kept a low profile since then.

Claudia Rosencrantz

Claudia Rosencrantz / Aisling Bea in Quiz.

Picture: ITV/LinkedIn

Claudia Rosencrantz was the Controller for Entertainment at ITV from 1995 to 2005. It was during this period that she commissioned Who Wants to Be a Millionaire?.

She continued in TV programming until 2012, when she joined the Jamie Oliver Media Group. While the CEO, she looked over the launch of Jamie Oliver's Everyday Superfood book and its TV series, his first Christmas cookery book, and the 'Sugar Rush' campaign, which successfully saw the government impose a sugar tax.

After struggling with deafness since childhood, she underwent surgery for a cochlear implant in 2018, which saw nearly all of her hearing returning.

Today, Claudia runs her own production company, Studio 1, which she co-founded with former Celador managing director, Adrian Woolfe.

Paul Smith

Paul Smith / Mark Bonnar in Quiz.

Picture: ITV/PA

Northern Irish producer Paul Smith helped turn Who Wants To Be A Millionaire? into a huge success for company Celador (though the show was actually the brainchild of producers David Briggs and Mike Whitehill, and Peaky Blinders creator Steven Knight).

In 2008, Celador produced the film Slumdog Millionaire, which told the story of a contestant on the Indian version of the show, which grossed £270m at the box office and won several Oscars.

In 2010, the company won $269 million in damages from Disney, for pirating the US version of the show.

Smith continues to produce TV and film projects, including, including recent series of Who Wants To Be A Millionaire?.

David Briggs

David Briggs / Elliot Levey in Quiz.

Picture: ITV/PA

David Briggs co-created the show, and developed it with Paul Smith, having come up with the idea in a Covent Garden wine bar.

He had spent 20 years as a producer on Capital Radio, before leaving to work on the quiz show.

In recent years, he has continued to create quiz shows, including The National Lottery: Winning Lines, Brainiest and The People Versus.

Sonia Woodley QC

Helen McCrory as Sonia Woodley QC in Quiz.

Picture: ITV

The barrister who defended the Ingrams at their trial, returned to the public eye when she defended another high profile celebrity.

However, she was also unsuccessful in the case 10 years later when defending entertainer Rolf Harris against allegations of indecent assault, and she retired soon after the case.