The Chase contestants win the biggest prize ever of £100,000 against The Governess
3 September 2018, 21:38 | Updated: 4 September 2018, 09:16
It's finally happened...
A team on The Chase scooped a huge £100,000 in winnings, which is the highest amount ever won on daytime TV.
Diane, a 52-year-old housewife from Lancaster; Luca, a 21-year-old medical student from Cardiff; Tim, a 62-year-old retired database administrator from Northamptonshire; and Gayna, a 38-year-old laundry assistant from West Yorkshire, answered 17 questions correctly, giving them a potential prize of £100,000.
And then, the Chaser Anne Hegerty, aka the Governess, attempted to beat them by answering more questions.
If she had (which is what usually happens), then they would have lost all their money, but she amazingly didn't manage to pull it off, meaning they were able to take home the full prize, and split the winnings equally, giving them a massive £25,000 each.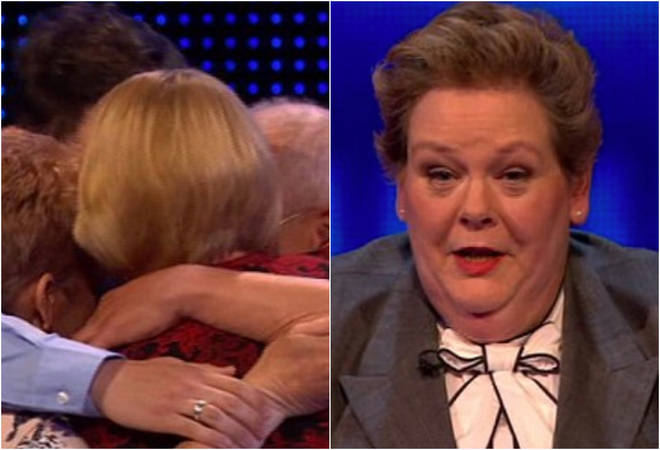 The Chase sees each team member build up an individual prize pot, before facing the Chaser. This team were helped massively by Diane's huge win of £86,000.
If the Chaser doesn't manage to beat them individually by answering more questions correctly, they can add their winnings to the group pot at the end of the show, which they then play for as a team.  
In the 'Final Chase', the team were given a four-step head start, as there were four of them left in the final round, which they improved to 21 points with their correct answers. With the Governess needing at least 21 correct answers to stop them, she wasn't able to do it in time.
Gayna said she would spend her winnings on a "wing walk" experience, while Diane hoped to take her family on holiday. Tim wanted to buy a motorhome, while Luca said they would buy two takeaways a week until he graduated, including one from The Ritz.
Speaking after her defeat, Anne said: "I hope The Ritz does do takeaways because you deserve it – you all do. Very, very well played. I didn't expect to win that one to be honest. Very good indeed."
Host Bradley Walsh added: "What a show! I'm thrilled for the team. They go home with £25,000 each. It just shows you, it can be done!"