Britain's Got Talent: Father and son singing duo grab Simon Cowell's Golden Buzzer
28 April 2018, 21:46 | Updated: 28 April 2018, 21:48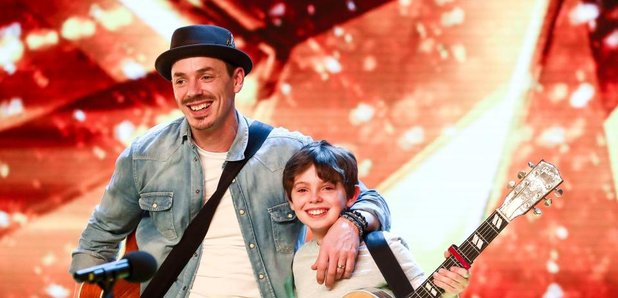 If you heard that a father and son duo would be singing their own song on Britain's Got Talent, you might not be holding out much hope.
But, Tim and Jack Goodacre surprised everyone on tonight's show (April 28) with their own original song 'The Lucky Ones'.
Simon Cowell was so impressed that he pressed his Golden Buzzer for the pair, sending them straight through to the semi-finals.
Watch their performance below:
You may have recognised 12-year-old Jack from The Voice Kids, when he performed with coach Danny Jones from McFly.
43-year-old Tim and his son Jack come from Boston, Lincolnshire and currently live in Norwich.
Tim has written and produced songs for other recording artists, and Jack also played the role of Zak Mooneyham in the successful West End musical adaption of School of Rock.
Talking about their song 'The Lucky Ones', Tim said: "We've all had family losses and things like that, and as a father and son – it's a father / son and family song. It's about us."
Jack added: "It's about how lucky we are to have what we have."
Last week, Father Ray Kelly amazed all four judges with his performance of REM's 'Everybody Hurts'. Watch it below: