Tim Lovejoy tumbles over on live TV in hilarious Sunday Brunch moment – video
8 June 2020, 15:33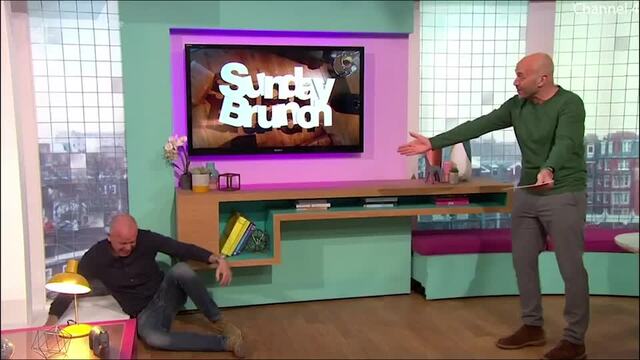 Sunday Brunch's Tim Lovejoy falls to the floor
The presenter was attempting to dance as he welcomed viewers to the show when he accidentally lost his footing and dramatically stumbled backwards.
Sunday Brunch's Tim Lovejoy left viewers in stitches when he came crashing down to the ground after attempting to dance while introducing the show.
Co-presenter Simon Rimmer let out a loud gasp, and couldn't help but bury his head in his hands to hide his laughter at the on-air blunder.
"I can't even help you up!" Rimmer shouted to Lovejoy, as the red-faced host began to hoist himself up from the back of the set which he'd just tumbled into.
Lovejoy tried to resume the show's introductions, but the two presenters – and the rest of the studio – couldn't contain their laughter (watch above).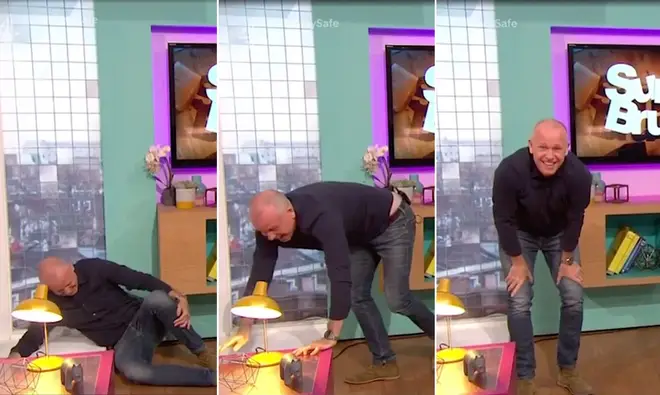 "Why's everyone laughing. It really hurts!" the presenter said after trying to continue the show.
Tim's tumble, which happened in yesterday's programme (June 7), was just the uplifting tonic some viewers clearly needed.
"When your trying to stay positive but life has other plans. Epic fall by Tim Lovejoy," one user tweeted.
"This made my week. I've watched it 4 times now," another added.
I guess the lesson for freestyle dancing on live TV may have been learned by the presenter...