Val Kilmer facts: Top Gun actor's age, wife, children, movies and illness explained
25 June 2022, 22:44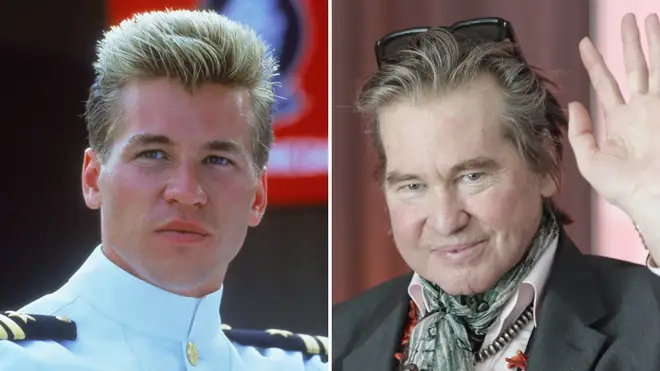 Val Kilmer emerged as one of the biggest Hollywood stars of the 1980s and 1990s.
The pin-up and action star starred in many high-profile movies, and recently returned as Iceman in the long-awaited Top Gun: Maverick opposite Tom Cruise.
Starting his career as a stage actor, Val Kilmer found fame after roles in comedy films such as Top Secret! (1984) and Real Genius (1985), before appearing in action films Top Gun and Willow (1988).
He found acclaim for his portrayal of singer Jim Morrison in The Doors (1991), and he went on to have leading roles in films such as western Tombstone (1993), and the crime dramas True Romance (1993), and Heat (1995).
He replaced Michael Keaton as Bruce Wayne/Batman in 1995's Batman Forever, and also appeared in The Saint (1997), The Prince of Egypt (1998), Alexander (2004), and Kiss Kiss Bang Bang (2005).
How old is Val Kilmer?

Val Kilmer in 1989. Picture: Getty

Val Kilmer was born on December 31, 1959. He celebrated his 62nd birthday in 2021.

He was the second of three sons to parents Gladys Swanette (née Ekstadt; 1928–2019) and Eugene Dorris Kilmer (1921–1993).

His mother was of Swedish descent, and his other ancestry includes Irish, German and Cherokee.

His parents divorced in 1968 when he was eight years old. His mother later married William Bernard Leach in 1970.

In 1977, Val's younger brother Wesley, who had epilepsy, drowned in a jacuzzi aged 15.

Is Val Kilmer married and does he have children?

Val Kilmer and Joanne Whalley in 1988. Picture: Getty

In the past, Val Kilmer has dated Cher, Cindy Crawford, Angelina Jolie, Daryl Hannah and Ellen Barkin.

He was married to actor Joanne Whalley from 1988 to 1996. The pair met while working together on the film Willow.

They have two children, daughter Mercedes (born 1991), and son Jack (born 1995).

Val Kilmer's children Mercedes and Jack in 2021. Picture: Getty

What illness has Val Kilmer battled?

In early 2015, Val Kilmer was hospitalised for what his reps said were tests for a possible tumour.

At the time, he said on social media: "I have not had a tumour, or tumour operations [sic], or any operation. I had a complication where the best way to receive care was to stay under the watchful eye of the UCLA ICU."

Val Kilmer. Picture: Getty

After previously denying rumours that he had been diagnosed with cancer, Val confirmed in April 2017 that he had experienced a "healing of cancer".

In December 2017, it was reported that Val had gone through a "two-year battle with throat cancer" and that "a procedure on his trachea has reduced his voice to a rasp and rendered him short of breath".

To speak, Val plugs an electric voice box in his trachea. He underwent chemotherapy and two tracheotomies.

In 2020, he revealed that he had been cancer free for four years, and that he uses a feeding tube because he can no longer eat.

In 2021, his voice was able to be re-created through AI technology using archival audio of his voice. This was used to produce his voice in Top Gun: Maverick.