Who Wants To Be A Millionaire? contestant doesn't answer final question - do you know the answer?
5 March 2019, 14:07 | Updated: 5 March 2019, 14:51
Last night's episode of Who Wants To Be a Millionaire? saw a contestant being asked the all-important question.
On Monday (March 4), teacher John Robinson made it to the 15th and final stage of the show.
However, with no lifelines left, he decided not to risk the million pound question, after being asked a tough question by host Jeremy Clarkson.
He was asked which out of four former prime ministers had not also served as foreign secretary.
As he was unable to choose between Winston Churchill, Anthony Eden, Harold Macmillan and Alec Douglas-Home, he understandably chose to bow out.
But do you know the answer? The answer is below the picture.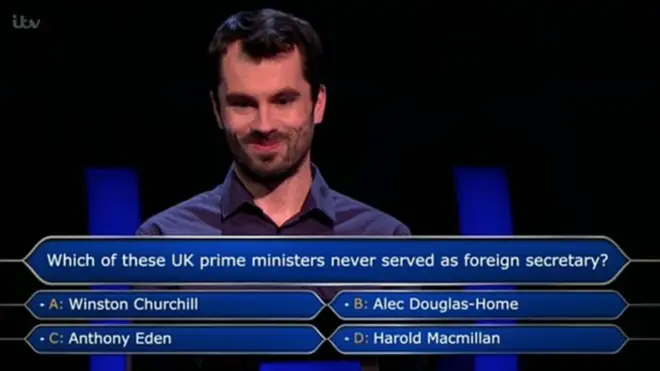 The answer was in fact, A: Winston Churchill.
The former prime minister was in Number 10 for nine years, and also served as home secretary.
John still took home a huge cash prize of £500,000, and is still the biggest winner Who Wants To Be A Millionaire? has had since Clarkson took over last year.
There have only ever been five £1 million winners on Who Wants to be a Millionaire? since it started in the late 1990s.