Boy George drops big hint that Harry Styles could play him in biopic, rules out Sam Smith and Sophie Turner
5 May 2020, 16:49 | Updated: 29 October 2020, 16:27
In Smooth's latest Virtual Coffee Break interview, Boy George told Jenni Falconer that his upcoming biopic will not star Sam Smith or Sophie Turner, but that a "big popstar" may play him. Could it be Harry Styles?
Culture Club singer Boy George joined Jenni for a chat about all things lockdown, new music, his upcoming film and memories of his first ever gig.
Watch the full interview above.
With a biopic about Boy George in the works, Jenni couldn't help but ask what the latest news was for the much-anticipated movie.
With Game of Thrones star Sophie Turner and singer Sam Smith rumoured to be playing George in the film, the singer confirmed that neither would be doing so, but that a big popstar is close to signing up.
When asked if Sophie Turner may be playing him, George said: "It isn't true, but it was something that came up. There were a lot of things online. I have no say over who gets cast or anything like that. I mean, I don't really have any say, full stop. I'm just going to sit back and watch!.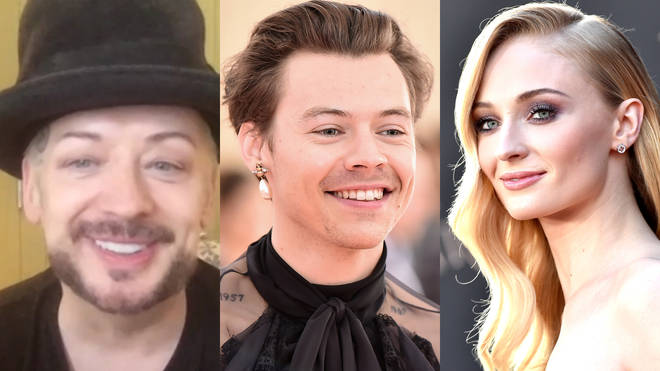 "More than anything, I just want it to be truthful. I don't want it to be too much fantasy. I'd like it to be… you know, some truth, so people get an idea of who I am as a person, because there's so much information out there that's kind of half-true or a little bit true.
"I think if it's done well, it'll give people more of an insight into who I am as a person, which is not a bad thing.
On who it could be, George said: "There's been some really interesting names bandied about. I don't dare say any! Oh, I don't know if I should say this.
"Alright, I'm not going to say who it is, but there's someone who's quite a big pop star that's been rumoured to maybe play me.
"Not Sam Smith. That's all I'm going to tell you. It's somebody younger than me, and it's somebody who's a pop star. I can't say who it is, but I'm intrigued. The name's been brought up, and I've been like, 'Wow…'
When Jenni suggested it could be Harry Styles, George coyly giggled: "Who knows!"
Harry Styles as Boy George? Now that we'd love to see!
Talking about the film in general, George said: "The story is based on... I've written two books. One is a really good book, and one is the ramblings of a lunatic – don't read it!
"The first book was more to do with what really happened. Obviously, when you write a book in your 20s, you're far more dramatic. If I was to write the book now, I wouldn't say a lot of the things I said. There's a lot of names I wouldn't use. I would be a bit more conscious."
George also gave a positive update on his mother Dinah, who was recently admitted to hospital.
"She lives with my sister and her family. She was doing really, really well, but it's just one of those freak things. But luckily, she's out of the danger now, and she's at home, and she's kind of wondering what all the fuss was about, basically! It wasn't Coronavirus-related, thank God."
Boy George recently unveiled a brand new song, aptly titled 'Isolation'. Watch our full interview above to hear how the song came to be and what future projects he has lined up.