Game of Thrones star Sophie Turner might play Boy George in new biopic
18 June 2019, 11:09 | Updated: 29 October 2020, 16:28
Boy George has revealed who he would love to play him in an upcoming movie about his life.
The Culture Club star has said that Sophie Turner, the 23-year-old actress best known for playing Sansa Stark in Game of Thrones, could end up playing him.
George is currently developing a movie about his life and career, and when asked who might be cast as the young Boy George, he said: "One of the most interesting suggestions was Sophie Turner.
"It's really strange but that's been a suggestion," he told Fitzy and Wippa in Australia.
"I think that will upset people, which I really like – [people saying] 'Oh she can't play you, she's a woman.' But you know, when I was 17 I would have loved to have been her… that was the ambition."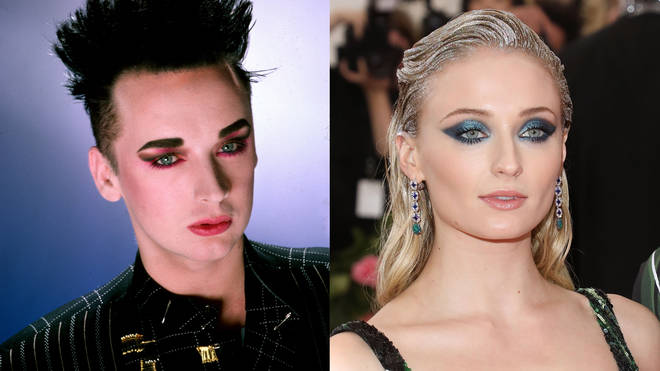 One person who's not happy with the idea is - of course - Piers Morgan, who said on Good Morning Britain: "Boy George, in his biopic, presumably at some stage has sex with people. How is he going to do that if he doesn't have the equipment?"
Turner herself has since commented on the idea, tweeting "I'm SO down @BoyGeorge"
Sophie Turner played Sansa in eight seasons of Game of Thrones, and recently starred in the final installment of the X-Men movie franchise as the titular Dark Phoenix.
The Boy George film focus on his upbringing in an Irish working-class family, and his emergence as the androgynous lead singer of the band Culture Club.
The band went on to achieve huge success with the songs 'Karma Chameleon' and 'Do You Really Want to Hurt Me?'. He has also sold more than 100 million singles and over 50 million albums.
Gervasi has previously worked on the films The Terminal, Hitchcock, and the rock documentary Anvil: The Story of Anvil.
Boy George recently took part in the genealogy series Who Do You Think You Are?, where he discovered more about his Irish background.
MGM is also producing a biopic about Aretha Franklin, starring Jennifer Hudson.There are also films in the works about David Bowie, Dusty Springfield and Celine Dion, while Rod Stewart wants his own one.