Kelly Osbourne's son celebrates first birthday, looks spitting image of grandad rocker Ozzy
7 November 2023, 13:57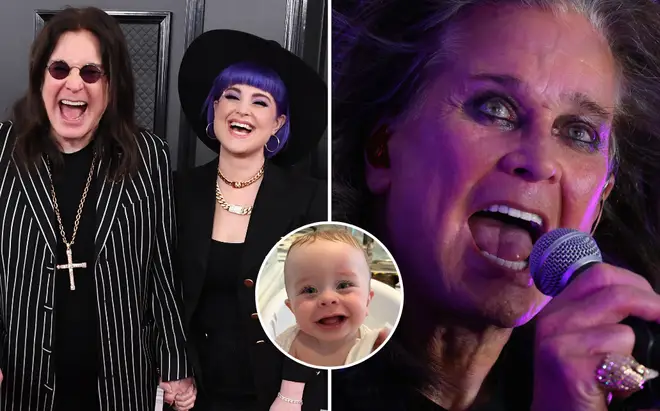 The Osbournes' looks run all the way through their family it seems.
In November 2022, Ozzy Osbourne's pop star daughter Kelly announced that she had given birth to a beautiful baby boy.
Now Sidney - who Kelly had with her rock boyfriend Sid Wilson who plays in metal titans Slipknot - has just celebrated his first birthday.
Despite keeping him out of the spotlight during the first few months of his life, Kelly has recently started sharing pictures of Sidney in all his adorable joy.
In her latest post uploaded to Instagram, Ozzy's daughter captured Sidney in his element, giving the camera the biggest smile.
Splashing around during his bath time, Sidney couldn't have looked sweeter, and fans were quick to point out his uncanny resemblance.
As soon as Kelly shared the gorgeous snap of Sidney having the time of his life, her followers immediately commented on how much he looks like Ozzy Osbourne.
"This past year has been the most magical year of my life for one reason. That reason is you baby Sidney," Kelly wrote alongside the picture.
"To watch you grow, learn and become a little man is the greatest joy I have ever felt. The most magical bond I have ever experienced is the bond I feel with you."
"Before you love was just a word that I thought I understood. NOW I truly understand what love is. I am forever indebted to you for teaching me the beauty meaning and truth of love."
"What more can I say other than I love you. Happy birthday sweet price. We made it on our first trip around the sun together."
Her sweet prince looks remarkably like the 'Prince Of Darkness' in Ozzy, particularly when he was a child, with school photos of the rocker making the rounds too.
"He looks like your dad ❤️😍 happy birthday!" read one comment, whilst another agreed: "He totally looks like Ozzy in this picture! ❤️"
The comparisons kept coming, with another follower writing: "Happy birthday little one. Ps you look like your gramps" whilst one fan declared: "Looking so much like his grandfather! ♥️".
Clearly over the moon with the beautiful boy she and partner Sid have created, they celebrated baby Sidney's first birthday lavishly, throwing a spooky-themed party at their home.
Since giving birth, Kelly has discussed her issues with pregnancy and motherhood, namely her fear around being body-shamed.
It forced her to hide inside her home for the majority of the nine months she was pregnant, responding directly to her followers' claims that she looked different, batting away accusations of having plastic surgery.
"It's just from weight loss. Honestly I've only had Botox. There are no pictures of me pregnant because I hid for 9 months because I did not want to get fat shamed."