Ricky Gervais reflects on David Bowie's final live performance in New York's Madison Square Garden
26 June 2020, 15:10
Ricky Gervais has opened up about his friendship with his personal hero David Bowie.
The comedian and actor - who recently hosted the Golden Globes for a fifth and final time - told Smooth Radio how "surreal" it was for David Bowie's final public live show to be when he introduced him to the stage, while singing his hilarious 'Chubby Little Loser' song from Extras.
When asked if that really was Bowie's final performance, Ricky said: "It was. To me in Madison Square Garden. He did Extras. I invited him to do Extras after we sort of became friends.
"And then to return the favour, he asked me to play a benefit in New York, in 2007, at the High Line Festival, which he curated.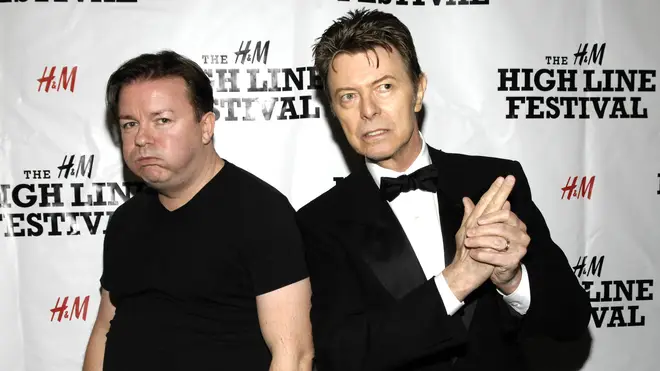 "And I went over, and it was sold out, and they didn't know he was going to be there. He walked out in a tuxedo, with a little harmonica, and he just went [makes harmonica noise]: 'Chubby little loser…' And the crowd went crazy. And he brought me on.
"That was technically his last — and Extras was his last filmed appearance, I think."
Elaborating on his friendship with Bowie, he added: "Sometimes I forgot that he was David Bowie, because he was a friend, and he was David Jones, and a normal bloke.
"I don't know what I expected. I think people think he sits around in a silver suit with his orange hair. He's just a guy who was brilliant at what he did, and he never stopped – he never stopped creating. He never let me down."
Ricky Gervais also spoke about his new series After Life, which centres around his character Tony, who is struggling to cope after the untimely death of his wife, played by Kerry Godliman in videos she recorded for him.
"The show starts… It hits the ground running," he said. "We see that his wife, has died, and she's leaving him a little video diary. It's a really sweet guide for life. It's things like, you know, how to fill the dishwasher, and to take out the bins on a Tuesday because of the recycling. And obviously it moves on from there.
"But we see that he's lost everything. He's depressed and suicidal, and he's going to end it all, but the dog's hungry. And that gives him long enough to think, 'Right, OK, if I'm going to carry on at all, I'm going to punish the world for this. This shouldn't have happened.' He's angry. He's through the second stage of grief.
He continued: "And the comedy – and there is comedy, and it's really funny – comes from, I think, us agreeing with him sometimes. And that we live vicariously through his courage. We want to say what's on our minds sometimes, and we don't – we bite our tongue, because we don't want to hurt someone's feelings, or we're worried about the consequences.
"When you don't care about the consequences, you can say what you want. Whereas Tony says, 'Bring it on. I've got nothing to lose. Do your worst.' And it's liberating.
Explaining how he wishes he could say what he wants like Tony, Ricky joked: "I'm the most easily annoyed person in the world. I always think someone spoils it.
"I find quiet restaurants, and then the waiter sits some people right next to us, and I want to go, 'Why did you do that?'
"I go out of the house. I go across the zebra crossing, and the car doesn't stop. I'm like, 'What are you doing?!'. Everything annoys me. Everything! Because I want people to act like decent people!"
Ricky Gervais' After Life returns for a second season on Netflix in 2020.