ABBA's Benny and Bjorn reunite at Mamma Mia launch (and Bjorn dons his old jumpsuit)
20 September 2019, 10:50 | Updated: 20 September 2019, 11:40
There was a special treat for ABBA fans last night (September 19), as half of ABBA were back together again.
Old pals Bjorn Ulvaeus and Benny Andersson reunited for the London launch of Mamma Mia! The Party, an immersive dining experience at The O2.
The show has already had a successful four-year run in Stockholm, Sweden, and the ABBA duo led the celebrity-filled evening on Thursday.
And to mark the special occasion, Bjorn also slipped on his iconic white ABBA jumpsuit with gold stars, which is thought to be the first time he has worn it in 42 years.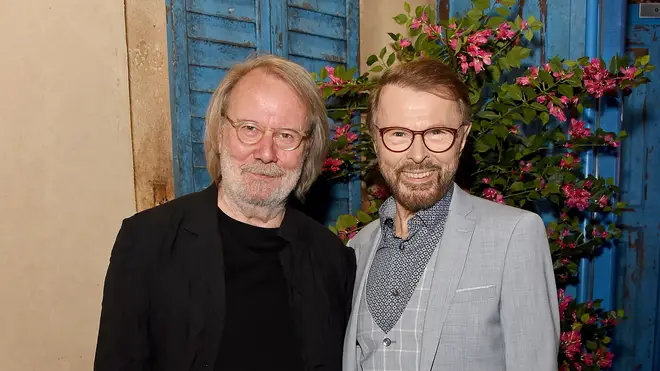 Mamma Mia! The Party, created by Bjorn, lets fans celebrate ABBA's music and the Mamma Mia experience as a special party held in a room themed as a taverna on the Greek island of Skopelos.
The show has been adapted from the musical's script by Bake Off star Sandi Toksvig, and there is also a four-course Mediterranean meal as part of the ticket.
The show will run until February 16, 2020, with tickets starting at £151 and going up to £218.
Earlier this week, Bjorn opened up about reuniting with his former wife Agnetha Faltskog on new ABBA music, which is expected to be released in the coming months.
Björn said: "When the ladies went into the studio and stood by their mics and started singing, then, oh, it's that sound - the quality of the two ladies when they sing."
He called the reunion proof "two former married couples getting along very well."