Who are Amy Winehouse's parents Mitch and Janis Winehouse?
21 July 2021, 13:51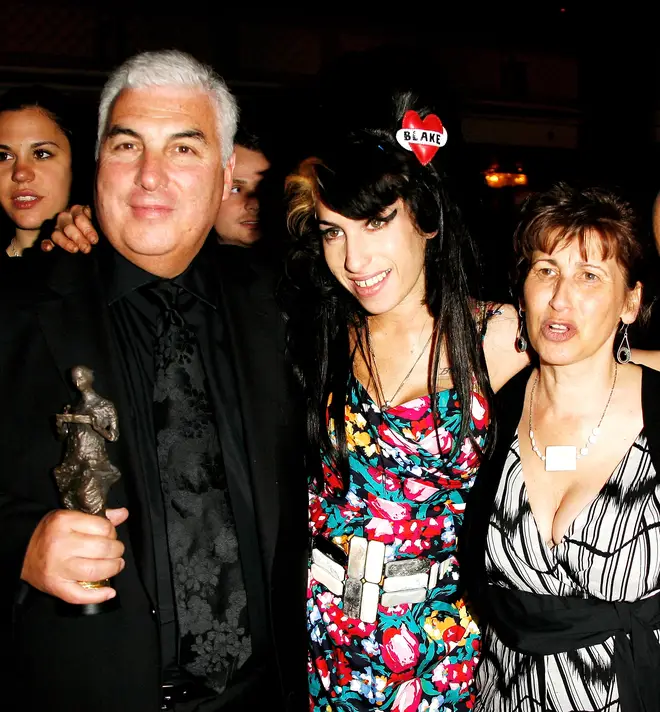 Ever since Amy Winehouse's death at the age of 27, her loving parents Mitch and Janis have carried on her legacy.
10 years on from Amy's tragic passing, her mum and dad have often spoken about their daughter's life and career, while also launching various projects to keep her music in the public eye.
In 2021, a new documentary titled Reclaiming Amy will feature the singer's closest family and friends, speaking about the music icon and how her loss has impacted their lives.
But who are Mitch Winehouse and Janis Winehouse-Collins?
Who is Mitch Winehouse?

Amy and Mitch in 2008. Picture: Getty

Mitch was working as a taxi driver and window panel installer when he welcomed daughter Amy with then-wife Janis on September 14, 1983.

He also has an older son, Alex, born in 1979.

In September 2011, he appeared on an American chat show for his first emotional interview a few months after Amy's death.

He spoke of his struggle to come to terms with Amy's passing, telling Anderson Cooper: "When I did the eulogy at her funeral, as I got up to speak, a black butterfly came in.

Mitch Winehouse - No Regrets As A Father To Amy | Loose Women

"It landed on Kelly Osbourne's shoulder, then flew around me. Have you ever heard anything like that in your life? It's incredible."

Mitch has also said that he is convinced that Amy's spirit is still at his side, and that her ghost visited him and "sat on his bed".

He told Jewish News: "Three years ago, I was staying in Amy's flat and I felt something come through the window and enter into my back.

"It was like somebody put an electric toothbrush on my back."

In 2010, he released his own record as a classical jazz singer, paying tribute to jazz icons like Frank Sinatra and Ella Fitzgerald.

Who is Janis Winehouse-Collins?

Mitch and Janis Winehouse unveiling daughter Amy's statue in 2014. Picture: Getty

Amy's parents separated when she was nine years old, and she lived with her mother Janis and stayed with her father and his girlfriend in Essex on weekends.

After splitting from Mitch, former pharmacist Janis married her partner Richard Collinss in 2011.

Janis now lives with multiple sclerosis.

Speaking to ITV's Lorraine Kelly, when asked about how she felt when she was told Amy had died, Janis said: "It took time for me, disbelief."

Amy Winehouse's Mum Shares The Last Words Amy Said To Her & Memories Of Her Daughter | Lorraine

Her husband Richard added: "It was the worst day of my life. I got the phone call to say that Amy had gone. It was actually her cousin, Martin that phoned. I said, 'Don't be silly, we were with her yesterday.' And he said, 'No, I'm being absolutely serious.' And then I had to tell Janis.

"I said, 'Janis, I don't know what to say, she's gone.' She looked at me and she thought I was talking about my mum, because my mum died a month after Amy - my mum was seriously ill.

"She said, 'It's just your mum,' and I said, 'No, no. Your baby, she's really gone.' And Jan just stood there."