Boy George explains why he had "weird" beef with Adele and Madonna
17 November 2023, 12:57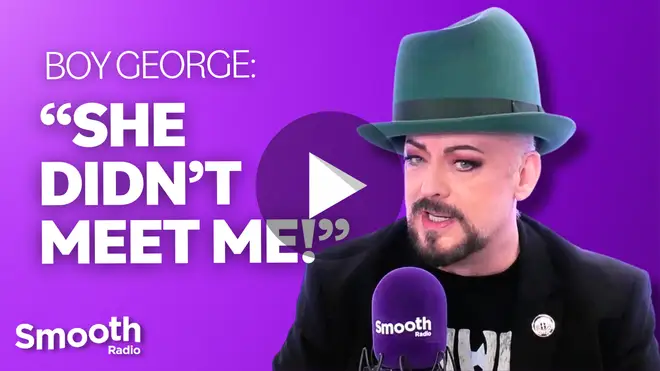 Boy George has never been one to hold back.
The iconic singer and performer has just released his new autobiography Karma, and it's a fascinating look back at the life and career of one of pop's most legendary stars.
To celebrate the book, Boy George caught up with Smooth's Kate Garraway in a new interview.
In the chat, George opened up about why he decided to write the new book, the challenges that may have come up, and various words of wisdom he has learned over the years.
Boy George also spoke about his minor beef with fellow superstars Adele and Madonna, both of whom he is a fan of.
Elaborating on what he had written about Adele in Karma, George explained: "So she sent me a signed autographed programme, which was very sweet because I'm not 16. I was like, 'okay, that's nice and I love you, you're amazing'. And then she didn't meet me.
"I think it's really weird. It's like, because I bought the tickets. I've actually paid for a meet and greet, but I didn't get it. It was so weird. It was like, you love me, but you're not saying hello.
When asked by Kate if he would have done the same to a famous fan in the past, he replied: "Never ever on your life. When I was playing Madison Square Garden, somebody come and said, there's some people here called Torville and Dean.
"I'm like, 'get them the best seats in the house'. 1000%. It's the drummer from Kiss, 'give him the best seats'. Of course, it's what you do. Absolutely. It's not a question."
On any past fallout with Madonna, George explained that he now knows why she may have been upset with him for the wrong reason.
"I love Madonna, right? I mean, I just love gossiping about her. It's hilarious. She's my contemporary. Do you know what I mean?
"So one of the things I say in the book, which is quite funny, because she says she met me in the '80s. It's not true. She didn't meet me. She met Pete Burns! And Pete Burns gave her a mouthful and she thinks it's me!"
Looking back at writing about difficult moments from his past, Boy George said that he tries to emulate the wisdom of three of his heroes.
"In recovery, we learn life on life's terms. So that's what you deal with, I think Bowie said, like, getting old is like becoming who you're meant to be. I love that.
"As a piece of advice, I was going to Dolly Parton, number one for humour always. And Bowie for that kind of wisdom. Yeah. And the Queen Mother. Have a gin. When in doubt, have a gin!"
Lottery Winners ft. Boy George - Let Me Down (Official Video) [4K]
When asked by Kate if he has generally enjoyed his career, he said: "I think I enjoy it more now because I kind of just didn't really understand it as a process. It felt like it was all out of my control. I felt like a lot of the time, that's the thing about fame.
"It takes you out of your own control. People are telling you what to do, and there's something nice about that, but it's also annoying.
"So when you would have those kind of kickoff moments, it was just you saying, 'no, I can't deal with this'. Because no one's taught you another way to express that. Saying no is hard. Saying no, everyone's going for you.
"But we're taught to be grateful for our careers in this business, that you got to be grateful, grateful. Not that we're not. Gratitude comes with age, I think, well, when you're young, you don't understand the business and who you are as a person, and when you have to make that kind of exchange with the business about being who you are, and then suddenly you got experts telling you how you should be and what you should wear, and you're like, 'no, I don't need your help'.
"I feel like that now. Just let me do what I do because that's how I got here in the first place. That's why you signed me. You signed me because you wanted me to be this person. Now you want to suppress that? No, you don't get to make that decision.
"I think when you're in the business, I don't really even consider myself to be in the business as such. I kind of do so many different things. The DJing, the singing. I like being busy. That's how I relax."
Boy George's book Karma is out now. He will be appearing in a UK tour of Peter Pan this December and January, and will star in Moulin Rouge on Broadway next year.