Boy George reveals the poignant Rod Stewart song that reminds him of his late mum
13 June 2023, 14:11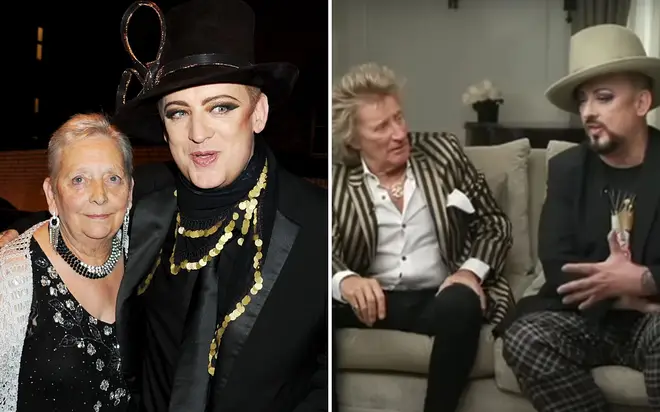 They're old friends that are promising to "misbehave" on their upcoming tour.
Culture Club icon Boy George is set to join the legendary voice of Rod Stewart on the road at the end of June 2023.
The pair are preparing to accompany each other on Rod's 'Global Hits Tour' which stops at Plymouth, Northampton, Durham, Bristol, and Hull before coming to a close at Edinburgh Castle on 6th July.
In the lead-up to their tour together, both singers have been sharing stories of their friendship and adoration for each other's music.
A recent interview made headlines as Rod revealed he was leaving rock 'n' roll behind forever in favour of swing music.
In a touching moment throughout the same interview, Boy George has also revealed a particularly poignant song that Rod wrote which reminds him of his late mum.
He's had a tough time during 2023, recently losing his beloved mother Dinah at the age of 84 at the beginning of the year.
But Boy George takes solace in one of Rod's songs, as it was the track where his mum indicated she understood his true sexuality when he was young.
With my old mate Boy George! You lucky lot are in for a treat with him and culture club supporting my UK tour this year in June & July!

Have I told you (to get your tickets) lately? 😎 🕺 Be prepared for shenanigans and some falling overs!

📸 Andre Csillag pic.twitter.com/Hffm0nC9g9

— Sir Rod Stewart (@rodstewart) April 17, 2023
The song? 'The Killing of Georgie (Part I and II)', a 1976 Rod Stewart hit details the life story and murder of a gay man during that era.
Talking about the song sat next to Sir Rod, Boy George revealed: "My mum bought it for me when I was a kid, and she put it in my sock drawer in a brown paper bag to let me know she knew what was going on."
"She used to say I was theatrical. Highly strung and theatrical. It was her way of saying 'I know what you are, I love you, here's a great song'."
"Of course, I love that song, it's a powerful song" adds Boy George before Rod starts clapping beside him saying: "Round of applause for mum, well done mum."
Rod Stewart & Boy George BANNED by the BBC interview
Rod then goes on to say to the BBC: "Let me tell you something about that song which is most gratifying. Through the years, guys have come up to me when they were younger and said 'thank you for writing that song'."
"Did you know the BBC banned it? Because it was about homosexuality, no one had ever written about it or even mentioned the word 'gay'."
"My mum would've loved to have been there" Boy George then admits, talking about the serendipity of her son joining the rock 'n' roll legend on tour.
"She is, she'll be looking down on you" Rod tells him in a heartwarming manner, before Boy George replies: "Absolutely, yeah. My mum was a big fan."
Rod Stewart - The Killing Of Georgie (Part I & II) (Official Video)
Rod Stewart wrote 'The Killing of Georgie (Part I and II)' after a close friend of his was murdered in New York City.
During an interview in 1995 with Mojo magazine, Rod explained: "That was a true story about a gay friend of The Faces. He was especially close to me and Mac [Faces' pianist Ian Patrick McLagan]."
When asked why he chose to write a song with a gay theme Rod answered: "It's probably because I was surrounded by gay people at that stage. I had a gay PR man, a gay manager."
"Everyone around me was gay. I don't know whether that prompted me into it or not. I think it was a brave step, but it wasn't a risk."
"You can't write a song like that unless you've experienced it" he continued. "But it was a subject that no one had approached before. And I think it still stands up today."
The song still retains its poignancy today, and has evidently impacted the lives of many gay man, including his dear friend Boy George.