Rod Stewart and Boy George give stunning duet of 'The Killing Of Georgie' for opening of joint tour
26 June 2023, 12:22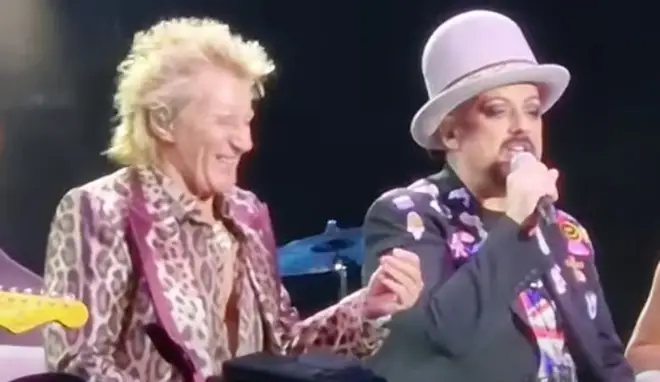 The two singing legends lit up the stage in Plymouth on Saturday night (June 24).
Rod Stewart and Boy George have given their first performance on tour together and it was exactly what fans had been waiting for.
The duo took to the stage during Rod Stewart's UK opener of his Global Hits Tour on Saturday night and gave a stunning rendition of 'The Killing Of Georgie'.
Sitting side-by-side on stage and surrounded by a small band, a harpist and some backing singers, Rod introduced the song before forgetting when he wrote it – much to the delight of the laughing crowd.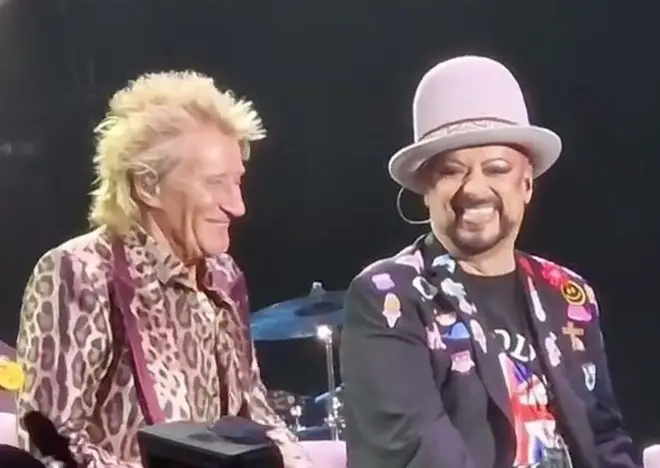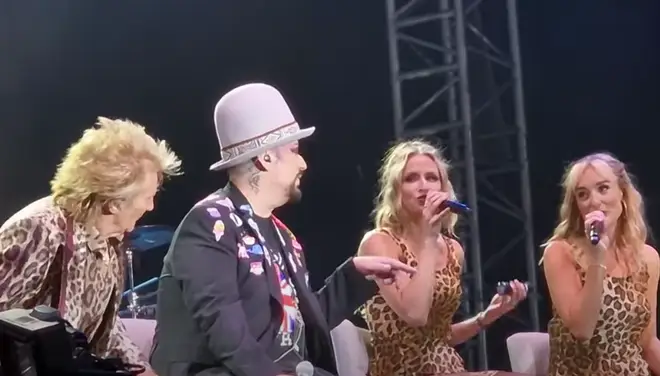 He then gave the stage to Boy George who regaled the audience with a story of how his mum gave him 'a copy of 'The Killing of Georgie'' in his sock drawer, adding: "I actually thought you'd written it about me!'
The duo then sang the 1976 hit to the 17,000-strong Plymouth crowd, taking it in turns to sing the chorus and verses.
Boy George and Culture Club are Rod Stewart's main support for the star's six summer shows in England and Scotland between June 28 and July 8.
Rod Stewart announced Boy George would be joining him on tour back in late March, and joked that he wanted to 'misbehave' when they were on the road together.
Rod Stewart ft. Boy George - The killing of Georgie - Plymouth 24-6-2023
"I'm absolutely thrilled to be sharing the stage with my dear old friend, Boy George. Let's misbehave!" Rod Stewart said in a statement.
Boy George was equally gushing about Rod when the news was announced, saying: "I'm a massive Rod Stewart fan. I have been since I was a teenager. I love his voice and he's always been very charming to me."
"In 1974 when I was 13 years old I bunked in for free to see Rod Stewart and The Faces at Lewisham Odeon, so I love that I am now able to support him on tour" he continued.
Fans attending the shows have been promised "show-stopping classics and fan-favourites" spanning Rod's six-decade career, as well as the reggae-pop stylings of Boy George and company too.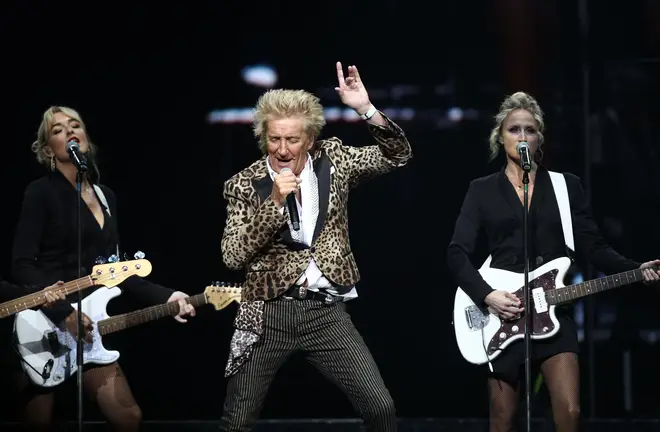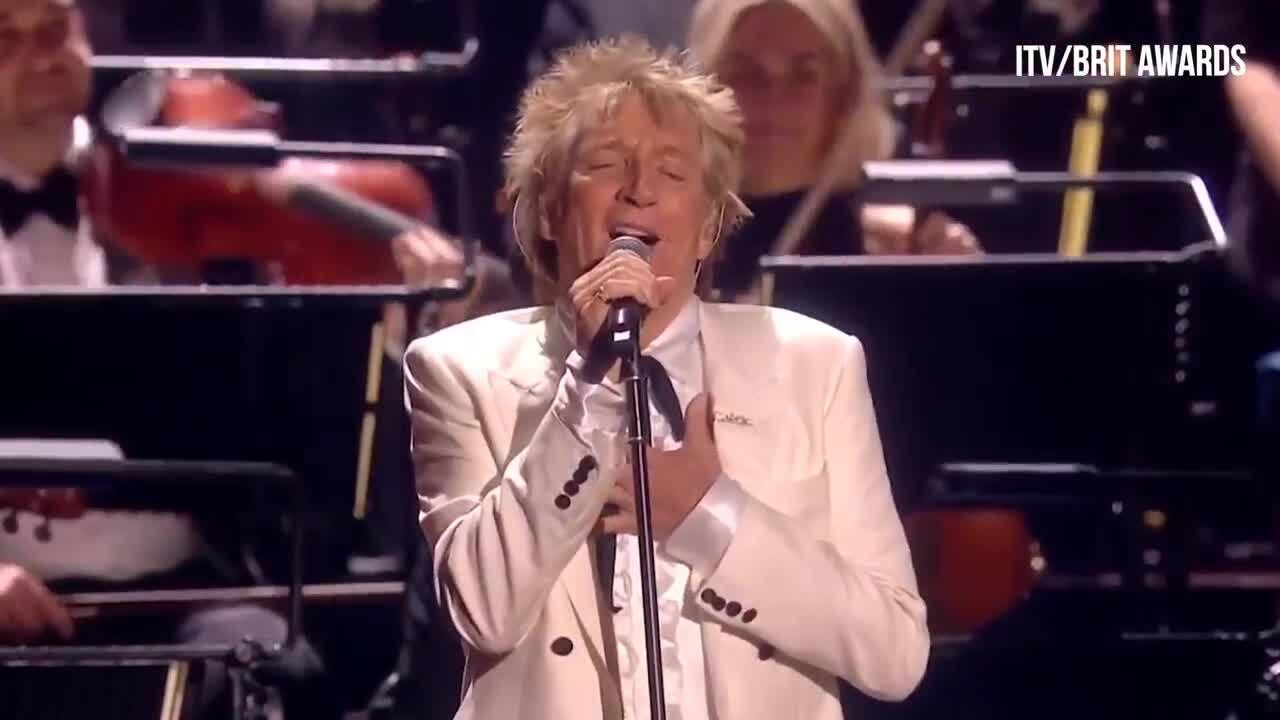 Sir Rod Stewart closes out the 2020 Brits
It'll be a homecoming for Sir Rod too, who returns to Edinburgh Castle for the first time in 13 years for two special shows as part of the tour.
Set to rock the Scottish capital on July 6 & 7, the homegrown star expressed how excited to be back on British soil.
He added: "My favourite memories have been summer nights with a beer or two alongside the best fans in the world."
"I'm impatiently awaiting this summer playing at a variety of special venues – football, cricket and rugby stadiums, estates and castles! We'll all be dancing under the stars."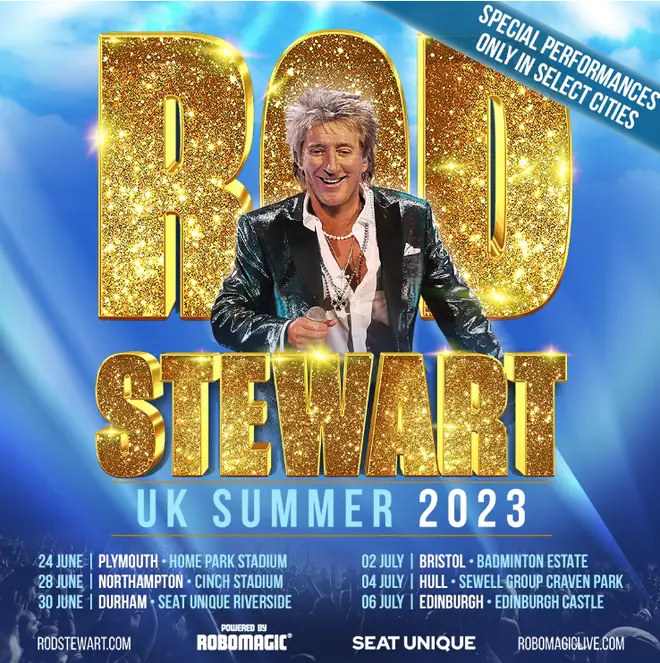 The remaining UK dates of Rod Stewart's 'Global Hits Tour':
June:
- Wed 28th Northampton, cinch Stadium
- Fri 30th Durham, Seat Unique Riverside
July:
- Sun 2nd Bristol, Badminton Estate, Worcester Park
- Tues 4th Hull, Sewell Group Craven
- Thurs 6th Edinburgh, Edinburgh Castle
- Fri 7th Edinburgh, Edinburgh Castle
Limited tickets are still available to buy here