Rod Stewart welcomes second and third grandchild within days of each other
16 May 2023, 12:43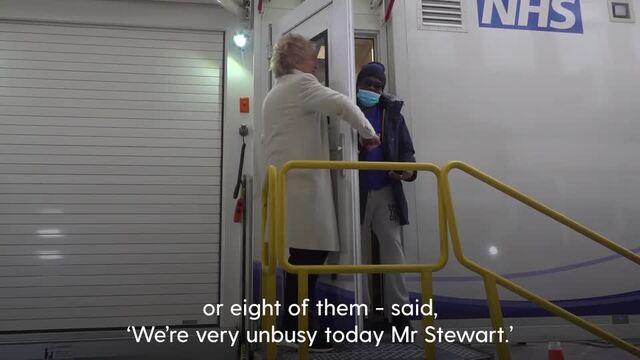 Sir Rod Stewart visits NHS hospital where he paid for patients' scans
Rod Stewart becomes a grandfather for the second time... and then the third time within days.
Rod Stewart has welcomed his third grandchild just days after his second grandchild was born.
His daughter Ruby yesterday (May 15) shared the wonderful news that she had given birth in a touching Instagram post of several images of her newborn son.
"This love… unlike any other love I've ever known…." the recently-engaged Ruby captioned the pictures.
"I am only a mirror of what I feel from you… I can't remember what life was like before you…."
She added: "But nothing else matters now that you're here… Your arrival into the world marks the beginning of our family…
"It all started with you Otis… Otis Stewart Kalick 05/9/23 3:36 pm 8lbs 8oz & 22 in"
Ruby had previously announced her pregnancy in January with a short video from her ultrasound showing her then-unborn baby moving.
Set to John Lennon's 'Beautiful Boy (Darling Boy)', she captioned that post: "Out of all of the things that happened in 2022 you were by far the most beautiful.
"We can't wait to meet you…Baby boy Kalick coming in April… 🤍"
Otis's birth comes just days after Rod's son Liam became a dad when his partner Nicole Ann gave birth to their first child Louie.
"Welcome lad 💚 you American, British, Croatian, Kiwi," Liam captioned a collection of pictures on Instagram.
"Louie Mark Roderick Stewart 5.12.23"
In the lead picture, Louie is seen wearing an adorable tiny Celtic FC football shirt and hat.
Earlier this week, Liam shared a cheeky set of images captioned: "Our last night out as non parents… 🌮👶🏼".
Three of the snaps showed him lovingly cradling Nicole Ann's baby bump, while the fourth had her kissing his own belly.
Rod Stewart has the potential for many more grandchildren, as he has eight kids of his own.
His first child was Sarah Streeter, born to his art student girlfriend Susannah Boffey in 1963, followed by Kimberley and Sean Stewart born to his first wife Alana.
Rod then had Ruby with model Kelly Emberg, Renée and Liam to his second wife Rachel Hunter, and his two youngest children Alastair and Aiden to current wife Penny Lancaster.