Rod Stewart's son Sean gets married in Las Vegas just hours after Valentine's Day proposal
21 February 2023, 13:50 | Updated: 23 February 2023, 09:45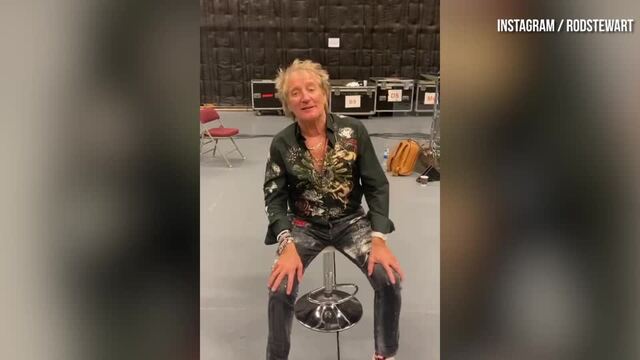 Sir Rod Stewart treats followers to classic song for Valentine's Day
Sean Stewart and Jody Weintraub don't waste any time.
Rod Stewart's son Sean has married his partner Jody Weintraub in a swift ceremony in Las Vegas.
According to People, the couple tied the knot at the Little Church of the West a few hours after he proposed over dinner at the city's Catch restaurant.
Sean's mother Alana confirmed the reports with a post on Instagram today (February 21).
"Congratulations to my boy @seanstewart and his beautiful bride @jody_weintraubstewart who surprised us all with a spur of the moment Las Vegas wedding," she said.
"I'm so happy for you both!👰‍♀️🤵🏻❤️🍾🎂 #wedding #marriage #love".
The news comes just weeks after Rod's daughter Ruby announced her own engagement to partner Jake Kalic.
Jody and Sean have known each other since high school and have Courtenay Semal as a best friend in common. Jody has a 5-year-old son from a previous marriage, and Sean is said to get on well with his stepson.
Sean called his mother Alana on the way to the courthouse and she reportedly wasn't sure if he was serious at first.
Once it was clear that the marriage was for real, both Rod and Alana were said to be very happy about the marriage, with the two couples celebrating together at Nobu and Malibu on their return to Los Angeles.
When the couple got back to Los Angeles, they celebrated with Rod and Alana at Nobu in Malibu. Sean's parents married in 1979, then divorced in 1984. Rod is now married to his wife of 14 years, Penny Lancaster.
The wedding marks a much happier start to the year than the end of of the last one for Rod Stewart's oldest son, who was hospitalised last October after being hit by a truck at a red light.
Sean is one of two children Rod had with his first wife Alana, who he was married to from 1979 to 1984.
Rod then married Rachel Hunter from 1990 to 2006, though they separated in 1999. Rod married Penny Lancaster in 2007 and the couple are still happily together.
The Faces frontman has eight children in total from five mums.